It's a very exciting week in the world of bluegrass music – the International Bluegrass Awards are this Thursday – so, naturally, we rounded up the best baby items for a bluegrass lovin' babe. Read on below to check out the adorable music related items and the many, many discounts for Gugu Guru readers. Like what you see? Remember to add it to your registry!
Kisses, hugs, Flatt & Scruggs onesie. Too cute. A bluegrass baby essential item!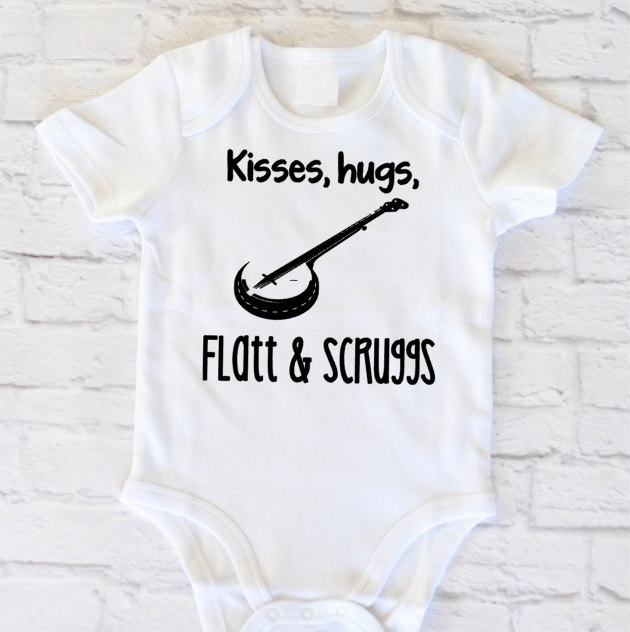 Kenny and Amanda Smith, of the Kenny and Amanda Smith Band, are both nominees this year at IBMA – Amanda's nominated for female vocalist of the year, and Kenny for guitar player of the year (as well as his band, Band of Ruhks for emerging artist of the year) – they just released a new album, Unbound, as well. We reached out to Kenny and Amanda to see if they had any suggestions for a bluegrass baby, because they have an adorable little lady together. They recommended their Flatpicker Inside onesie – a perfect onesie for any little one who loves attending bluegrass festivals with mom and dad. You can purchase it on their website.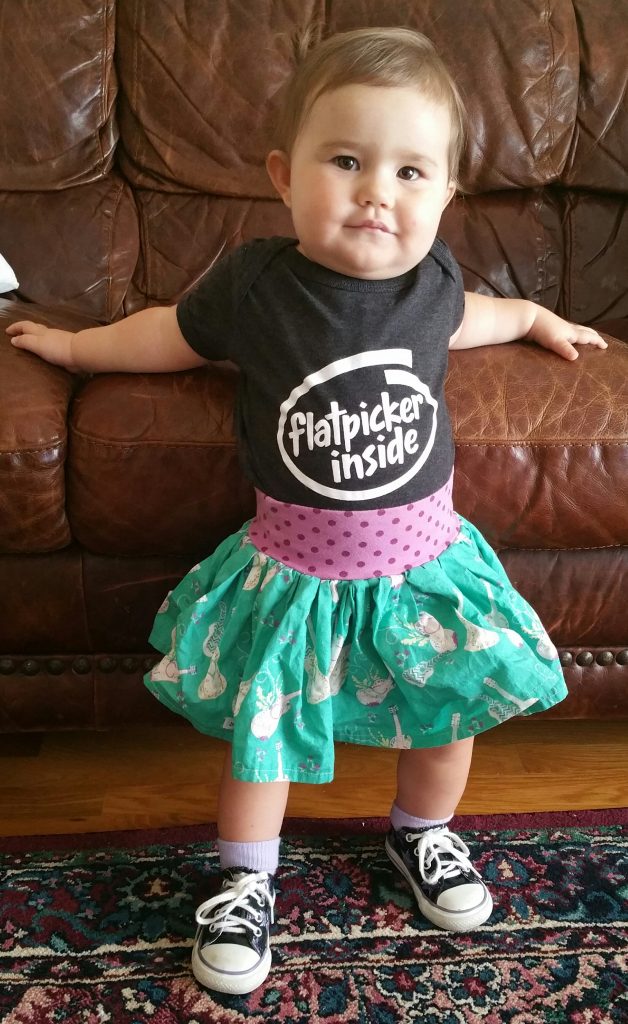 We are absolutely smitten with these handmade onesies from Evies Gift – your little one can pick the banjo or strum the guitar – these would make a perfect baby shower gift for a bluegrass mama. Evies Gift is offering Gugu Guru readers 15% off with the code MUSIC.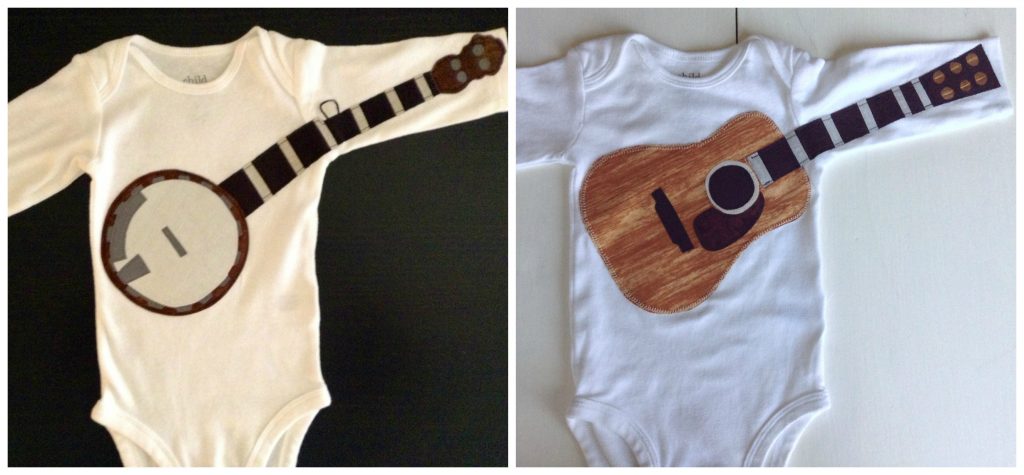 This organic Banjo Baby Blanket from Lulu and the Boys would be perfect in a music themed nursery. Got a little lady who loves bluegrass? These pink and purple guitar bibs and burp cloths are a wonderful accompaniment to any baby shower gift. Burp cloths featuring mandolin, guitar and dobro from Ruby Blue are the ultimate addition to a bluegrass registry – use code BLUEGRASS for 10% off your purchase from Ruby Blue (valid through 12/31/16). Looking for a bib bandana for your drooling bluegrass babe? We love the organic drool bibs featuring guitars from Fynn Baby. Fynn Baby is offering 20% off coupon code with the code BLUEGRASSLOVE20 just for Gugu Guru readers.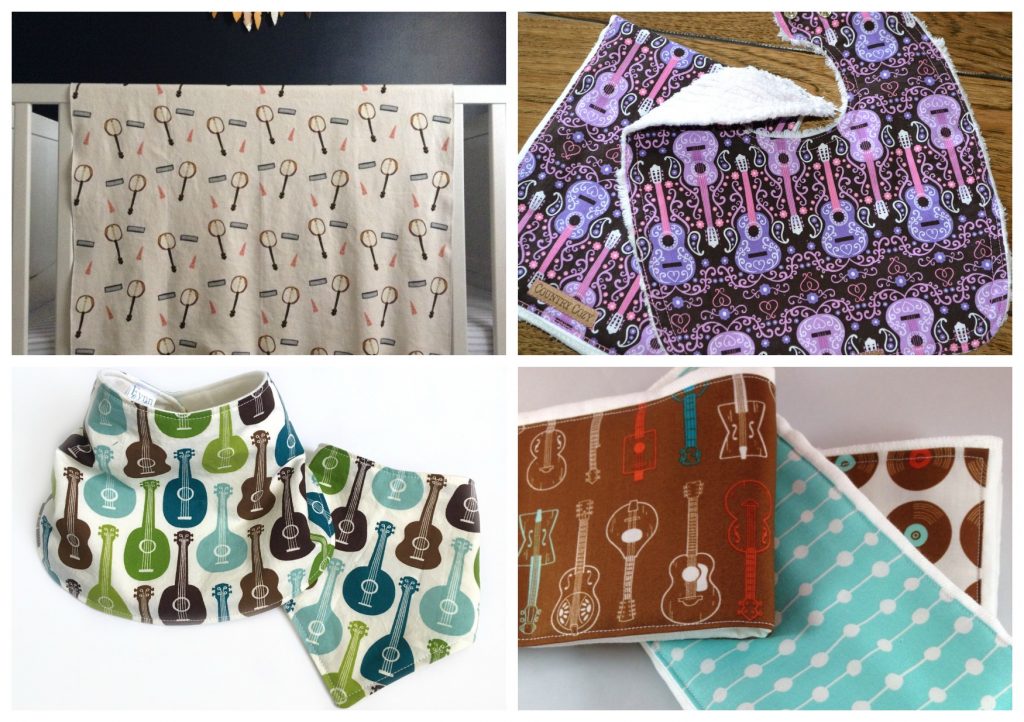 Designing a bluegrass themed nursery? Check out this sweet pillow featuring a bluegrass banjo, dulcimer and resonator guitar from Society6. We're loving that handmade guitar mobile from BabyDecorUA – the colors are all customizable! BabyDecorUA is offering Gugu Guru readers a 15% discount on all baby mobiles with code BABYDECORUA15 and 10% discount on baby mobiles supplies with code BABYDECORUA10.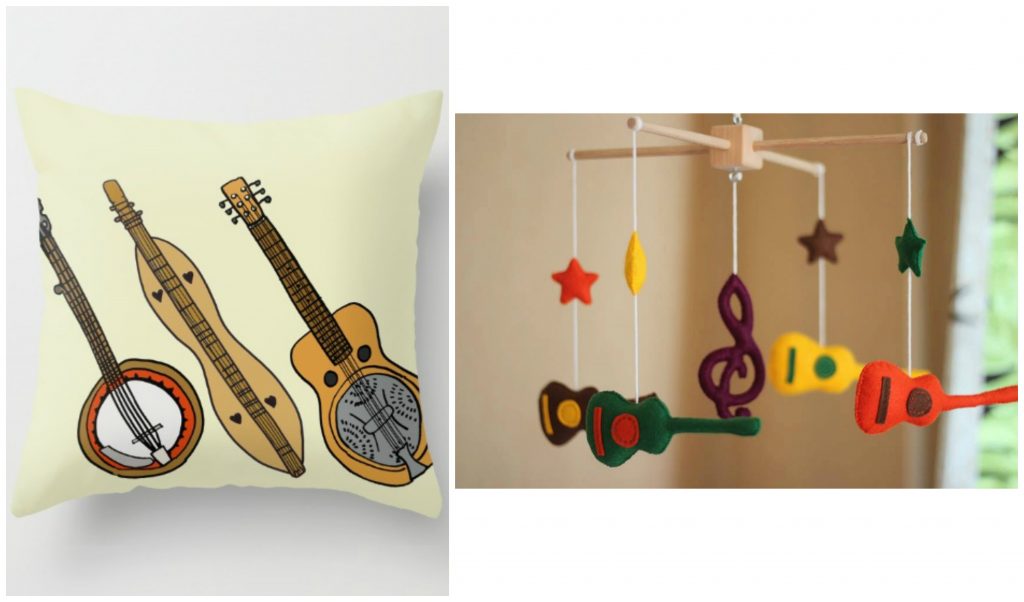 Lastly, if you're looking for bluegrass themed artwork for your baby's nursery, here are some prints we just adore – Forest Frolic from Toad Briar – use code GUGUGURU for 20% any piece of art in the store. The little foxes playing fiddle and banjo is a personalized print. And, if you're going to learn the ABCs, why not learn the ABCs of bluegrass music with the "M is for Mandolin" and "F is for Fiddle" prints from Society6.