Hey, everyone! It's Monica, founder of Gugu Guru. I wanted to write the introduction to this post because I have had personal experience with an unexpected c-section. In my first pregnancy, I walked three miles almost every day. I couldn't wait for the huffing and puffing of labor and read up daily on various books and articles covering what I could do during pregnancy to prepare for a smooth delivery. Then when I went in for a regular check-up one day after my due date, the doctor realized that my son was in distress and I was rushed in for an emergency c-section. I was scared, I felt like I had failed somehow – all sorts of emotions. Unfortunately, sometimes things don't go according to plan and we are forced to roll with it. If you're reading this because you're one of those moms who didn't have it go to plan, I just wanted to say chin up, it's going to be ok and here are some product suggestions that will hopefully help you recover more comfortably and quickly, while you soak up all the wonderfulness of new mommyhood.
xo Monica
C-Section Recovery Products I Wish I Knew About Sooner
There's nothing more important for your c-section recovery than supportive, comfortable attire. Belly Bandit has you covered with this postpartum belly wrap. It will support weakened abdominal muscles and is fully adjustable to fit your changing size following your baby's arrival. Aside from support, wrapping your belly and waist tightly after delivery can speed up recovery. It also provides added support to your lower back, a must-have product for the 4th trimester.
After a c-section, finding comfortable underwear that doesn't irritate your incision can be a challenge. Enter these high-waisted postpartum underwear from Kindred Bravely. The soft material is designed to smooth and sit above your c-section line, covering your post-baby belly without digging into your skin. Long gone are the hospital mesh panties or ugly granny panties, these are also made to hold postpartum maternity pads easily and comfortably.
The compact Mom & B Pillow is the perfect pregnancy and maternity pillow combo. During pregnancy, it offers the perfect support for your hips and back. Postpartum, the pillow will support both you and baby as a feeding pillow, extra support when holding baby, and even aid in digestion when baby is laid elevated on the pillow.
After baby, things can be a little…messy. These 100% certified organic cotton pads offer superior leak protection, while still breathable and comfortable. TOP pads are available in Super and Regular to fit whatever absorbency level you need. They are free of plastic, toxins, chemicals, synthetics, fragrances and dyes. All the these you don't want anywhere near "down there" postpartum. Plus, for every TOP purchase, the company donates period products to women and girls in need!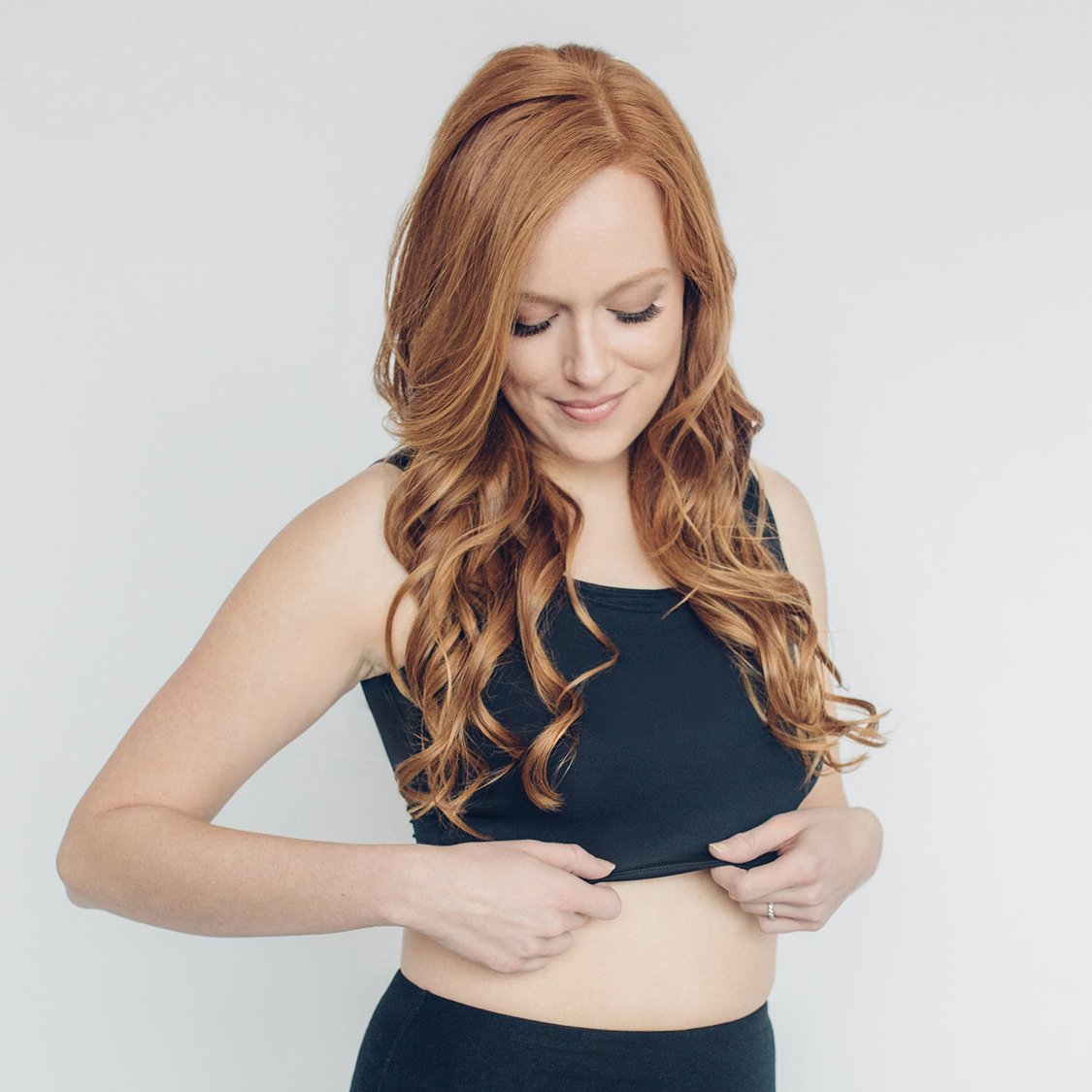 No matter how you are feeding baby, a comfortable bra postpartum is a MUST. The Larken X bra provides barely-there support with no awkward holes, irritating elastic, or zippers. You can easily and discreetly nurse in it by pulling up both layers, or pump hands-free without ever having to undress or change bras. We promise you'll want to live in it day and night (even beyond your postpartum and breastfeeding or pumping days).
Mother Tucker® Leggings utilize Belly Bandit's compression technology to keep your postpartum tummy securely tucked and supported after your c-section. Designed with an ultra-high waist, these leggings provide complete coverage and the postpartum core support you crave. You won't have to worry about digging into your incision as these "Mothers" provide support without a pinch. Belly Bandit's Muffinology® Technology (is that not an amazing name?!) gives these leggings soft, breathable fabric that will smooth you from the waist down – helping you feel tucked-in and put-together postpartum.
There you have it! Six products we are sure will make your c-section recovery smoother, and a bit more comfortable. Be sure to check out our Ultimate Hospital Bag Packing List. It covers EVERYTHING you should bring so you won't miss anything you'll need for your delivery and hospital stay, no matter what your delivery looks like!
Check out more delivery posts:
C-Section Recovery Essentials with Sarah Stage
8 Postpartum Care Must-Haves for Mama
Expecting Multiples? Our Top Must-Haves
What to Put on Your Baby Registry