Thank you to Liz Elliott for reviewing this product – Liz is a home & style guru and blogger of Franc and Eli.
We recently upgraded our car seat to the Maxi-Cosi Coral XP and I wish we'd done it sooner! 
The Maxi-Cosi Coral XP is a new type of car seat that is totally changing the car seat game by making it so much easier to carry your baby.  Even though a lot of traditional car seats are "light weight," they're still pretty bulky and awkward to carry and can get heavy once you add a baby!
I was struggling to carry our old car seat – I often found myself carrying it using some weird arm positions and essentially holding one arm with the other and still struggling. In one of our first outings with Wren, we took her to the beach. I was carrying Wren in her old car seat by the big handle, and some drinks in the other. I only made it about halfway down the walkway to the beach before I couldn't carry everything anymore! I needed my other hand to hold up the arm that was carrying the car seat, so I had to stop and wait for my husband to come back and grab the rest of the stuff from me! I remember thinking "I thought this thing was supposed to be lightweird / easy to carry?"
And then we got the Coral XP and now carrying Wren is a breeze!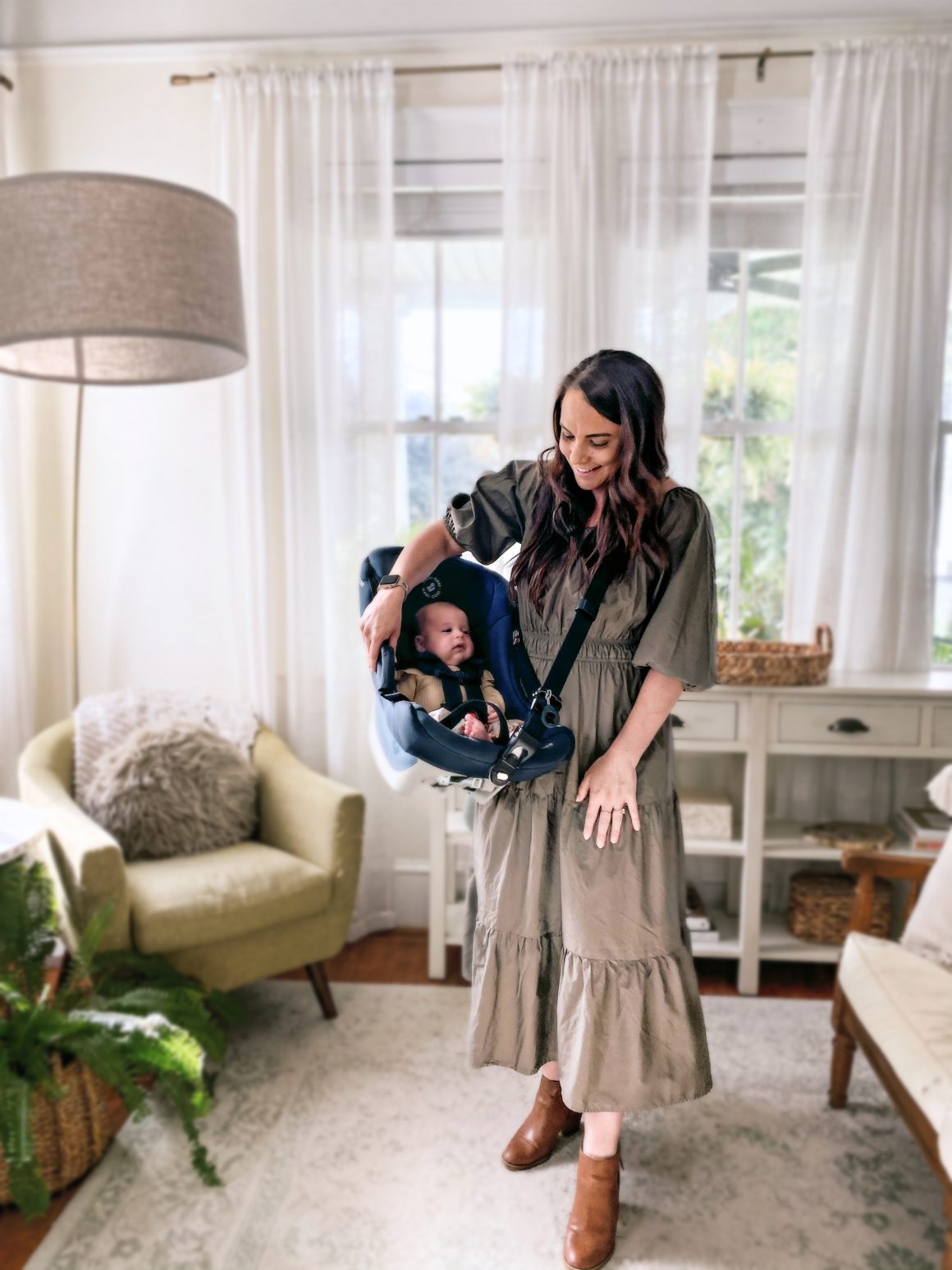 The Coral XP has 3 parts, an inner carrier, an outer carrier shell, and a base. When you're carrying your baby in the car seat, you can carry just the super lightweight inner carrier! It only weighs about five pounds. There are two ways to carry the inner carrier (and both are so much easier than wrangling the handle of a traditional car seat):
First, you can carry it using the two side handles. Second, you can carry it across your body using the cross-body strap. This is my favorite way – it distributes the weight to your back and is really comfortable to wear! You can also carry the outer carrier shell (with the inner carrier inside) like a "traditional" car seat.
When you're taking it in and out of your car, you can pop out just the inner carrier (leaving the outer carrier shell and base in the car), or you can pop out the inner carrier and outer carrier shell together as one unit. Both are super simple!
I'm so happy we upgraded our car seat to the Maxi-Cosi Coral XP – I feel so much more coordinated when I'm carrying Wren! Honestly, felt so awkward previously that it didn't seem entirely safe. Now I feel so much more confident and comfortable carrying her around. Plus, I always have a completely free second hand!
The Coral XP is made using Maxi-Cosi's "Pure-Cosi" fabrics, made without wool or added fire retardant treatment, that are machine washable and dryer safe! Wren loves it too – and it's easy to get her in and out of it.
Thank you to Maxi-Cosi for making this sponsored post possible.