Cruising with baby or considering taking a cruise in the near future with your little one in tow? Check out this ultimate guide from Gugu Guru mama and frequent traveler, Denalee, who just came off a 7-day cruise with her one year old son, Mikey. In this post, you'll hear what products are a must-have for travel in general – but especially for cruising with baby.
Apparel & Accessories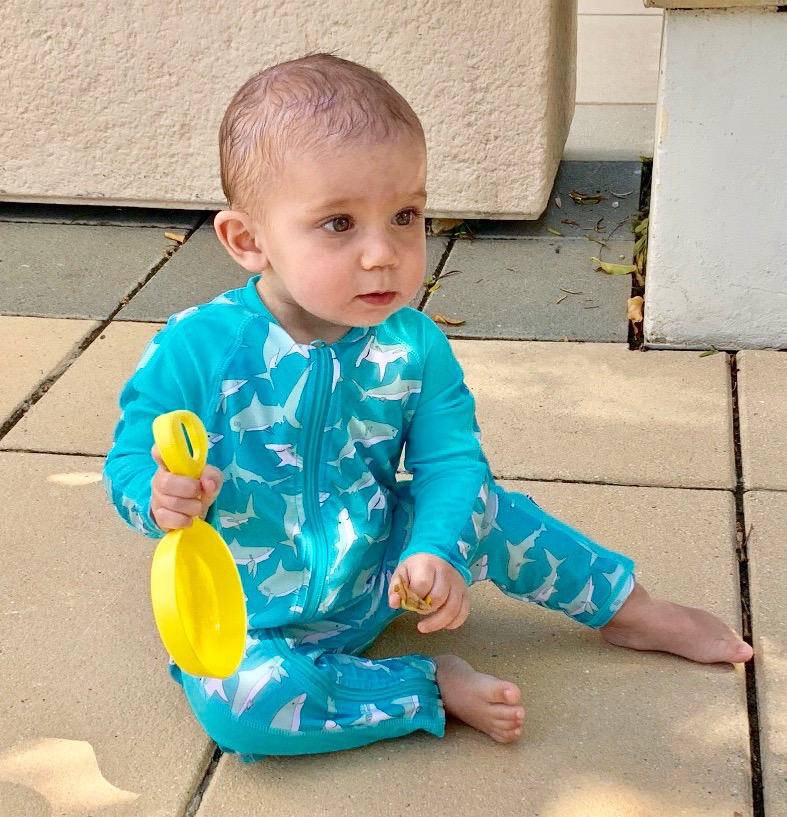 1. SwimZip swimsuits and hat: We LOVE these swimsuits and the hat for travel or cruising with baby, and now for swimming in general. The prints are adorable, they're really easy to take on and off (even when they're wet) and they give nice full-body coverage from the sun. I could not find any cons to these bathing suits. I'm looking forward to using these swimsuits all summer. The sun hat (not shown here) is also really nice and lightweight.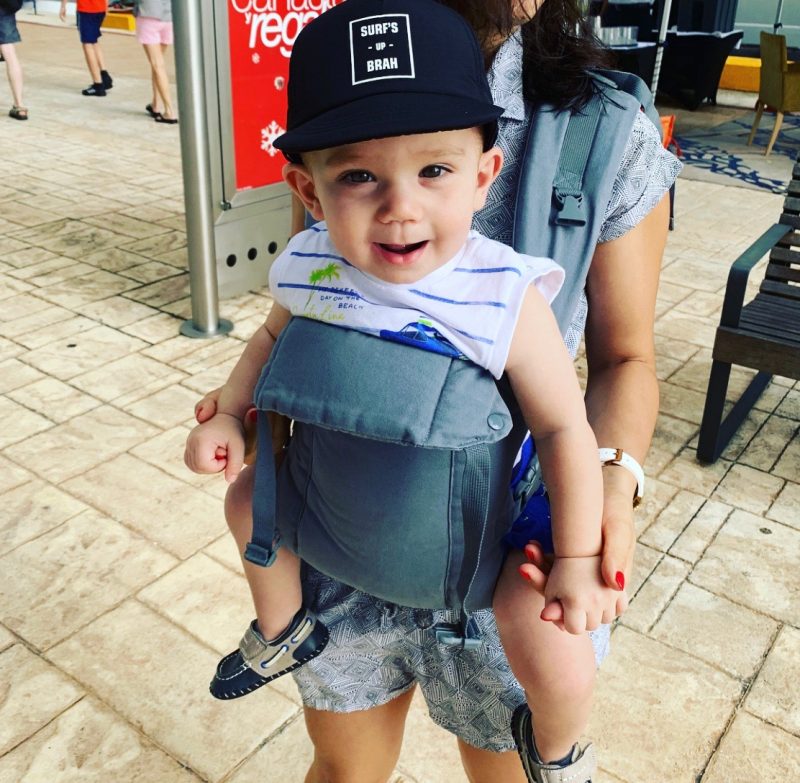 2. Bitty Brah Hat: So cute and it fit him so well. The great thing about Bitty Brah is the drawstring that helps them stay on baby's head. And, even though it was black it was very breathable.
3. pediped shoes: These are easily a favorite. Mikey walks really well in them and they were comfortable enough to wear without socks in the warmer weather. He probably wore these every day of the trip and still wears them in Boston – but with socks :). The velcro makes them really easy on and off, and the ergonomic design helped him keep his "sea legs" sturdy during the cruise.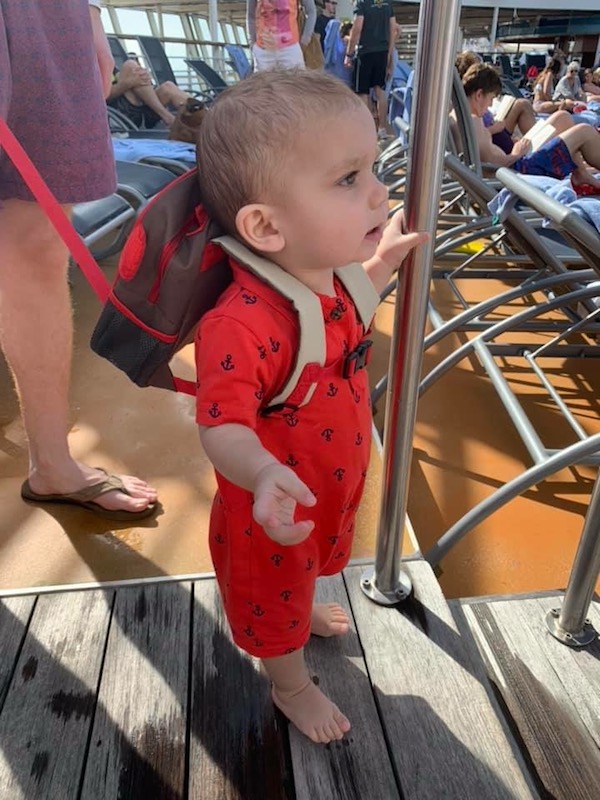 4. Skip Hop Harness Backpack: This backpack that has a harness for parents to let their tot wander at a safe distance is super cute!!! I loved the idea of this and was so excited to try it. We love it but parents should note that the default position of the clip is on the bottom so if the baby is running away it makes him lean/fall forward. I realized later that you can move the clip to the top, which I think is a better position for it.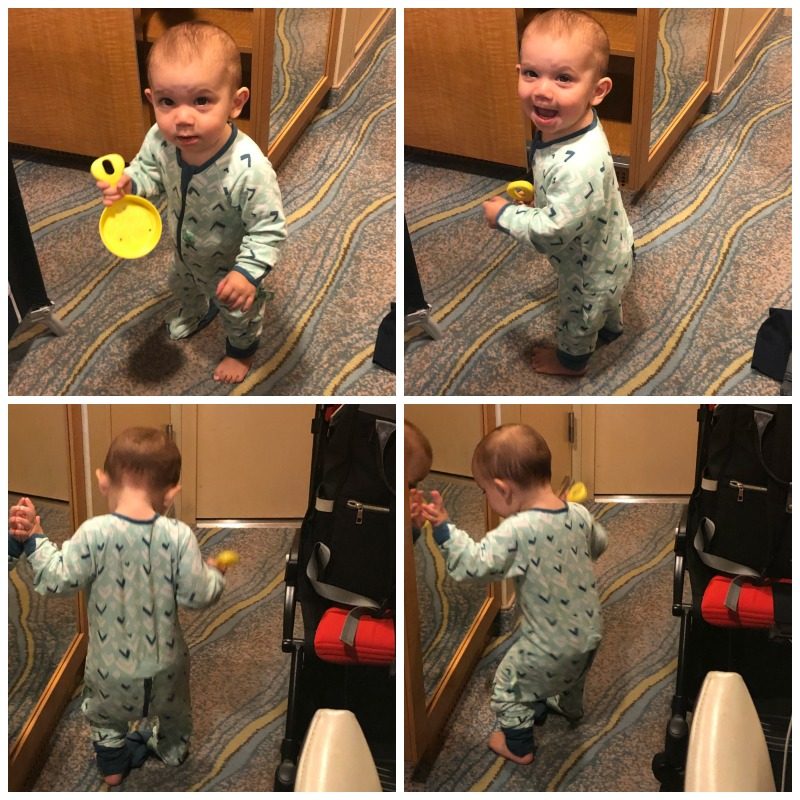 5. Ergopouch Layers Sleepwear: Whether cruising with baby on a ship or staying in a standard hotel, one thing that can be unpredictable is the room temperature. I was already a big fan of the ergopouch sleep sack (Mikey uses the winter sack at home and it seems so comfy) so I was excited to try the new Layers pajamas. They did not disappoint. They're really soft and I love how the feet can be free or you can roll the pjs over them. This is great for walkers because Mikey walks best barefoot but in the warm weather he didn't necessarily need a sleep sack so it was nice to be able to cover his feet in the night with the pjs. The zipper on the pjs also made it easy on/off and for a quick diaper change.
Feeding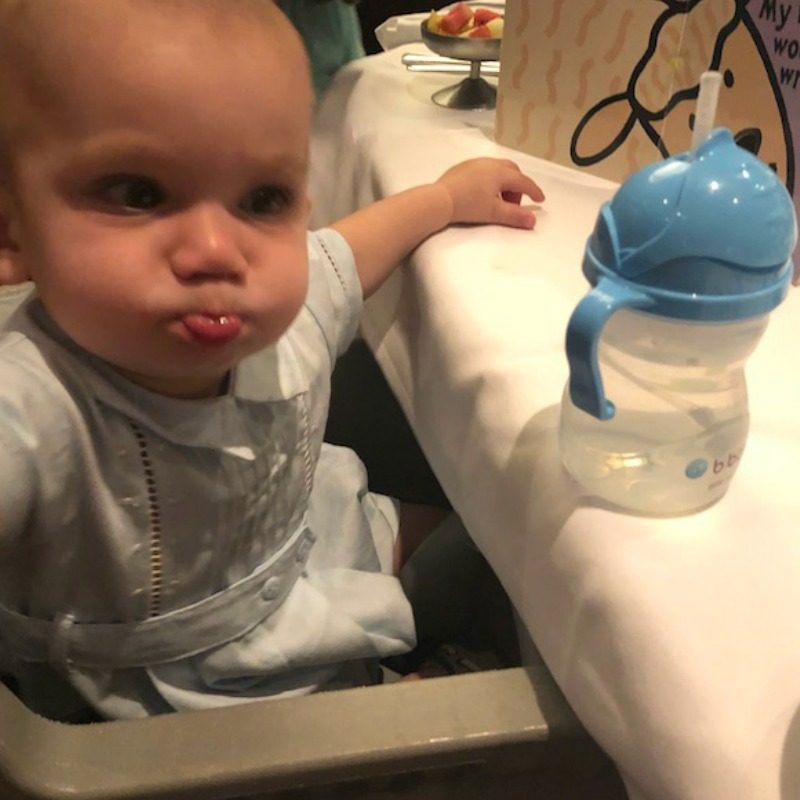 1. b.box Sippy Cup: A sippy cup is a no brainer for travel with toddlers. Mikey liked this cup (read: he didn't try to throw it across the room) and drank well from it. I like that it has the cover and that you can see how much they're drinking in ounces. This is a very functional cup for toddlers.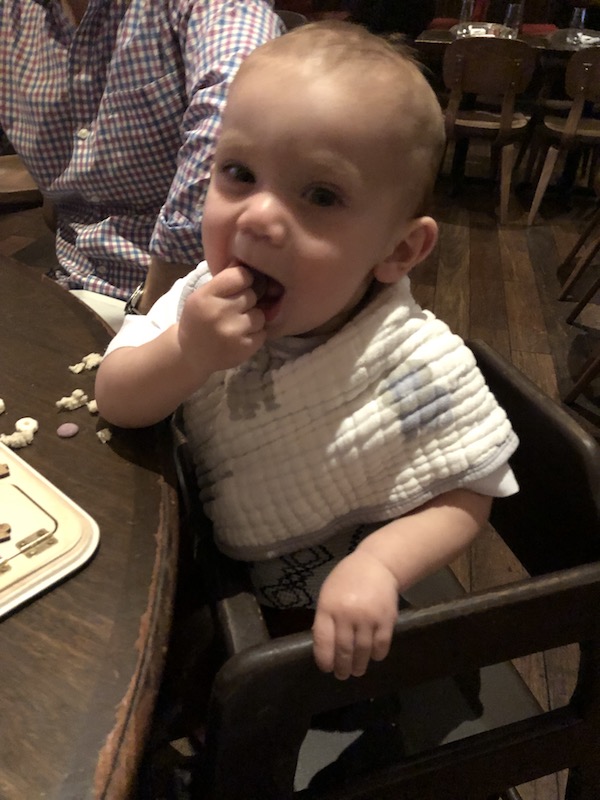 2. Aden + Anais burpy bibs. These are great!! We used them as burp cloths when Mikey and for this trip we used them as a regular feeding bib. They're cloth so they show dirt quickly but great thing is they cover a lot of his outfit, which is great when we were dressing up for the formal nights / Captain's Dinners. Mikey has also recently stopped liking the plastic and silicone bibs and often communicates this through the act of tearing them off. The Aden + Anais cloth ones don't bother him and they wash very well so they were nice to have along on this trip for sure.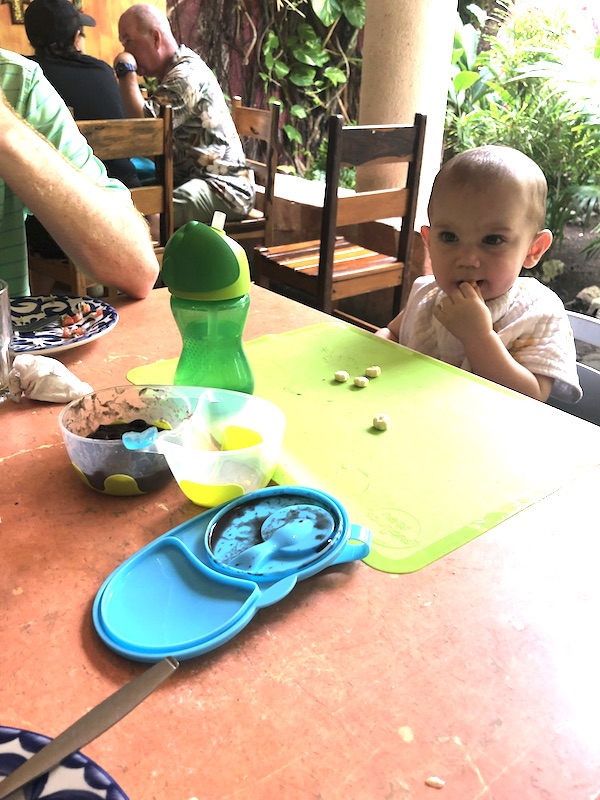 3. b.box Snack Pack: this was great for days we were going off of the boat. I used it to pack some of Mikey's leftovers from dinner and then I didn't have to worry about the quality (or safety) of food off of the ship. This definitely gave us added peace of mind and the food held up better in it than if we had just used the paper containers the ship gives you at dinner.
4. Neat Solutions Sili-Stick Table Topper. Mikey is still into throwing plates – ha! Just laying out the silicone placemat so he had a clean place to eat was really convenient and it took up almost zero space. (Editor's note: this placemat is and always has been a favorite of Gugu Guru.)
5. Babyganics Travel Foam Dish Soap. This is a must-have for travel with kids in general. It made cleaning cups, pacifiers, and everything else really easy in our stateroom.
6. Skip Hop matching snack cup. This dispenser paired with the aforementioned backpack that Mikey loved and he ate puffs from it all week.
7. Baby Food Pouches:  It was nice to know that I had something healthy and fast for him on the go when we didn't know what the cruise would be offering but I was actually pleasantly surprised at the food and the staff's ability to accommodate Mikey.  By the way, organic is very important to us, so for our pouches of choice when cruising with baby we liked Once Upon a Farm.
8. This travel size activity board from etsy. While this may seem odd to put in feeding, we loved that this fun Montessori-style activity board kept Mikey entertained at meals (and on the plane!)
Gear
1. Beco Gemini Baby Carrier. Whether cruising with baby, hopping on a plane or simply going sightseeing, I just could not live without this carrier for any kind of travel that we do. I've been using this ergonomic carrier since Mikey was an infant and will continue to do because it grows with your child and offers multiple carrying positions.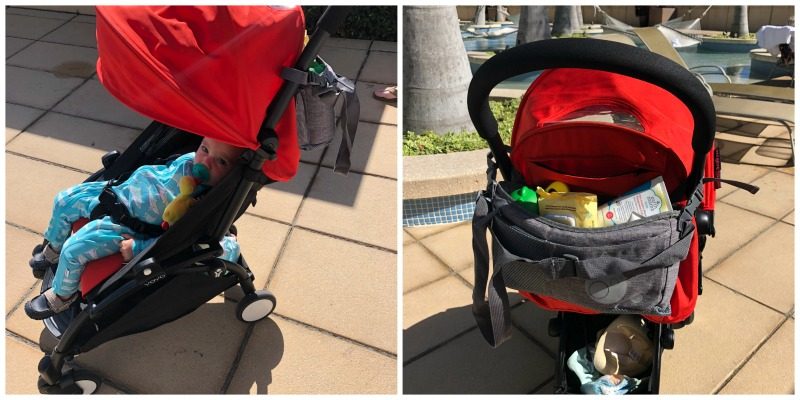 2. BABYZEN YOYO+ stroller: This is another piece of travel baby gear that we could never live without. While cruising with baby, it folded up so nicely in our stateroom and was easy to maneuver on board in the narrow hallways. I noticed a lot of parents on board had the Baby Jogger City Mini or City Mini GT (I have a City Mini GT at home) and I could not imagine storing that in the small state room. Though the City Mini folds easily it still takes up a good amount of space. Actually, even when I didn't feel like folding the BABYZEN YOYO+, it still fit in the room using minimal space, which was really convenient.
3. b.box stroller organizer. We LOVED this new item! It clipped on really well to the YOYO+ or you could just throw it over your shoulder. It is big enough for all the essentials (diapers, wipes, hand sanitizer, sippy cup, pouch, sunscreen, and even a toy!) It was nice while on board to not have to bring the big diaper bag around and since there isn't a lot of storage on the YOYO+ this gave us more space and kept us organized with all essentials within reach. We're even using this more now upon returning to Boston when we're going out and about for a short time instead of lugging the whole diaper bag.
Personal Care & Wellness
1. Earth Mama Organics sunscreen: This new line of organic sunscreens is just what I want for my baby: natural, thick, and protective. It was a bit too thick for me (although my very fair skinned husband didn't have an issue with it.) Heads up! Gugu Guru followers can use coupon code BeamOn to enjoy 20% off regularly priced EarthMamaOrganics.com orders through 2/28/19. (Please note that it cannot be used with any other discounts and is valid for US orders only.)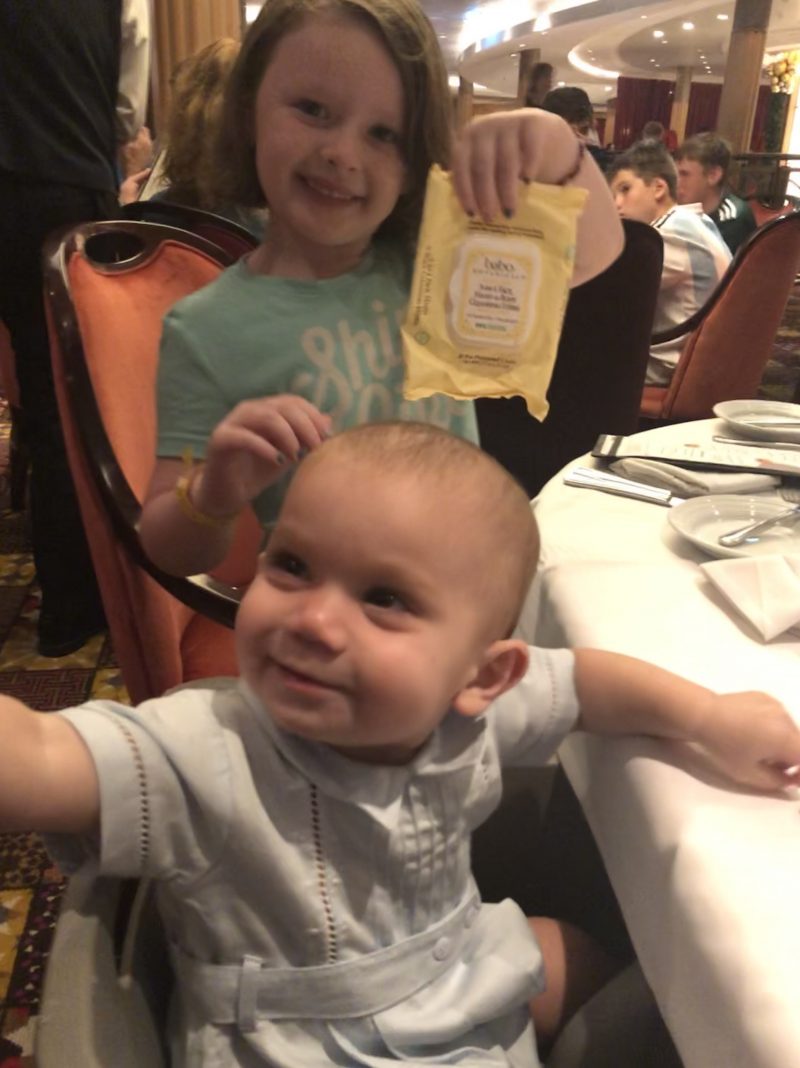 2. Babo Botanicals: I LOVE these wipes – especially for feeding. They're really soft to use on Mikey's face, which was great post meals. I also constantly used these wipes to clean all of our hands and even some surfaces. They smell so nice. For mama, I also enjoyed Babo's sheer lip tint that has a very mild color but again smells nice and kept my lips hydrated and protected from the sun. I am also now officially addicted to their face stick they sent. It was a tinted spf stick that I used every morning. It just glided on my skin really nicely and gave a nice smooth, glowing look to my skin.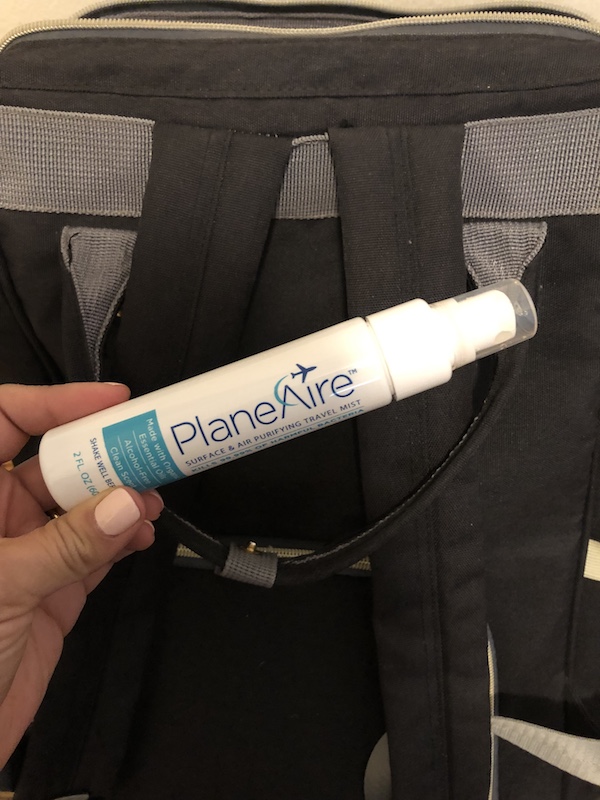 3. PlaneAire. This new all-natural, organic sanitizing spray formulated with essential oils was great for our stateroom and on the ship in general while cruising with baby. It now lives in our diaper bag.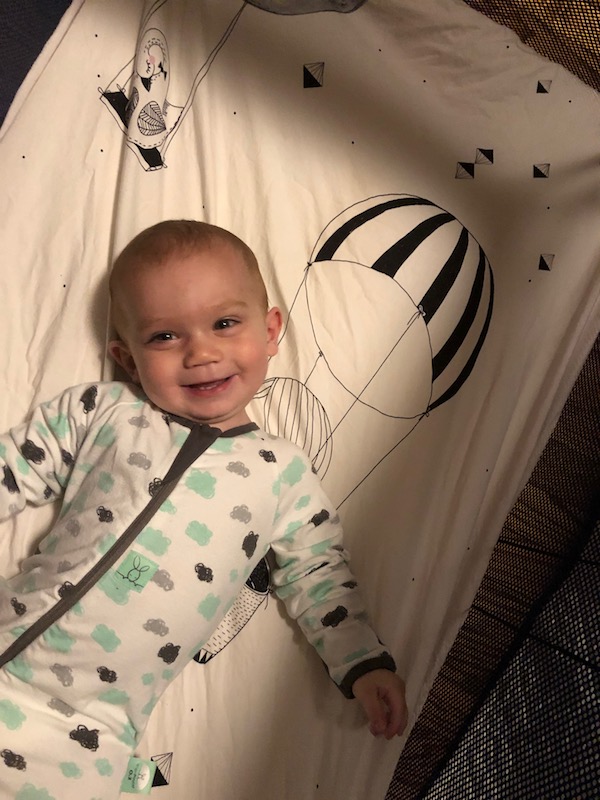 4. Rookie Human Crib Sheets.  I'm type A and worried about my son using the sheets that the cruise ship pack n play came with so I brought a sheet from Rookie Humans because it's so stretchy and actually wound up fitting well over the pack n play mattress. Bonus Tip: the cruise offers two sizes for  pack n play. We requested the big one because although the smaller size would have given us more room to walk around the stateroom, I knew Mikey would not sleep as well in such a compact spot so the Rookie Human sheet worked well with the bigger play yard.
Another Bonus Tip: One weird thing that was super helpful to have was duct tape! We used it to cover corners, keep drawers and the mini fridge shut, and even hung a sheet with it so Mikey had a "private room" (he sleeps better when he can't see us). Such a simple thing to bring but it was a life saver.
Disclaimer: Gugu Guru's editor received some of these products for this guide, however all opinions expressed are solely those of the editor. This post may contain affiliate links. When purchasing an item through affiliate links, Gugu Guru earns a small commission at no extra cost to the purchaser.