Following the D.R.E.A.M. SAFE sleep practices created by our friends at Colgate mattress will help protect your baby from Sudden Infant Death Syndrome (SIDS). According to the JPMA, each year in the United States there are approximately 3,500 Sudden Unexpected Infant Deaths (SUID). These deaths occur among infants less than 1 year old and have no immediately obvious cause. Although the causes of death in many of these infants cannot be explained, statistics show that as many as 80-90 percent are the result of unsafe sleep practices.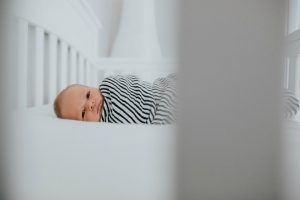 D.R.E.A.M. SAFE sleep practices:
D ~ DO place baby on her back to sleep.
Always place your baby on his or her back to sleep, for naps and at night.
R ~ REMEMBER a FIRM crib mattress is always best.
Firmness aids in development of baby's muscles and bones. Soft beds naturally give and contour which can impede a babies breathing and trap heat, which can also be dangerous.
E ~ ELIMINATE clutter.
Do not put anything soft, loose or fluffy in your baby's sleep space. Only a fitted sheet, mattress pad or waterproof pad should be used under baby.
A ~ ALWAYS place baby in the crib to sleep.
Never place your baby to sleep on top of any soft surface. This includes adult beds, couches, pillows, cushions, comforters and sheepskins.
M ~ MONITOR air flow and temperature.
Make sure your baby doesn't get too warm during sleep. Use lightweight sleep clothing and keep room temperature at what would be comfortable for a lightly-clothed adult. For newborns, consider swaddling.
By integrating these safe sleep habits, you will help ensure the safety of your baby every time they rest. For more safe sleep tips, please visit the JPMA's Safe Sleep Center.