We just couldn't resist sharing some of the rompers that made us "LOL" this week.  These funny baby onesies make great gifts and are sure to be the talk at any baby shower. Comment below to let us know which one is your favorite.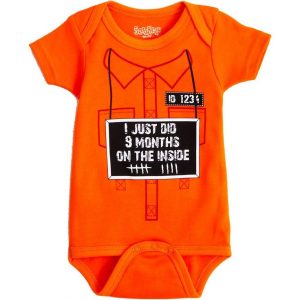 I Just Did 9 Months on The Inside by Sarah Kety
We're especially loving this for Orange Is the New Black  fans. Consider giving this onesie with a OITNB box set so mom can catch up on the hilarious Netflix comedy while she's on what we at Gugu Guru call "Newborn Lockdown". By the way, Sarah Kety Baby & Kids calls its line the funniest snap suits on the planet and from Party Tonight in My Crib to Is There a Napp for That, we are thinking that's not far from the truth.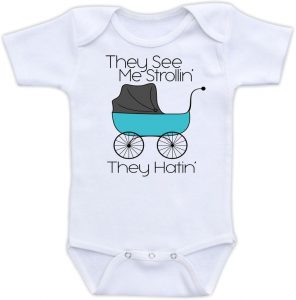 They See Me Strollin' They Hatin by Doozy Designs
This bodysuit is one of our all time favorite funny pieces for baby. A spoof on the catchy hit from the artist Chamillionaire. Good luck not having this stuck in your head all day as you push your baby's pram. Be sure to check out some of the other awesomely funny onesies from Doozy Designs (including another Gugu Guru favorite with the lyrics from Rapper's Delight for all you 80's fans.)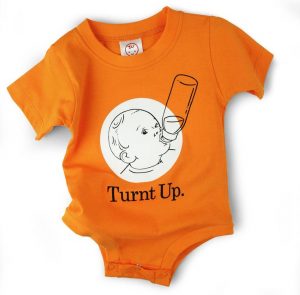 "Turnt Up" from Wry Baby
Wry Baby is the fabulously funny couple that put together the best-selling Safe Baby Handling Tips (which makes a laugh out loud baby shower gift by the way.) Check out more of their hilarious products here.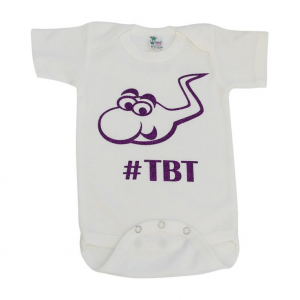 #TBT from KiddieCo
The illustration on this Throwback Thursday onesie for baby says it all.  Sure you can only put this on baby one day a week, but it's guaranteed to get smiles when you do. This is the ideal gift for any hashtag loving parent.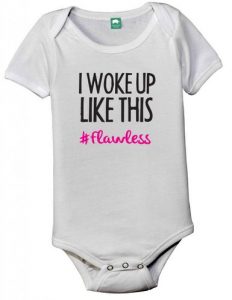 I Woke Up Like This by Sexy Girl Rock
The perfect onesie for the glam girl in your life. No make-up required.