Glass or Plastic – Which one is best for your lifestyle? Here's the team at Gugu Guru's list of pros and cons to help you decide which is best for you.
Also consider: Stainless steel are arguably the safest bottles for feeding and will keep liquids hot or cold for longer, but they definitely need to be hand washed. If your interest is piqued, check out the Pura Kiki infant bottle.
PLASTIC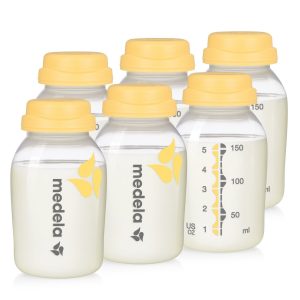 Pros
Plastic bottles are lighter weight than glass. Lighter bottles make it easier for baby to start self-feeding earlier.
Plastic bottles are less expensive than their glass counterparts.
And, maybe most notably: plastic bottles don't break.
Hint: If you prefer plastic but don't want the hassle of constantly washing the bottles try bottles that use disposable liners.
Cons
The most obvious reason moms are shying away from using plastic bottles is the BPA factor. The chemical Bisphenol A (BPA), which can leach out when heated, is linked to an increased risk of hormonal disruption. The FDA issued a ban on the use of BPA in baby bottles in 2012, however, alarmists are claiming that other chemicals in plastic are just as harmful as BPA, but there is no scientific evidence to back this up.
Many moms feel best washing their plastic bottles in the top rack of the dishwasher or even hand washing. If you don't want to hand wash and you don't have a dish washer, you'll need to buy a bottle sterilizer.
GLASS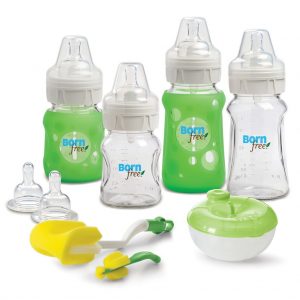 Pros
Safety rules with glass bottles. No potentially scary chemicals here.
You can give glass bottles a second life as water or juice glasses.
Glass bottles can get washed in the top or bottom rack of the dishwasher without any risk of harmful chemicals, like BPA, leaching out.
Glass is greener for the environment.
Cons
They're heavy. Try schlepping one or two around in your diaper bag for the day.
They cost more money than plastic.
There's always a possibility of breakage with glass.
Glass can get chipped without actually breaking, so you'll need to be on the lookout for any cracks before handing it over to baby.