Although wild weather and snowstorms seem to be spreading throughout the country, spring travel really is around the corner. We have reached out to our network of mom creators to help us discuss their must-have travel products for baby. See what they had to say below and for extra credit, give them a follow!
Plane Travel with Baby: Comfort
Anytime you head to the airport with baby, there can be a great deal of unpredictability. Flight delays, nap disruptions, and the inability to 'exit' can add a layer of stress to any travel day. Our mom creators have so many suggestions for keeping your little one busy on the plane. Take a look!
Feeding schedules can be a logistical nightmare when you're flying with your little one. If you're bottle feeding, be sure to bring extra breastmilk or formula in case of delays. Also, load up a few extra bottles in case you aren't able to clean your bottles as you would at home. We prefer Nanobebe's Flexy silicone bottles (like Madison C.), which are lightweight and leakproof. Their wide base makes them a great choice for travel as they are much sturdier while filling on the go.
A great carrier will make travel day a cinch. Something that's comfy to wear and easy to put on is always our go-to recommendation. We also love something that folds up small to take up barely any space in your carry-on (which we know is already filled with TONS of snacks). Check out the Ergobaby Embrace or the Baby Bjorn Mini. As an added bonus, these will double as a nursing cover if you're breastfeeding on takeoff or landing.
Travel with Baby: Simplicity
Toys to help keep your little one busy are always a hit. Fat Brain Toy Company's Squigz and Whirly Squigz are a favorite for Shannon W. "They are easy to stick to the window, tray table, or even your own forehead! They are easy to clean and don't take up much space."
If you are looking for that great travel stroller with baby, look no further! Doona's all-in-one car seat/stroller makes travel a breeze. Chelsea A. agrees – "The Doona makes everything easier!" The wheels pop right out from the infant seat, meaning you no longer have to travel with a car seat AND a stroller.
Go-Be Sleeves are also a must when traveling with littles. Keep those germs at bay with the easy-to-use tray table cover. See what Cassy A. has to say about this travel essential.
Looking for a more traditional travel stroller? Take a look at our highlight of Lightweight Travel Strollers.
Destination Essentials
Whether you're taking that cross-country flight or jumping into the car for your annual road trip, let's talk about some necessities at your destination.
If your destination doesn't include a safe place for baby to sleep, be sure to pack one. We love recommending playards. They fold up and can move with you on the go. Check out the options by Graco, 4moms and Guava Family. Expert tip – Pair with a Slumberpod to create a dark sleep environment even when you're sleeping in the same room!
A stroller wagon (check out the newest lineup from Larktale!) can be a game-changer when you're traveling with your baby. Most stroller wagons will give you great push or pull access and they will also double as great storage. When you're going to be active during the day, a stroller wagon will always fit the bill.
Lastly, travel with baby isn't complete without your play and entertainment items. First, your playard can easily transform from sleep to play throughout the day. Looking to recreate your playmat? Grab a swaddle blanket, some teethers and stuffed animals and you've got an on-the-go activity mat.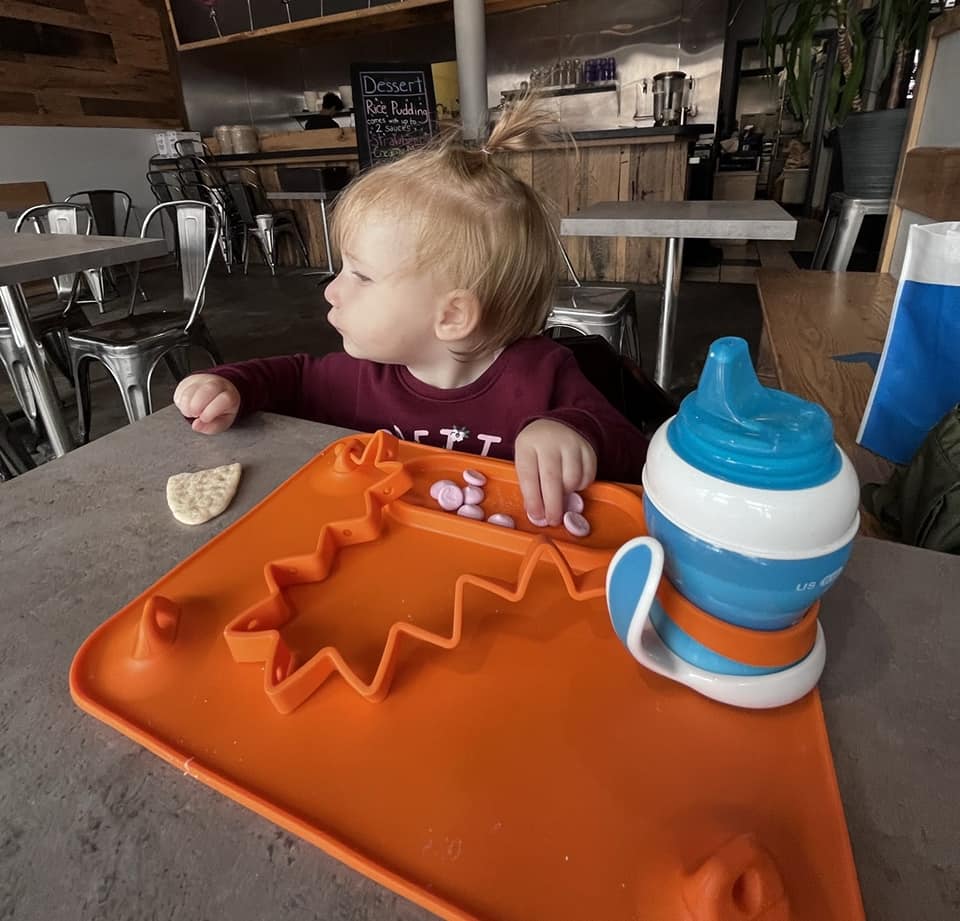 If all else fails, Shannon B. swears by the Busy Baby Mat while traveling with her little one. "I have a 2 year old daughter, we are out and about often which often includes a stop for lunch. I never leave the house without our BusyBaby Mat! The bottle leash was super helpful when she was taking a bottle, so she couldn't throw it!"
Looking for more?
Join our Mom Creator community by signing up for our email list and receive paid and gifted opportunities with your favorite baby and kid brands in your inbox weekly!
Interested in becoming a mom content creator or influencer but don't know where to start? Join our monthly coaching membership specifically designed for mom creators.