We actually learned about Mama Boxes through one of our favorite bloggers, Heather Wilson Tomoyasu of US Japan Fam, who happens to be pregnant with twin girls. Anybody that knows Gugu Guru knows that we are all about discovering new products that are right for your lifestyle (not someone else's).  Mama Boxes are a great way to find out about pregnancy-related products that you may not have heard of before but that may just be perfect for you. Each box is filled with pregnancy goodies that are trimester specific.  The boxes contain sample- AND full-size products for expecting moms to discover, try and fall in love with.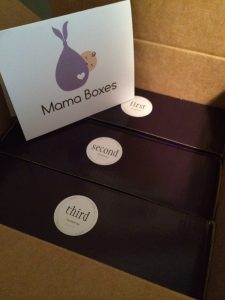 We received the three trimester bundle to share with some of our pregnant mommies and we were thrilled to see the variety of products ranging from skincare to prenatal vitamins to healthy snacks.  This is a terrific gift for an expecting mama. (Time to drop a hint!)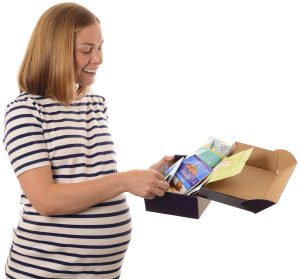 Our first trimester box included products great for boosting your overall prenatal health at this critical time of your baby's development and also addressing some of the downsides that can occur early in your pregnancy (e.g., nausea, morning sickness, constipation).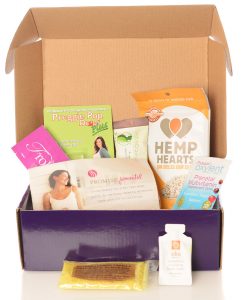 As seen here: Preggie Pop, Credible Cravings, Manitoba Harvest Hemp Hearts, Frolic, Promise Prenatal, Prenatal Oxylent, Sibu and Slather Lemon Vanilla Bean Scrub.
In our second trimester box, we found more tasty (yet healthy) snacks to satisfy your pregnancy cravings along with some wonderful products including some that will aid and relieve your stretching belly.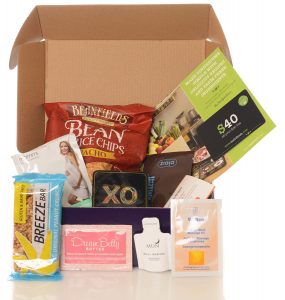 As seen here: Beanfields Chips, Hello Fresh, Mommi, XO Mints, Ziaja, Breeze Bar, Dream Belly Butter, Mun, Weleda, and Everyday Happy.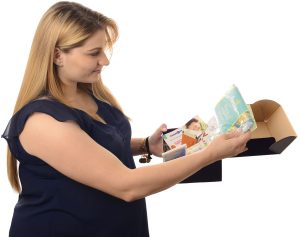 Lastly, our third trimester box was overflowing with "you're in the homestretch" goodness. In your final trimester, you need to keep caring for yourself, of course, but also start thinking about caring for the baby who's going to be making his/her appearance very soon. This box was filled with perks for mom AND baby.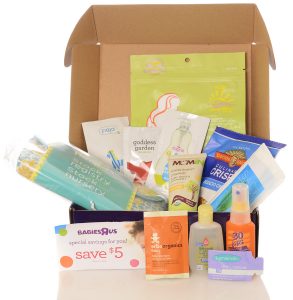 As seen here: Pampers, Ziaja, Goddess Garden, Dapple, Now For Mothers, MomIn, Doctor Kracker, S.A.C., Babies 'R' Us, Erba Organics, Johnson & Johnson, Lansinoh and KINeSYS.
The products inside the Mama Boxes are updated from time-to-time based on customer feedback, but here are just some of the brands you may see: