When it comes to maternity style, sometimes it can be difficult to pull-together a chic look; whether it is for work or play, sometimes a mama just wants to feel swank and Metropolitan. The Metropolitan Mom style is all about a streamlined look, lots of black staples, and colorful accessories. We rounded up some style finds for the Metropolitan Mom Style, maternity edition.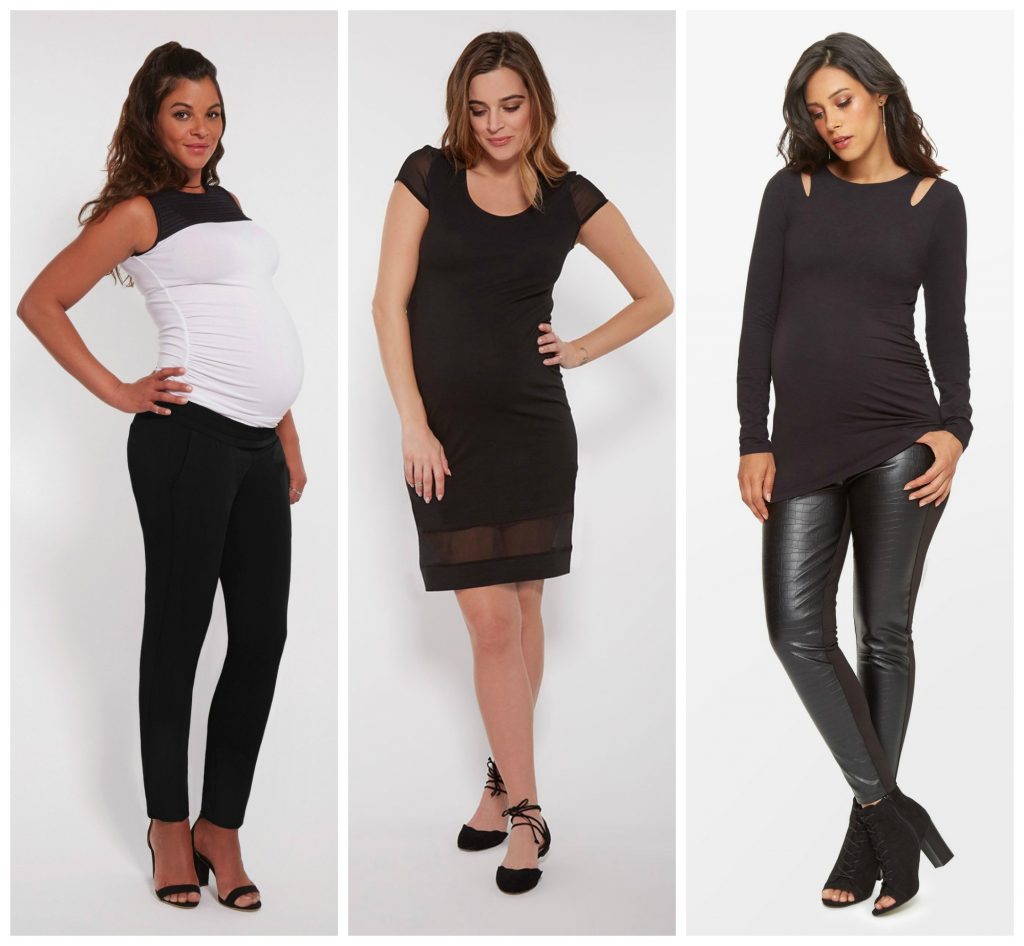 Clothing pictured: Black + White Contrast Maternity Top & Maternity Ankle Drawstring Pants; Little Black Maternity Dress; Double Keyhole Maternity Top 
Stowaway Collection: When co-founder, Stephanie's belly grew too big for non-maternity wear, she and her mom went on a girl's day shopping for maternity clothing and came home empty handed! They decided to start their own line of fashion forward maternity clothing, and Stowaway was born. Stowaway Collection was founded on the premise that the maternity clothing should take you from desk to dinner, and could easily be dressed up or down – whether for hanging around the house or date night, Stowaway will help you feel chic and sleek. Stowaway Collection is made in the USA from luxurious fabrics designed to keep you in style long past pregnancy. Stowaway understands that your bump can be hard to dress sometimes, so they have free returns back with their shipping label (woohoo!). Plus, they offer free shipping anywhere in the United States including Hawaii, Alaska, and Puerto Rico. It's a win-win! We also love their assortment of dresses which are perfect for your baby shower. Stowaway Collection is perfect for the Metropolitan Mom style with their clean lines, modern styles, and easy to wear clothing. You can find Stowaway on Facebook, Pinterest and Instagram.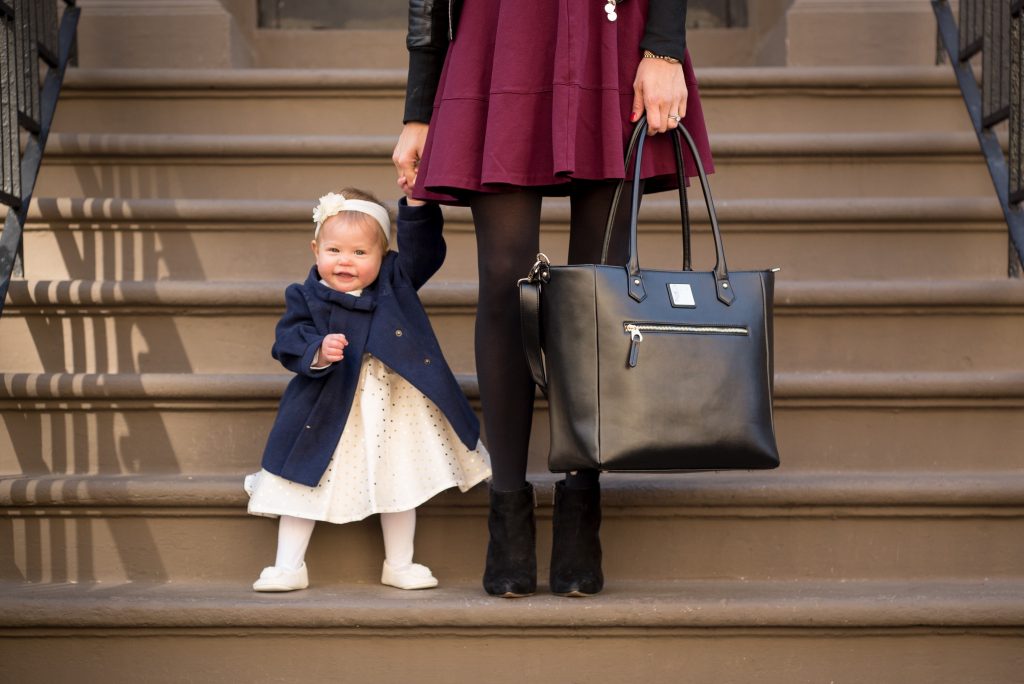 charlotte+asher Diaper Bags: charlotte+asher was founded by two friends who were frustrated by the lack of attractive baby bags so they decided to make their own! As they say, "Even though the inside of baby bags mostly hold baby's things, we know that the outside is really for mom–the woman whose desire for fashion doesn't change upon entering motherhood. We were inspired to create a bag where fashion meets function for the everyday, busy, chic, incredible mom. And because the bag doesn't scream 'baby!' it can be carried stylishly for work and travel, too." We're not only big fans of the chic style of charlotte+asher's bags, but they are a company founded on the premise of giving back, too. With every bag sold, charlotte+asher provides five vaccinations to children in need through Shot@Life. charlotte+asher bags come in a diaper bag style (we would seriously never know this was a diaper bag, it looks like a sexy briefcase!) and a tote bag style. These bags have everything you need to stay organized, efficient and elegant – lots of pockets, room for water bottles, zip-closures and more! You can find charlotte+asher on Facebook and Instagram.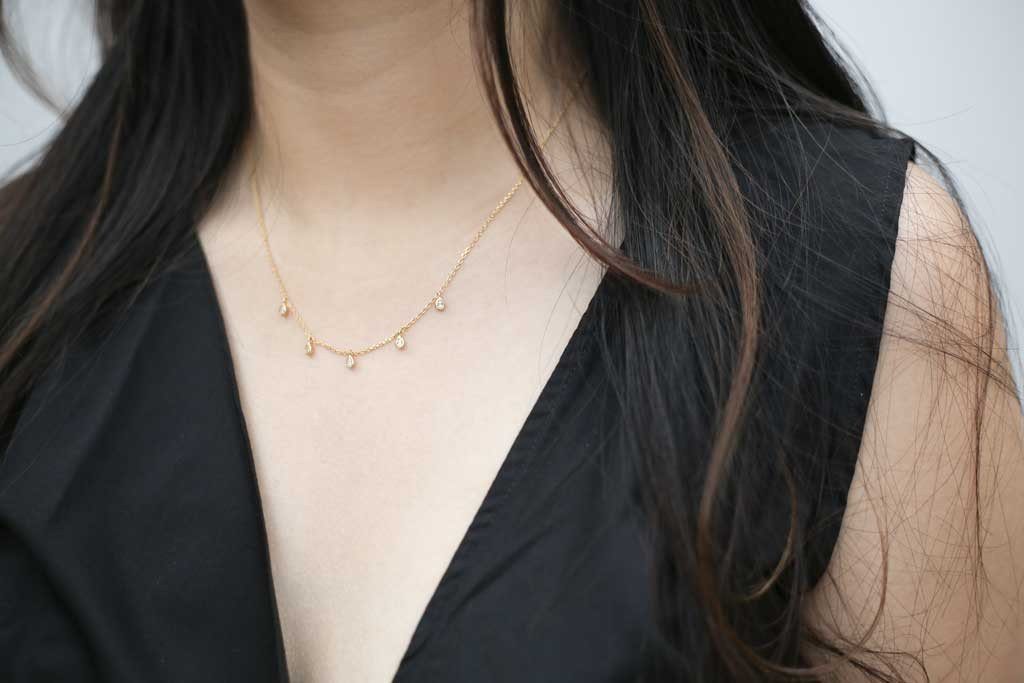 Maison Miru: When it comes to accessories for mama, we are loving Maison Miru for fun and affordable accessories for the Metropolitan Mom. Their streamlined jewelry features modern designs such as their fun superhero collection, which is a a grown up take on the friendship jewelry you exchanged with your friends on the schoolyard playground. Maison Miru has a fantastic collection of rings, earrings, ear bars, necklaces, and bracelets. Traditional enough for a work environment, with a modern flair, these pieces will surely be the sparkle you need for your Metropolitan Mom style look – all without breaking the bank! You can find Maison Miru on their Facebook and Instagram.
Thank you to Stowaway Collection for sponsoring this post.