One of the questions we get asked a lot from moms is how they can prioritize their health and wellness with an infant at home. We reached out to our amazing baby planners to find out what they think are must have essentials for mama's fitness and wellness journey postpartum.
Looking for more fitness related posts? Check out our fit-mama baby registry essentials, real mom review of the Meddy Teddy, a 15 minute babywearing workout, and top 10 tips for running while pregnant. 
Jessica Zablan, The Birth & Baby Company –
Must Have Essentials for Fitness and Wellness: Kleen Kanteen or Hydroflask water bottle; staying hydrated is important for everyone but it is an essential for pregnancy and postpartum moms. Having a great water bottle will encourage you to drink or throughout the day. These bottles can hold hot and cold liquids, they are very eco friendly, and super easy to clean.
Check out Jessica's pick for must have essential for baby basics.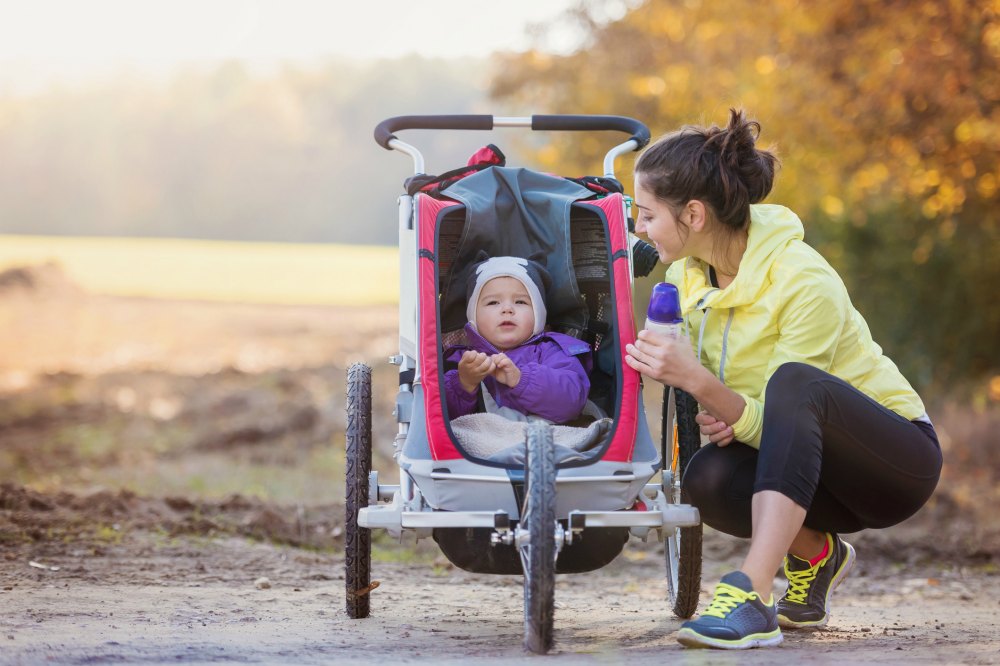 Ashley Akselband of Wellsprings Birth and Baby –
Must Have Essentials for Fitness and Wellness: I'd definitely say a FitBit! Sometimes moms don't think they're exercising, but the Fitbit keeps track of steps, heart rate, calories burned, etc. It's nice to have something to keep track of your movement and make you feel like you're exercising when you're doing everyday things, like taking the baby out for a walk or just carrying a load of laundry up two flights of stairs.
Check out Ashley's pick for must have essential for early feeding.
Abby Ludwig, Gugu Guru Registry Consultant – 
Must Have Essentials for Fitness and Wellness: As someone who has taken her sweet time getting back into the swing of things, my number one tool for fitness and wellness as a new mom was my baby carrier. I had both a soft wrap carrier (think Baby K'Tan or Solly Wrap) and a soft-structured carrier (think Ergobaby or Baby Bjorn) that I wore all around the house when my twins were newborns. This allowed me to get things done (i.e. the never ending amounts of laundry and dishes) while keeping my twins nearby. Also, at the end of the day I felt like I had put in a quick exercise session without having to find the time.
Check out Abby's must haves for parents preparing for multiples.
Amber Michels of Your Milk Shoppe – 
Must Have Essentials for Fitness and Wellness: Essential oils, when diffused, they can put a mama into her happy place in a matter of minutes. Joining a stroller club with fellow mommies. Not only are you burning calories, you're making much needed friends and getting free therapy.
Check out our favorite jogging strollers for city living.
Looking for more must haves?
This post contains affiliate links.