It can be hard to find the time to workout when you're also taking care of a little one, which is why so many parents turn to jogging with baby as a way to get a workout in while baby hangs out in the stroller. Our top pick for jogging stroller is the Thule Urban Glide, and we had a real mom, Kusum, review one – here's her take on why the Thule Urban Glide gets 5 stars as a jogging stroller!
Live in an urban environment? Check out our top jogging strollers for urban parents.
Want to see more posts from Kusum? Check out her top picks for bringing baby home essentials, new mom style guide, and new mom fitness tips.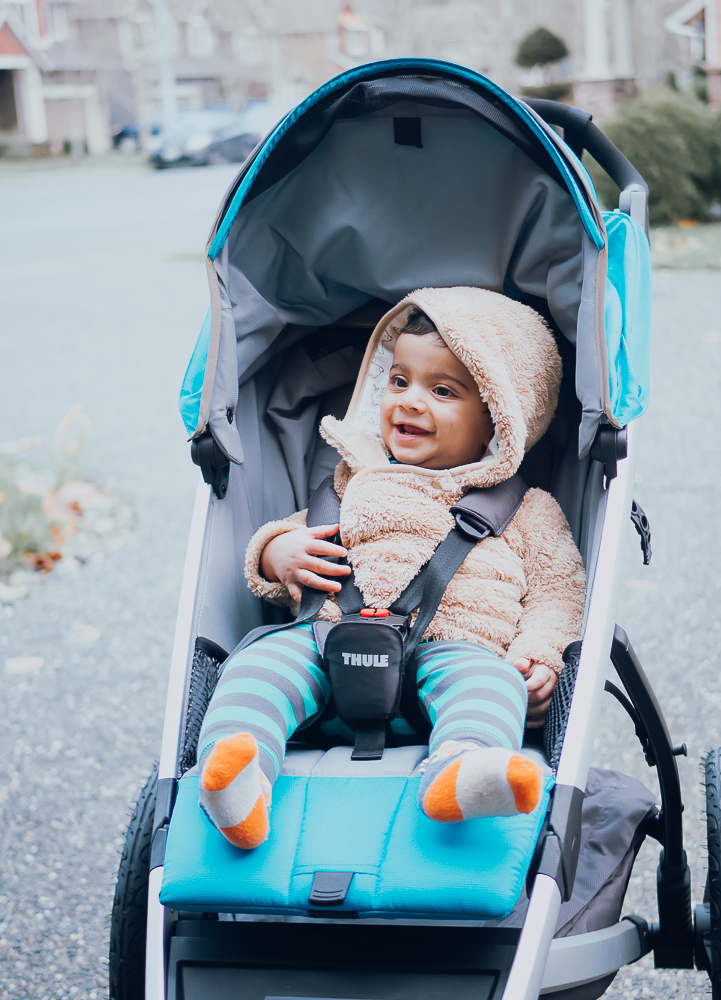 Being a first time mom, I generally spend hours on the internet looking up baby product reviews from time to time. Call me paranoid, but there is not a single baby product I bring home without reading at least a few dozen reviews and comparing different products and their features (even if it is as simple as a baby toothbrush). Maybe all moms are like that? Or maybe not? But in any case, nothing is more important to us mamas than our little one's safety, right?
So, when it was time for the hubs and I to choose a jogging stroller, I was more skeptical than confused with the number of options that are out there in the market. And for someone who has a love-hate relationship with running, this was a make or break situation, because it is extremely important to me that both my baby and I, enjoy our run while also being safe and worry-free. This Thule Urban Glide jogging stroller is everything I was looking for (and more). And I have Monica of Gugu Guru to thank for that – not only did she recommend the Thule Urban Glide but when I expressed a few concerns about this jogging stroller, she also gathered expert opinions from pros who have used this stroller for a while and love it. Talk about going above and beyond – personal concierge indeed!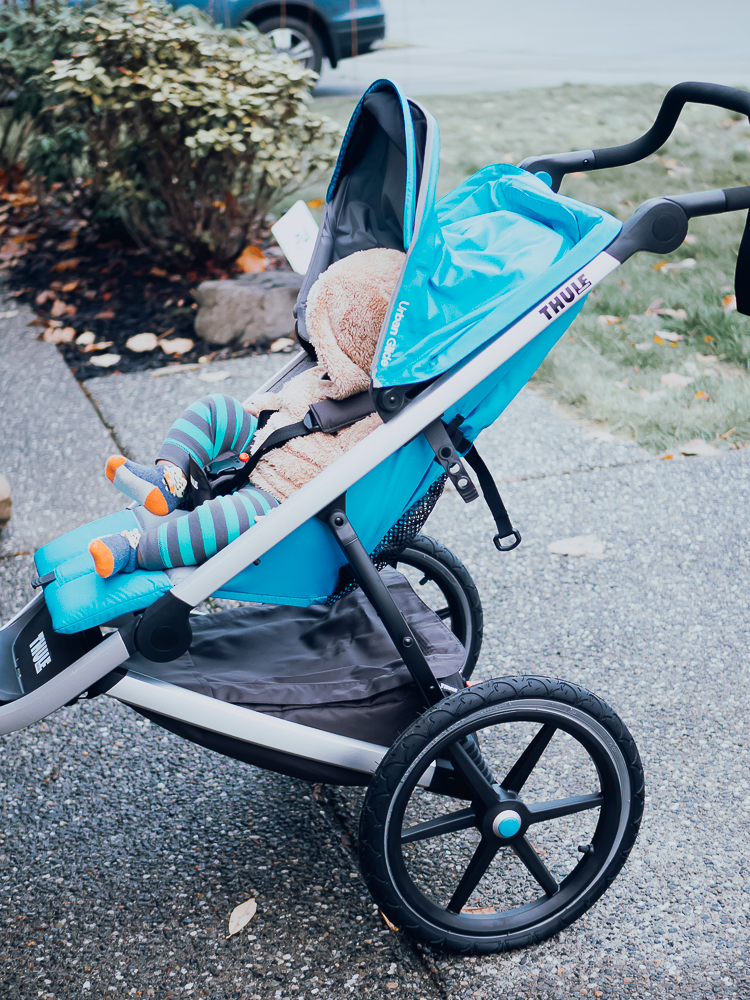 Reasons why I (the hubs and our baby) love this stroller… First and foremost, my hubby is tall whereas I on the other hand am petite and the Thule Urban Glide has an adjustable-height handlebar which makes it easy for either of us to use this jogging stroller without any hassle. It is easy to maneuver the stroller when I want to make a quick turn or even when the path is bumpy. I can recline the baby into a comfortable sleeping position when he is fast asleep on our run and park the stroller as I stretch halfway through the run. The stroller has a zippered storage compartment under the seat that comes with a water-resistant cover which is super helpful for the rainy Seattle weather. And weirdly enough, this stroller glides so smoothly that it makes it fun + makes me feel like going for a run with my baby more often. Can you tell from that big smile on my little baby's face that he loves to go running with his mama!
On the downside, even though the Thule Urban Glide feels light while running, this is not exactly a light-weight stroller, but I think it has to be heavy and sturdy to ensure safety. I also wish that a cup/bottle holder came with the stroller, but that's a minor complaint. This jogging stroller is definitely a bit on the expensive side but when your baby's safety is in question, the price tag is justifiable and worth it!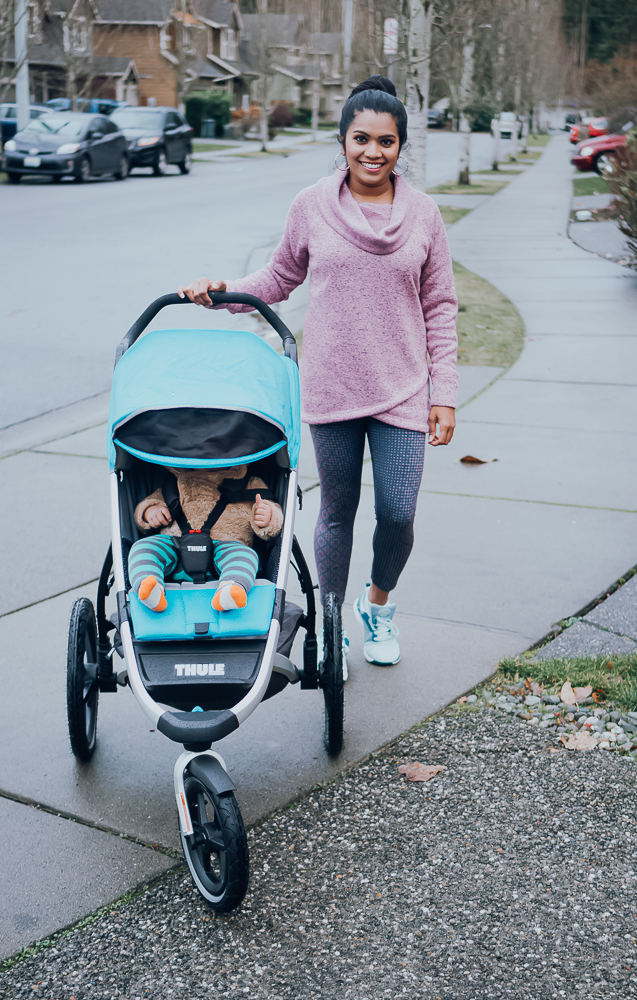 We still haven't had a chance to test the multi-position sun canopy (just thankful for the rear appearance the sun god makes over here in Seattle), and come to think of it, we haven't ever tried to fold the stroller for storing either (thank god for the ample space in the garage!). I am quite eager to use the Thule Urban Glide as a travel system and to take it on the beach and mountain trails on our next vacation. And all in all, this stroller gets a 5 star from me and I highly recommend it!
This post contains affiliate links.