Struggling with what holiday gifts to get for the pregnant or new mom in your life? We asked our amazing baby planners and the Gugu Guru team for their picks of the ultimate holiday gifts for a new or pregnant mama – which of  these holiday gifts would you love to get?
Latina Baxter of Marley & Moo Maternity, Texas: Prenatal Massage Package – Gift your wife, friend, or sister with holiday gifts that will help not only her but also the wellness of the baby.  Prenatal massages are know reduce back and joint pain, improve circulation reduce edema, reduce muscle tension and headaches, reduce stress and anxiety and improve oxygenation of soft tissues and muscles.  When momma feels good so does baby!  Gift her and her little bundle a gift they will truly cherish.
Lindsay Neely, Maternity Consultant and Project Coordinator for YMS, Greenville, SC: An Amazon Prime membership if she doesn't have one already,  because it just makes life so much easier to order things with one click! Plus, ALL the muslin swaddle blankets and this is my favorite because it's a touch bigger than the usual ones, and for the cooler months the flannel one. Hint: you can use swaddles to wrap your holiday gifts too!
Ginny Lawler, Maternity Consultant from Your Milk Shoppe, Atlanta, GA: For pregnant or new moms, the ultimate holiday gifts should focus on acts of self-care. Whether you are anxiously awaiting your new arrival, or celebrating your first holiday with your new baby, this is also a time to do something for yourself. My top picks this holiday season would be: 1. A massage, pre or post-natal. Give yourself an hour of quiet time to refresh and rejuvenate.  2. A super soft and warm robe to keep you comfortable and warm during feedings or uncomfortable pregnancy nights. 3. Hiring a cleaning company, even just for 1 hour of cleaning. The holidays are exhausting without a new baby, give yourself this gift of checking one thing off of your list without exhausting yourself even more. 
Lauren Daylami, Maternity Consultant from Your Milk Shoppe, Charleston, SC: For pregnant moms I would gift the Snoogle Pregnancy Pillow. As all pregnant moms know, a restful night's sleep is non-existent the last few months of pregnancy and this pillow is a lifesaver! It conforms to your body and offers tummy support to make you much more comfortable. It even comes with a travel bag too. For new moms I would give the Bitty Bundle of Joy Frida Baby Set that includes all the necessities a newborn baby and beyond would need including: nail clippers, the NoseFrida (which is amazing), and the Windi Gas passer tubes.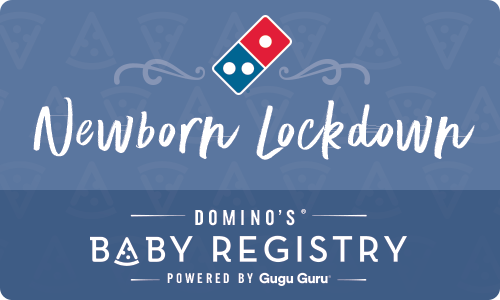 From the Gugu Guru Team:
Monica Banks, Gugu Guru's founder: The Domino's Newborn Lockdown Package is one of my new favorite holiday gifts for a new mom (and dad!). Who doesn't want dinner delivered after a long day of caring for baby? Cheesy goodness in front of the TV with your partner sounds like a date to us!
Check out more gift ideas from the Domino's Baby Registry, too!
Olivia Howell, Gugu Guru's Editor in Chief: The best gift I ever got as a new mom was my camera! Yes, all phones have cameras now, but I use my Canon DSLR all the time – the automatic setting is amazing and I can just point and click to get professional looking photos of my sons. If you're going to give big this holiday season to a new or pregnant mom, I highly recommend the Canon Rebel T6i.
Alexa Rubin, Gugu Guru Business Development: The gift I always give to new or expecting moms is super soft pajamas! Since you're in PJs most of the day with a newborn, you want to not only feel comfy, but look a little put-together, too. I love these Karen Neuburger pajamas, because they're easy to breastfeed in and comfy and chic.
Shana Smith, Gugu Guru's Marketing Director: Definitley a gift card for postpartum doula services! Postpartum doulas are such a gift to new moms, so why not help your sister or friend help pay for one? Self-care for the win!
This post may contain affiliate links.