This is our sixth post in Gugu Guru's New Mom Series, where we provide helpful information for new and expecting moms about preparing and registering for baby. For this Baby Carrier for Hikes feature, we have partnered up with one of our favorite active and yogi mamas – Cristina Meloy; leading baby gear brand BABYBJÖRN and; the Baby Safety Zone powered by the JPMA (Juvenile Products Manufacturing Association). JPMA is a national trade organization representing 95% of the prenatal to preschool industry dedicated to the safe manufacturing and usage of products.  Read on to learn about the new BABYBJÖRN Carrier One Outdoors and enter to win one for your own adventures with baby.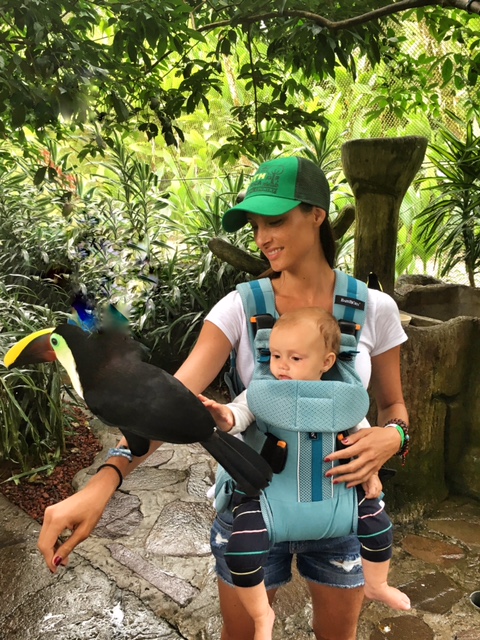 Not all carriers are built the same and depending on your lifestyle, you may want to have more than one carrier.  Some parents wear a structured carrier when they leave the house but in their home, may wear a softer wrap-style carrier. What's important to remember is that whether you tend to like to enjoy the comforts of home or are the type of person that finds thrills in climbing Mount Kilimanjaro, there's a carrier for you.  Baby gear has evolved to fit all types of lifestyles and you can rest assured that there are ways to enjoy your current lifestyle with your new baby.
Because everyone has their own unique lifestyle and parenting style, no carrier fits all when it comes to baby wearing and you should definitely try your carrier on before buying. There are some basic best practices when you're trying out carriers, regardless of the type of carrier per Linnea Catalan, Executive Director of the Baby Carrier Industry Alliance (BCIA) who guest blogged for the JPMA Baby Safety Zone. Here are a few guidelines she shares:
A baby carrier can keep your baby in the safest place possible – on your chest and in an upright position.
Baby carriers are meant to mimic in-arms carrying positions – your baby should be in the same position in which you would hold him in your arms. Check your baby by embracing them in the carrier- your baby's position should not shift significantly in your embrace.
Whether your carrier of choice is a sling, wrap, mei tai or buckle carrier, ensure baby always has a clear and open airway. Your baby's head and neck should be completely supported, with their chin off their chest. Chin to chest positioning can restrict your baby's airway, especially with babies under 4 months of age. Make sure you can slip a finger between their chin and chest.
Finding a hip healthy carrier is also important when you're evaluating products for your baby registry.  The International Hip Dysplasia Institute (IHDI) is a great resource for products recognized for encouraging healthy hip development, specifically products and devices used during the first six months of life that may affect hip positioning or hip motor development.
Once you have the basic guidelines down and identify carriers that are hip healthy, it's time to find the right carrier for your lifestyle. During the summer months or if you're traveling to warmer climates, breathability is key.  If you're the active, outdoorsy type and you want to continue this lifestyle – even with a new baby in tow – you may want to consider carriers that are engineered specifically for an active lifestyle.  A new carrier on the market that is ideal for hiking is the BABYBJÖRN Carrier One Outdoors.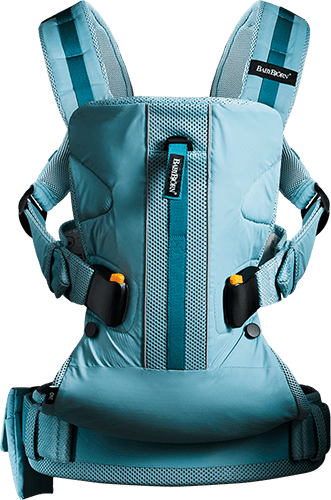 Here are the key features of the Carrier One Outdoors, making it ideal for outdoor adventures with your family:
Designed to be the perfect hiking baby carrier, constructed with functional materials for the outdoors like water-repellent, moisture-wicking textiles that are easy to clean.
Just like your favorite hiking or camping backpack, the Carrier One Outdoors has great features to enable active exploring with your family such as a detachable pocket on the waist belt for your cell phone, keys, pacifiers or other small items you need for your child on family days out. Several loops on the shoulder straps allow you to attach essentials like a water bottle and keep items like a security blanket or teddy conveniently close.
This carrier will grow with your child with its 4-way front and back carrying*, ideal for outdoor activities. It's perfect from newborn to 3 years, with built-in infant position and extra support for toddlers. Baby Carrier One Outdoors allows you to continue to enjoy an active lifestyle as a parent and still be comfortable, whether you're carrying a little child on your front or a toddler on your back. The Carrier One Outdoors has padded, form-fitting shoulder straps and a sturdy waist belt, which provide excellent support and pressure relief, especially when carrying a toddler.
Hip-healthy baby carrier, with ergonomic wide leg position for the child. The baby carrier has a 12.6 in (32 cm) seat area, which gives your child a proper ergonomic, wide-leg position when they sit facing in on your front or back. The International Hip Dysplasia Institute has tested Baby Carrier One Outdoors and acknowledges it to be a "hip-healthy baby carrier."
Comes with a practical bag for storing and transporting the baby carrier.
*Note: front-facing should not be done until after 5 months and back carrying after 12+ months.
Gugu Guru mama Cristina Meloy took the Carrier One Outdoors to her homeland of Costa Rica, where there is no shortage of beautiful, lush locales to hike and explore.  Here's what she had to say: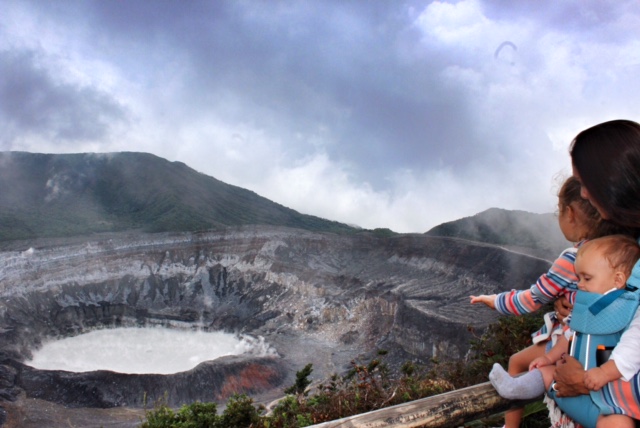 "It's so freaking cool how nowadays we can include our children in all our day-to-day activities, while providing comfort and nurturing them. Outdoor time is extremely important to me. To raise my children unplugged from TV and computer games is something I consider very valuable. Sometimes, however it is really difficult to do, especially with multiple children and/or infants. Out of all the parenting gadgets out there, a good carrier is essential. BABYBJÖRN is safe for them, comfortable for me and good looking, too! I mean, just cause we're parents doesn't mean we have to look boring, right?"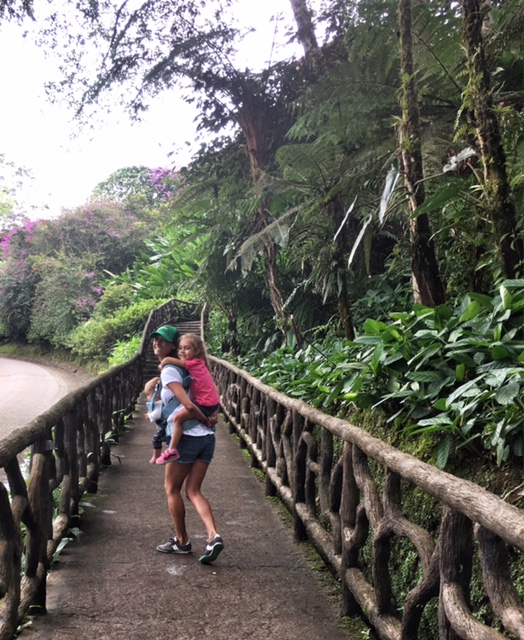 "I love the ability to be hands free for my eldest, too!"
The Carrier One Outdoors is available exclusively at Giggle and Right Start through October.
Featured in this week's New Mom Series:
Cristina Meloy
Mother of two, Cristina Meloy, is one half of the couple behind the supper club PushStart Kitchen in Atlanta, Georgia. BETTER HALF is a place where family is the inspiration and connecting over food is the focus.
Follow Cristina on Instagram at @crismeloy
BABYBJÖRN
A member of the Juvenile Products Manufacturers Association (JPMA), BABYBJÖRN's concept has always been to make day-to-day life easier for parents of small children by developing safe and innovative products of the highest quality for children up to three years old. The company strives to make the most important years of life even more fun. BABYBJÖRN products are now found around the world, in over 50 countries, and the assortment consists of baby carriers, bouncers, travel cribs, cradles, potty chairs, high chairs and kitchen products. BABYBJÖRN's attitude is that you shouldn't need to buy a bunch of products when your children are little. Instead, just a few that really work and last a long time in good condition. Safety, quality and style are the brand's core principles and a lot of thought and care is put into every product!
Visit BABYBJÖRN at: https://babybjorn.com/
Baby Safety Zone
The Baby Safety Zone is an information hub and community for parents and caregivers. We're helping make safety fun, one baby product at a time. Parents and caregivers are encouraged to immerse themselves in the Baby Safety Zone experience and become a part of a circle of parents dedicated to making their child's first years, happy, safe and sound.
The Baby Safety Zone is powered by the Juvenile Products Manufacturers Association. JPMA is a national trade organization representing 95% of the prenatal to preschool industry. Today, JPMA represents 250 companies in the United States, Canada, and Mexico who manufacture, import and/or distribute infant products such as cribs, car seats, strollers, bedding, and a wide range of accessories and decorative items.
Visit the Baby Safety Zone at: https://babysafetyzone.org