Warning: the images in this post may cause cuteness overload. 🙂
Welcome to Gugu Guru's New Mom Series, where we provide helpful information for new and expecting moms about preparing and registering for baby. For this Safe Infant Bathing feature, we have partnered up with mama Krista Horton, 4moms
, Little Giraffe, and Babyganics
.
Tip: When your baby is brand new, most experts recommend that you stick with sponge baths for a few weeks, or at least until their umbilical cord stump falls off. Your newborn won't need a sponge bath every day; two or three times per week is fine. This is because your little one can lose body heat very quickly. Using a warm washcloth (you don't really even need soap for the early days), just give baby a quick once-over and then snuggle them in a cozy towel.
Krista Horton's 3 month old daughter is ready to start bathing in an infant tub. The first step? Reading up on Bathtime Safety!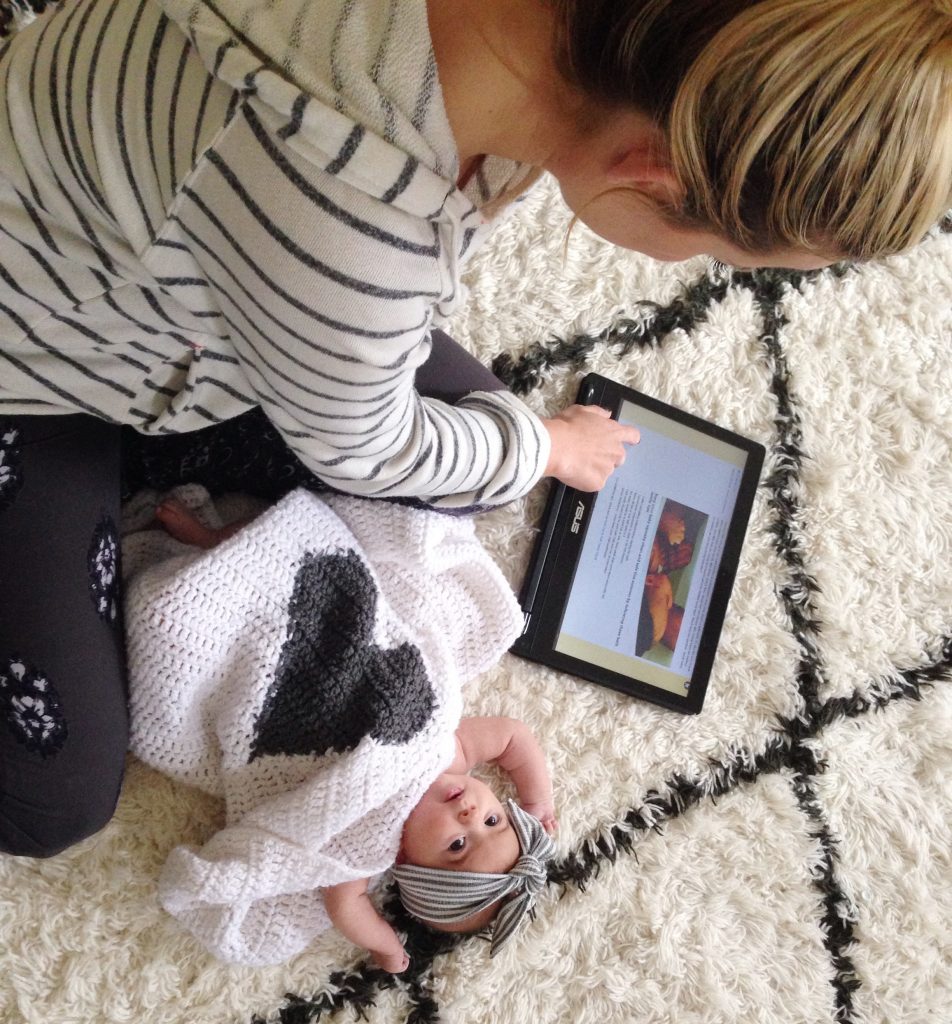 Baby Bathing Tips:
Collect all bathing materials before starting the bath.

Typically the water temperature for baby should be 90-100 degrees.
Never lift the tub or seat with baby in it.
No water should be in adult tub or sink.
Keep adult drain open when using baby tub.
Bath seats should only be used with child who can sit unassisted.
Ignore distractions – never leave your child unattended.
Based on her lifestyle and budget, Gugu Guru recommended the 4Moms Infant Tub,
for Krista's registry. The 4Moms Infant Tub, may be a Gugu Guru best match for you if: you live in a house (i.e., more space), your budget is "middle of the road" and you like a modern aesthetic .
In Krista's words:
"This tub does all the dirty work for you. I love that it monitors the temperature for you and beeps if the water is too hot. I also love how it filters out the water during the bath so my baby could have warm, fresh water the entire bath!"
For baby's personal care, Gugu Guru recommends Babyganics Baby-Safe Hero Essentials Gift Set. The set has a variety of essentials for bathing, including necessities like: Moisturizing Daily Lotion, Baby Bubble Bath, Foaming Baby Shampoo and Body Wash – all in a delicious Chamomile Verbena scent. Gugu Guru recommends Babyganics across all registries because of the brand's affordability and totally responsible and safe formulations.
In Krista's words:
"I love that the Babyganics products are natural and gentle for my baby's delicate skin and the fresh, chamomile scent!"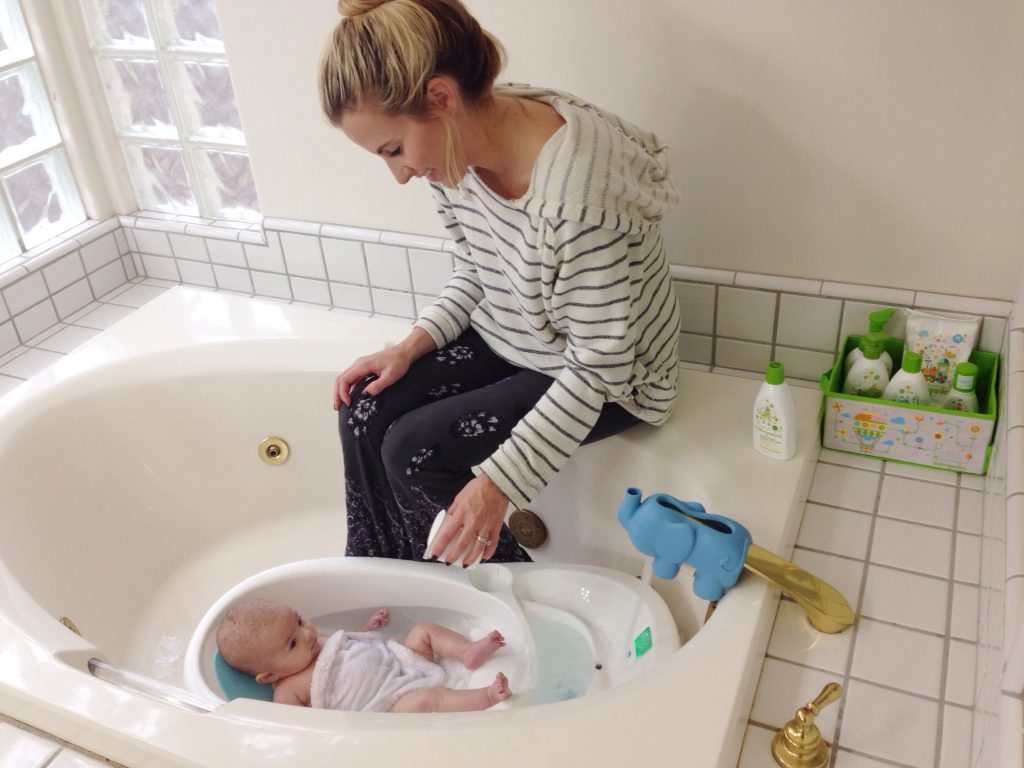 For the bath towel, Gugu Guru recommended the softest and cutest towel to fit Krista's budget and style — the Plush Hooded Baby Towel from Little Giraffe. Little Giraffe is known for its high-quality, super soft products and signature chenille textiles.
In Krista's words:
"Cutest, softest little set! I love the material and the size was perfect because a lot of baby towels and washcloths are too small for my liking!"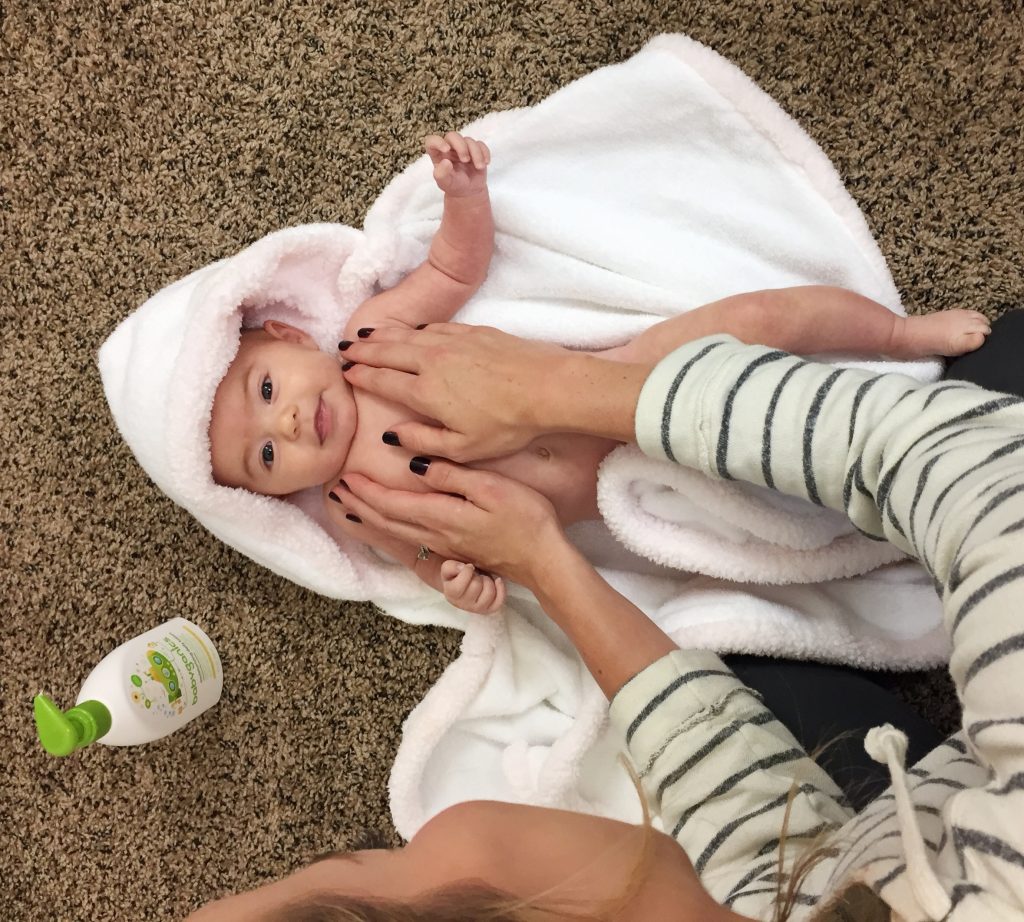 Bathtime was completed with Babyganics' Moisturizing Daily Lotion along with some kisses from mom. Squeaky clean…safely.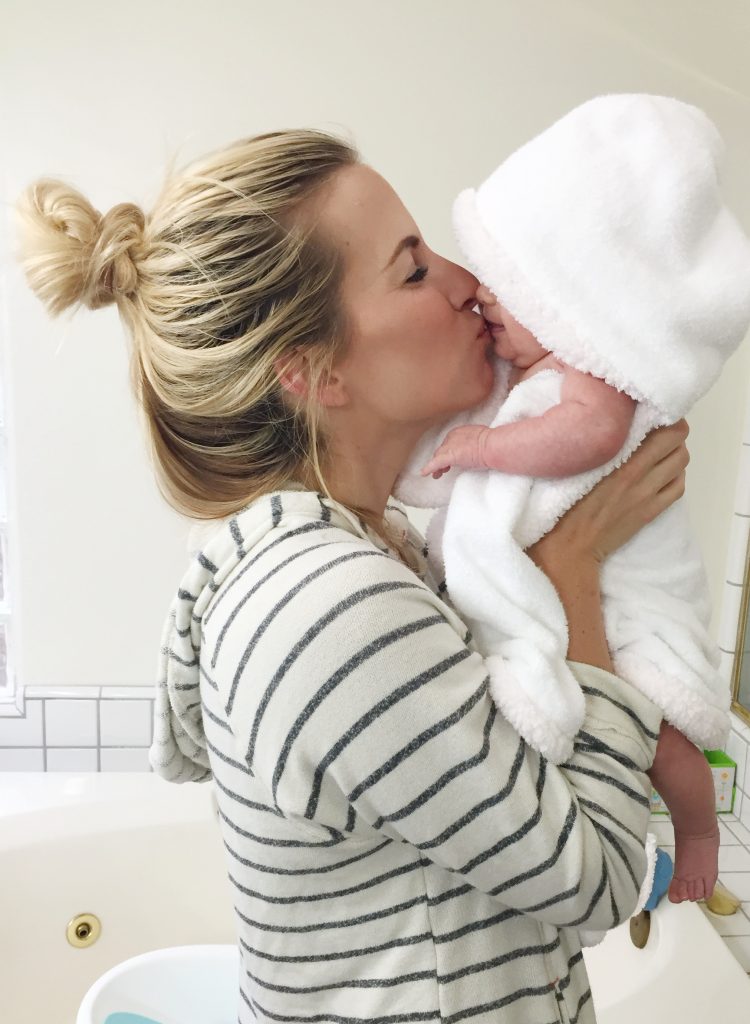 Featured in this week's New Mom Series:
Krista: I am Krista Horton, 29 years old, married to my favorite guy and mama to Boston (2) and Kollyns (3 months). I am a stay at home mama and I wouldn't have it any other way! I absolutely love being home with my babies and we love getting out and about and going on as many adventures as we can!
4moms: 4moms® is a consumer technology company that leverages robotics, technology and innovative design to disrupt and redefine existing industries. The company has transformed the baby gear industry with products like the 4moms origami®, the world's only power-­‐folding stroller; the 4moms mamaRoo® infant seat that replicates the bouncing and swaying motions parents make when soothing their babies; and the 4moms breeze® playard that opens or closes in one simple step.
Little Giraffe: Little Giraffe is known for creating top-of-the-line, luxury baby blankets and newborn essentials. All Little Giraffe products are made from the highest quality, softest textiles, and provide not only comfort, but soothe and calm baby for restful sleep.
Babyganics: When we started families of our own, we found we shared a "grown up" mission: to help parents like us create a baby-safe world. We'd do this by creating a world of products made to go wherever babies go (pretty much everywhere). Because exploring and discovering is a baby's full time job. Our job—every parent's job— is to make it safe for babies to do theirs. It's the best way to make sure they fully develop and thrive.
---
Join our Mom Creator community by signing up for our email list and receive paid and gifted opportunities with your favorite baby and kid brands in your inbox weekly!
Interested in becoming a mom content creator or influencer but don't know where to start? Join our monthly coaching membership specifically designed for mom creators.