PacaPod, founded and designed by a mompreneur, is a revolutionary twist on the modern diaper bag. PacaPod is cleverly designed so that a parent doesn't have to rifle around their bag to find what they need, but has everything neatly organized in a simple three part system. The outer bag, designed with a stylish parent in mind, has the ability to hold your phone, pens, keys, clip on to your stroller, and be worn on the shoulder or cross-body. Within the bag is an insulated feeder pod, designed to hold bottles, breast milk, or food, and can be easily accessed either within the main compartment, or taken out and clipped onto your stroller independently.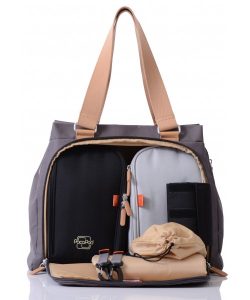 Every PacaPod also comes with a changing pod, complete with room for diapers, creams, and a changing pad; because all of the diaper necessities are within their own pod, it keeps the rest of the bad clean and free of germs. No more struggling to find the diaper cream, baby socks, or tiny hats on the bottom of your diaper bag! Pack everything efficiently and neatly into your PacaPod and you're ready to take on the world with your little ones. PacaPod offers handsome styles for dads, chic styles for moms, and travel bags as well.
Their Spring/Summer collection has just been released and we're so excited to show you four new PacaPod styles: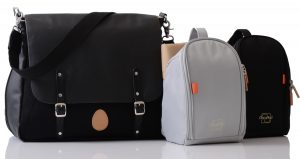 Prescott: The Prescott Bag is perfect for both moms and dads, with its rugged cotton and canvas design, this sturdy and large bag is helpful for a parent who doesn't always have time to switch to a work bag every morning. Sleek and handsome, the Prescott features a hidden padded laptop section, so you can drop the kids off with their feeder and changing pods in the morning, and head straight to work!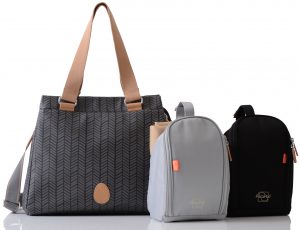 Richmond: A classic tote bag, in neutral tones with vegan leather trim, makes this bag a perfect accessory for any mom-on-the-go. With a handle made of thick webbing, this bag can be comfortably worn over the shoulder, or easily strapped onto your stroller. This stylish bag can also become your chic purse on those rare moments you leave the house without your baby!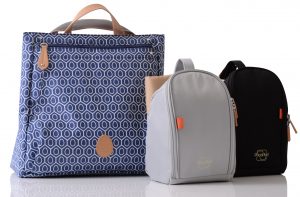 Lewis: As a backpack and messenger bag rolled into one, this bag is the perfect parent travel companion, as it has multiple ways of being worn on your body. With a sleek silhouette and vegan leather trim, the Lewis also features front pockets with magnetic closure, making it easy for mom or dad to quickly access their necessities, as well as baby's.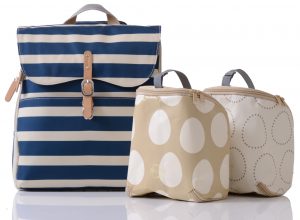 Hastings: Heading out for a long day of travel? The popular Hastings bag is now available for Spring/Summer in bold blue or sand stripe. Hastings is part of PacaPod's collection of lightweight bags, and features their flat-pack-pods, which easily flatten when not in use. The Hastings is both a backpack and messenger bag and can be quickly switched from one style to the other, depending on what the parent needs.