As a parent, the key word is always "convenience" – any item you carry on you has to be easy to reach, easy to clean, safe for the baby, and double points if the item can be used as two items in one! As your baby grows into the early stages of eating solid foods, you're going to find yourself having to remember to pack not only the food in the diaper bag, but also a spoon, bib (or 2), plastic baggies, paper towels, wipes, and still, at the end of the day, you'll probably be shoving a dirty bib into the diaper bag (and, let's be honest, forget that it's there and find a sweet potato crusted bib three weeks later). Well, now, thanks to the folks over at b.box, there is a much better way!
b.box, started by two moms, features fun and, most importantly, functional products for babies and young children.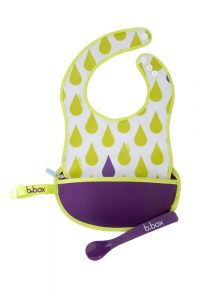 Having endured the mess of dirty-bibs-on-the-go themselves, the ladies at b.box invented this innovative travel bib and spoon, which not only is adorable for your little one, but amazingly efficient as well. How does it work so well? Well, this BPA-, Phthalates- and PVC-free bib features a standard bib structure, however, on the bottom of the bib is a pouch to catch all the food which drops – but, that's not all!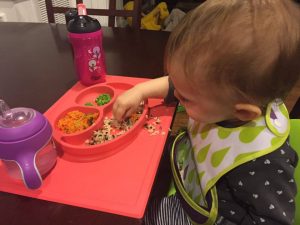 When your darling one is done with their messy lunch-on-the-go, all you do is fold the bib up into the pouch attached on the bottom, throw in the spoon, zip up – and voila! Throw it into your diaper bag, clean as a whistle, and you won't have any more crusty potato flakes wandering around the bottom of your bag.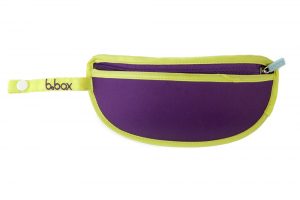 Once you get home, simply un-zip the pouch, wash the bib and spoon by hand with your regular dish soap, let dry, and you're ready to zip it back up for your next adventure with your babe.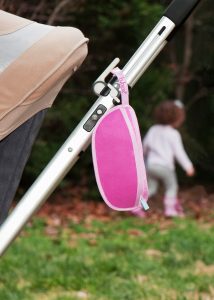 The pouch features a handy looped handle, so you can easily strap it to the outside of your diaper bag, wear it on your hand, or throw it on your stroller's handle.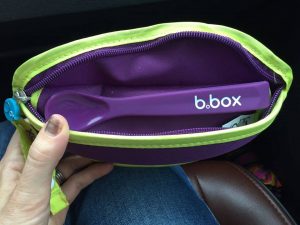 The flexible soft-bite spoon is perfect for early eaters, all the way down to children who can feed themselves. The bib is made from polyester and comfortable for your baby, without being too rigid and making it uncomfortable for them to eat. With an adjustable strap on the neck of the bib, this efficient and functional mealtime accessory will last your little one many months! This one-of-a-kind product is perfect for any mom-on-the-go who loves to leave for adventures at the last minute! You'll never have to worry about packing towels, plastic baggies, and multiple bibs again – when it comes to convenience, the b.box travel bib has it all – not to mention the modern and cool graphics on it!