It's hard to imagine something being a game changer when it comes to pumping, but Freemie Collection Cups are indeed a game changer. Imagine the freedom of hands-free pumping, while wearing most any bra you want and keeping your shirt on! The cups each hold 8 oz and are designed to slip right into your bra. Once securely in your bra, you just insert the tube into the top of the cup and start pumping!

We won't go so far as to say that no one will know, but the cups do allow for discreet pumping. They also allow you to go about your day while pumping – hold your little one in your arms, do your makeup, work at your desk, or entertain everyone who has come to ooh and ahh over your new arrival instead of hiding out in another room to pump.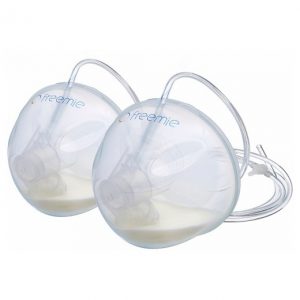 The cups are designed for easy pouring – leaving the cups intact, simply take the tubing out and easily pour right into a storage bag or bottle. It is recommended that you hand wash them in hot, soapy water, so no waiting for a dishwasher cycle!
Freemie Hands Free Collection Cups are included with all Freemie pumps, but can be purchased separately and are compatible with many of the most popular pumps. The Freemie Collection Cups Deluxe Set comes with two 8-ounce collections cups and two sets of breast funnels (25 mm and 28 mm).