March is Women's History Month and today we're excited to introduce you to a brand founded by a woman (and mom) revolutionizing the way that moms can work outside the home and continue to breastfeed (and pump).  Milk Stork was started by Kate Torgenson in 2015 after struggling to get her breast milk (more than two gallons of breast milk and eight pounds of melting ice) home to her eight month-old twins after a four-day business trip. She was determined to create a solution so Milk Stork was born. We interviewed Kate all about why and how she founded Milk Stork; you can follow Milk Stork on Instagram, Facebook, and check out their website. Moms shouldn't have to choose between their careers and breastfeeding, and now they don't have to thanks to Kate.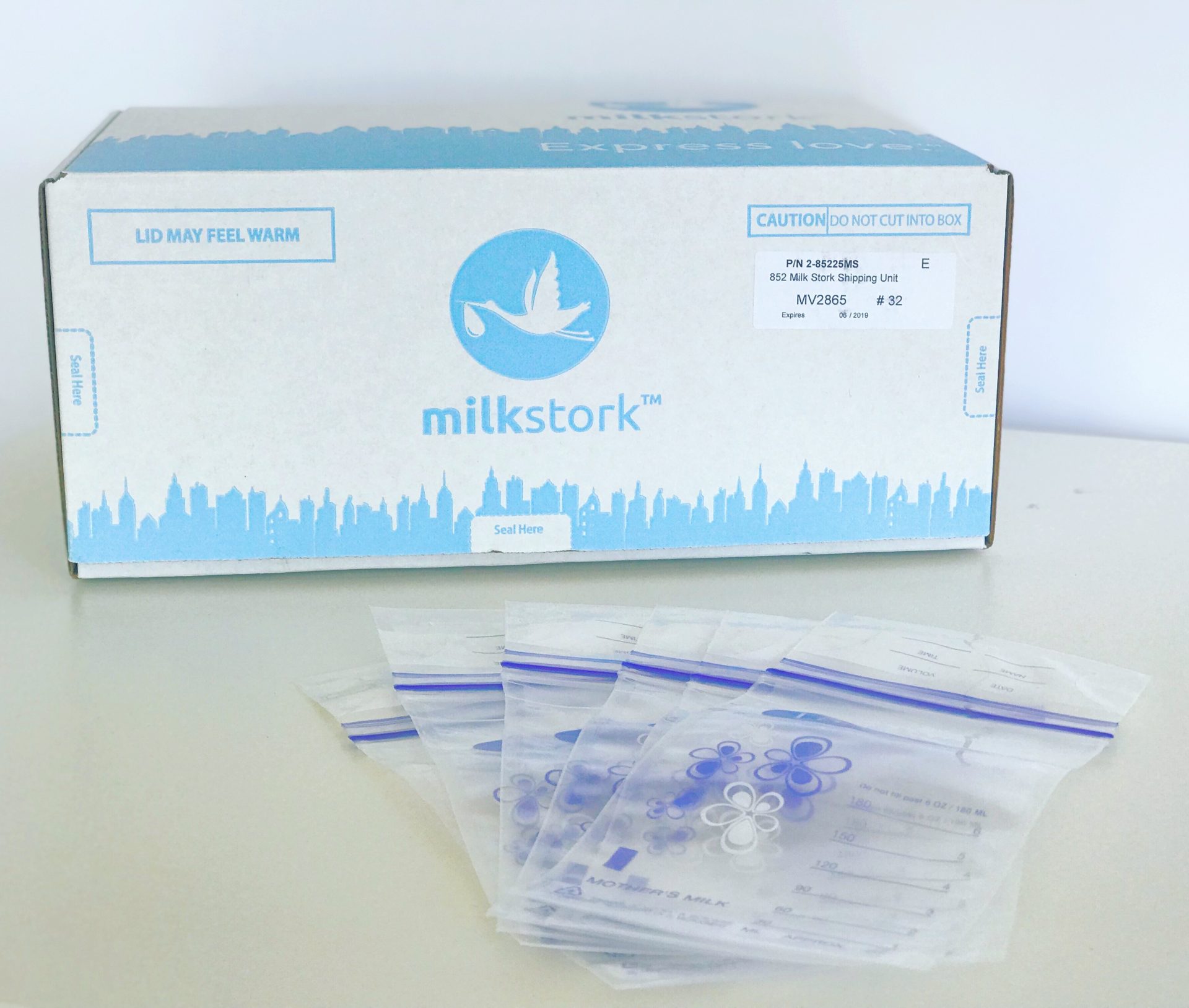 Why did you start Milk Stork?
In 2014, when my twins were about 8 months old, I was faced with a 4-day business trip at Clif Bar.  I was committed to breastfeeding them for at least 12 months (as I had done for my first child). Together, the three of us had fought through a lot of breastfeeding challenges including tandem nursing, a tongue tie, latching and weight gain issues, not to mention pumping relentlessly at work to maintain their half-gallon-per-day demand. At the same time, I was committed to being "all in" with my job. And, while it wasn't the most important business trip in the world, just a conference, I really wanted to attend.
As I prepared for the trip, I started troubleshooting the logistics of shipping my breast milk home and quickly learned that there were no turnkey services to help. To do it, I would have to take a DIY approach– sourcing dry ice and shipping materials to my hotel room and then getting myself to a special FedEx shipping facility every day without a rental car. It was too just much to do on top of the conference and all of the pumping!
So, instead, I pumped 2 "extra" gallons of milk to cover my absence before I left (on top of the gallons that the twins were already drinking!) and then, I pumped like crazy while I was gone to maintain my supply. During the trip, I managed to squeeze 2 gallons of breast milk into a tiny hotel fridge, only to lug it all home – and through TSA – along with (4) gallon-sized Ziplocs filled with ice.  
Dealing with all that milk amplified the logistical challenges, constraints, and frustrations that many moms face when it comes to breastfeeding and business travel. I got back from the trip and was determined to create a simple solution to this complex problem. We launched a year later in 2015. Milk Stork is the first breast milk shipping service for business traveling breastfeeding moms.
How do you see Milk Stork changing the way women work and travel?
Returning from maternity leave can be challenging; emotionally, physically and logistically. For working breastfeeding moms, business travel introduces painful tradeoffs. It can be so difficult that many moms limit or opt out of business travel altogether during their babies' first years, some "pump & dump" while they are away (a frustrating experience given the time and energy that goes into pumping) and still others, wean their babies earlier that they would like. With Milk Stork, working breastfeeding moms can more fully resume their job responsibilities without making difficult personal compromises and vice/versa.
How does Milk Stork work? How does a mom go about using Milk Stork to make her life easier?
Milk Stork provides business-traveling, breastfeeding-moms with a no-fuss solution to safely overnight their fresh milk home to their babies. To place an order, moms go to www.milkstork.com indicating where they will be staying, where they would like their milk shipped, and choose the products that will best support their trip. Milk Stork ships the order to their hotel so it is ready and waiting for the mom when she arrives. Then, she pumps according to her regular schedule, activates her cooler when she is ready to pack her milk, and then drops her cooler with the front desk or concierge for overnight shipping. More instructions here: www.milkstork.com/howtopack. When she returns to the office, she should submit her Milk Stork receipt to her employer for reimbursement.
How can companies/businesses support moms in using Milk Stork?
One of the fastest, easiest ways employers can offer Milk Stork as a benefit is as an approved travel expense and having a policy and process that allows employees to expense Milk Stork. Milk Stork also has a program for employers that includes a special order portal for employees, monthly invoicing and utilization reports.
Why do you feel that Milk Stork is revolutionary for moms?
Breastfeeding rates have increased over the past 10 years, and today, most working women are moms. The combination of these two factors has a resulted in more breast milk is being pumped at work than ever before. With Milk Stork, working breastfeeding moms can more fully resume their job responsibilities without making difficult personal compromises and vice/versa. Additionally, by providing Milk Stork as an employee benefit, companies are supporting gender diversity while helping working moms nourish their babies and their careers. In doing so, these employers are creating a culture that acknowledges, normalizes and celebrates working motherhood and breastfeeding.