Our friends at Curated Nest are back to share some nursery inspiration for every budget; they know how costly it can be to design a nursery for twins, so they're here to share different price points for a floral nursery fit for two! You can find mamas Erin and Lina of Curated Nest on Instagram at @curatednest, behind the scenes of their trendy online nursery boutique www.curatednest.com, or at erinandlina@curatednest.com!


As a mom of one smart-mouthed toddler, I can't fathom hearing two heartbeats over the ultrasound monitor at that first OB visit. My friend described it as gulping down an excitement, joy, and anxiety smoothie that you wish had a couple shots of vodka. Preach it like you feel it girl!
As nursery and kid's interior designers and nursery store owners, we at Curated Nest see customers stressing over budgeting for two. Here's a cool way to see how you can get a beautiful and not too baby-ish nursery for your twinsies at a price point you are comfortable with. We'll show you how a single source of inspiration can create 3 nurseries at high, medium, and lower budgets.  We'll go with pink, oversized, florals as our inspo, since the trend we saw in 2017 is here to stay for 2018. More peonies, please!
These are examples of real style boards that our small shop, Curated Nest, did for real customers.
The high "designer" budget example has unique convertible cribs from Australia, a bone inlay cabinet, and a handmade designer chandelier with glass beads. And the star element is of course, the watercolor floral wallpaper. Considering items not shown on this style board, such as a rug, glider, etc., this nursery is an estimated $7K.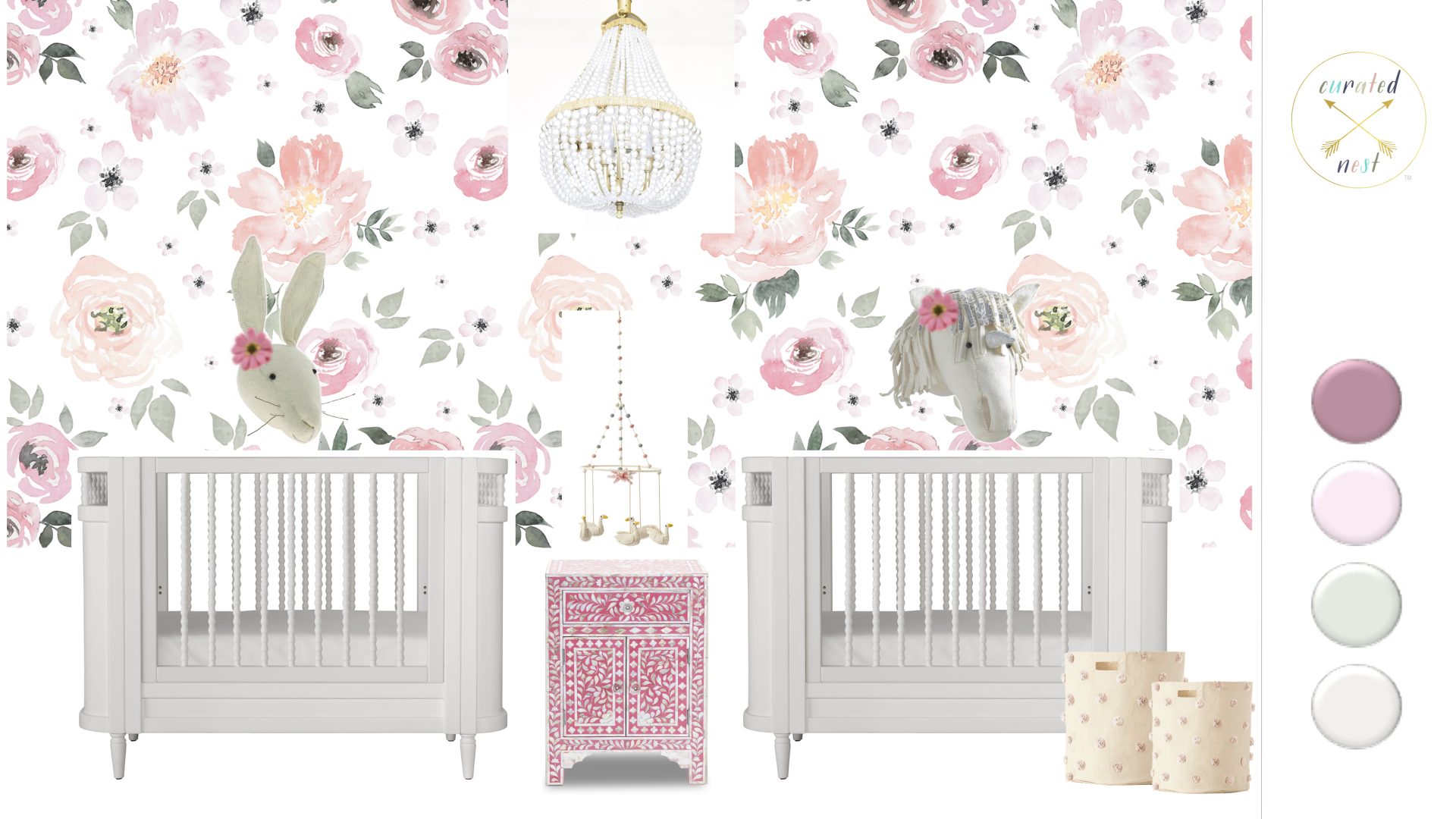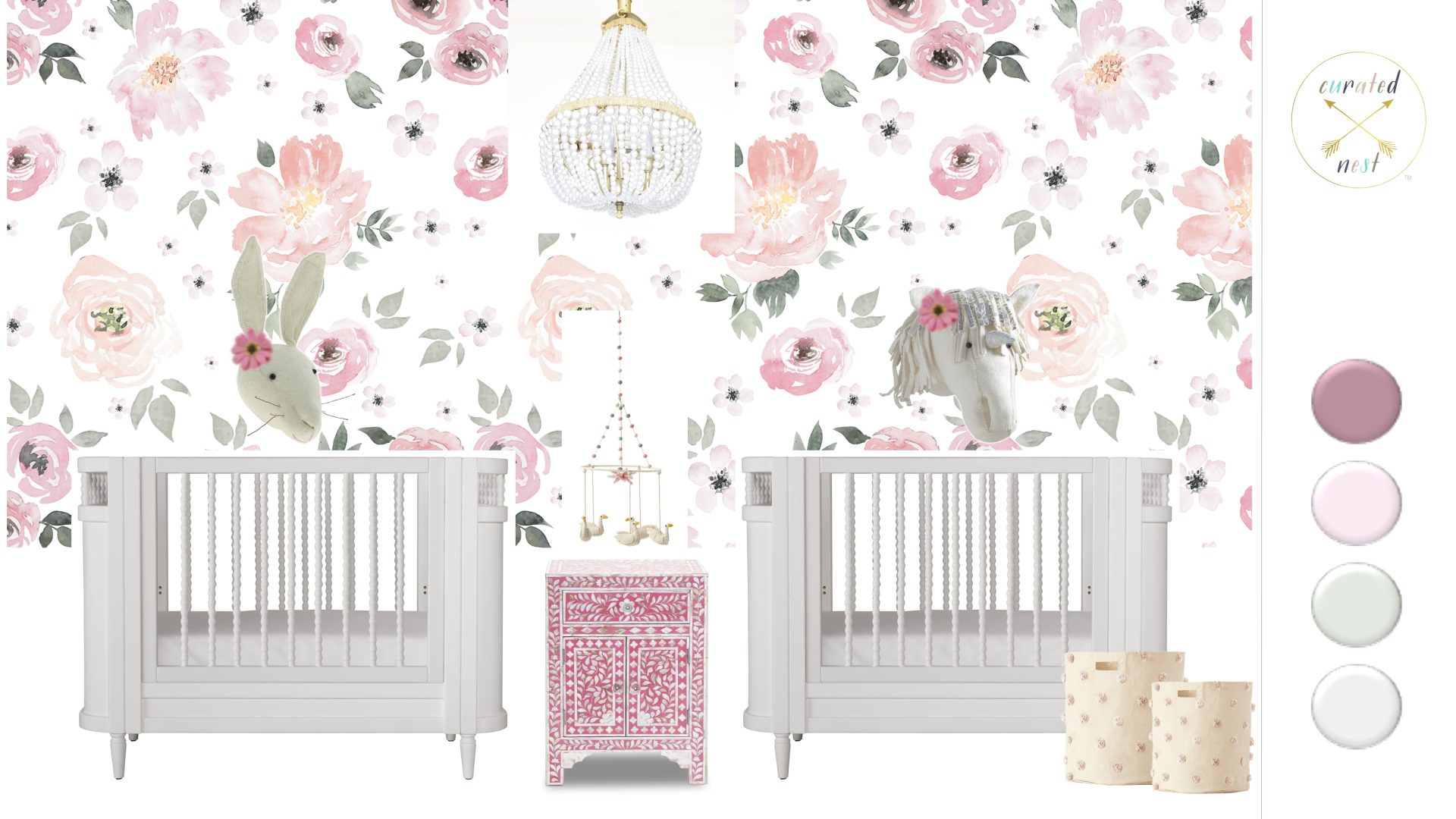 Georgia Crib / Pink Bone Inlay Cabinet / Jolie Wallpaper / Chloe Chandelier / Unicorn Wall Mount / Bunny Wall Mount / Swan Lake Mobile / Large Blush Pom Pom Bin / Medium Blush Pom Pom Bin
The medium budget example uses oversized floral decals that can be placed in any pattern you like on your wall, and features the stunning rose gold Ellie Crib that Serena Williams made famous in her daughter's nursery. It's keeps the sophistication of the high budget nursery, and with additional items not shown, is around $5K.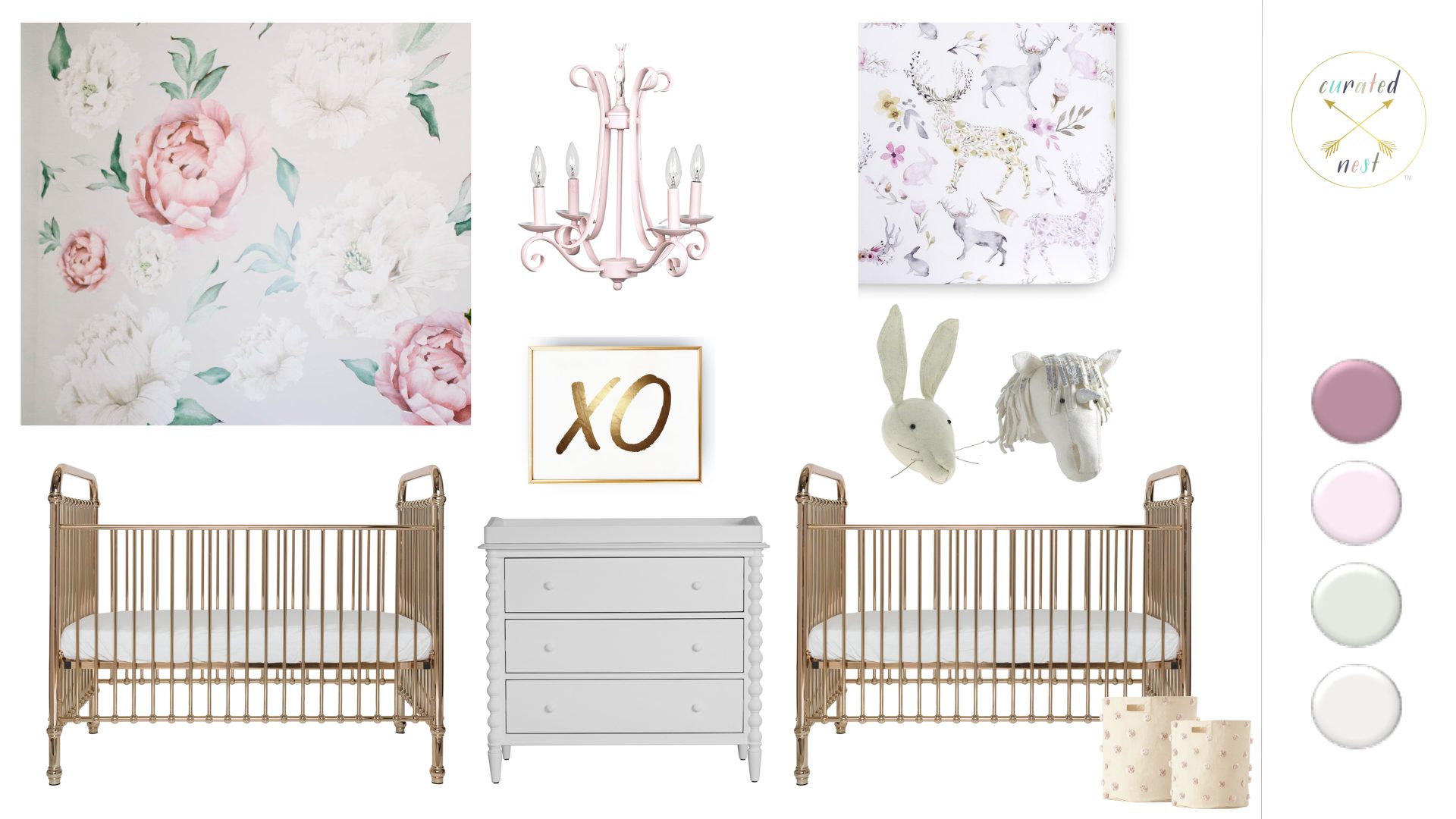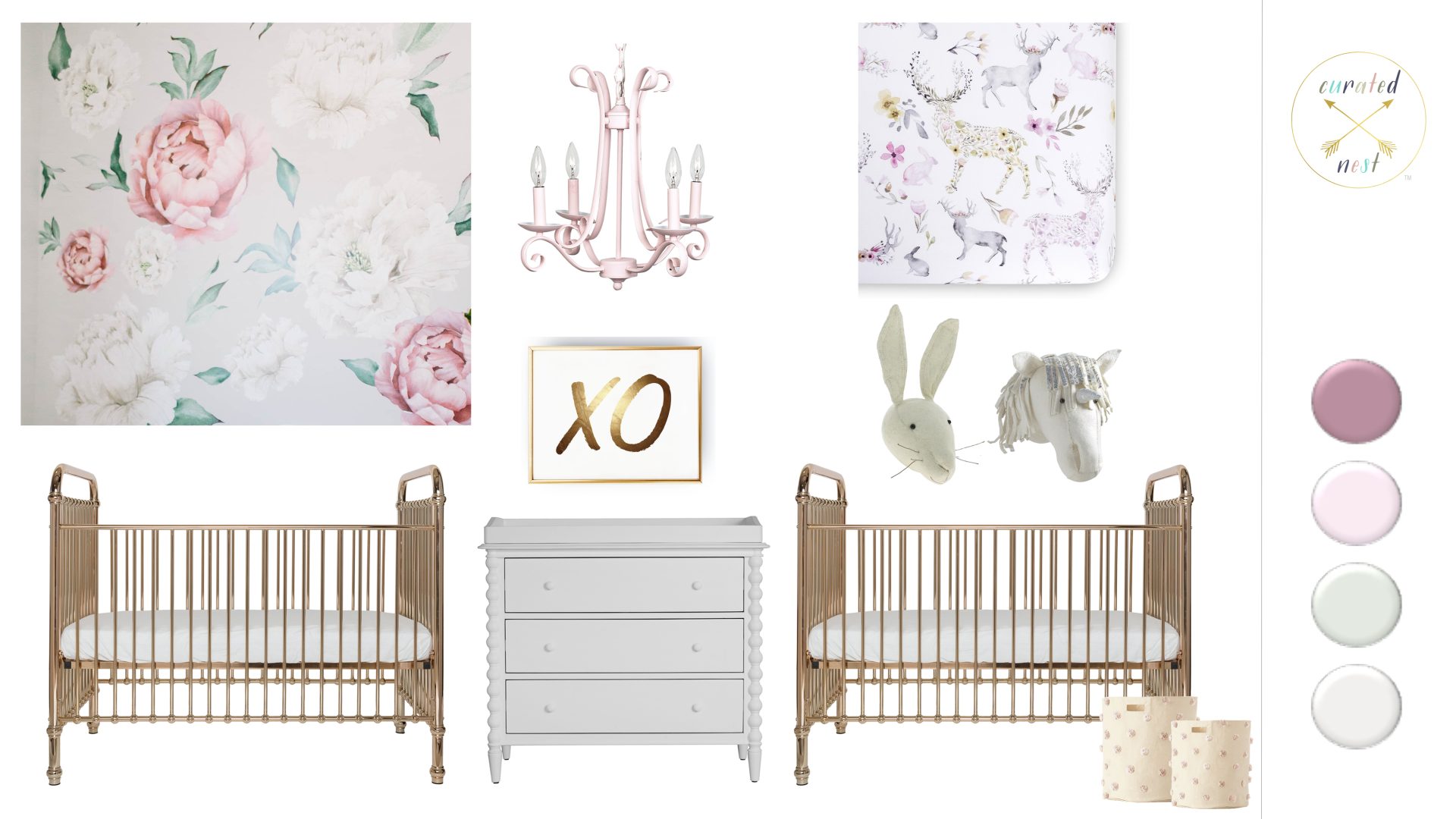 Ellie Crib / Lucy Dresser / Lyla Decals / Fawn Crib Sheet / XO Art Print / Harp Chandelier / Unicorn Wall Mount / Bunny Wall Mount / Large Blush Pom Pom Bin / Medium Blush Pom Pom Bin
The lower "look for less" budget example uses smaller floral decals that do a pretty amazing job of mimicking the high budget wallpaper at 1/3 the price! The crib and accessories are whimsical, creating a more playful feel. But still super rad and totally Instagrammable! Considering additional pieces not shown, this nursery is an estimated $2,800.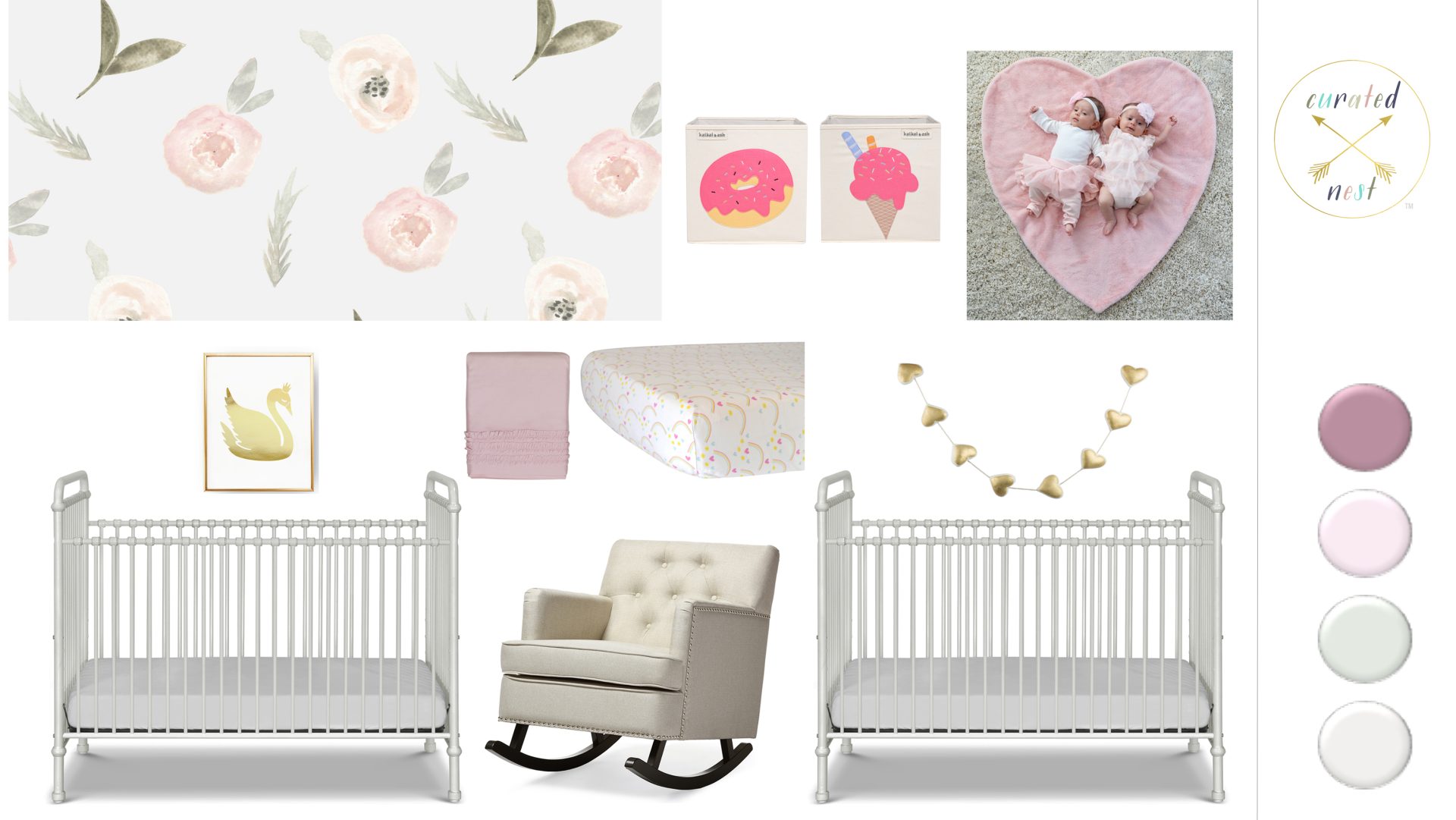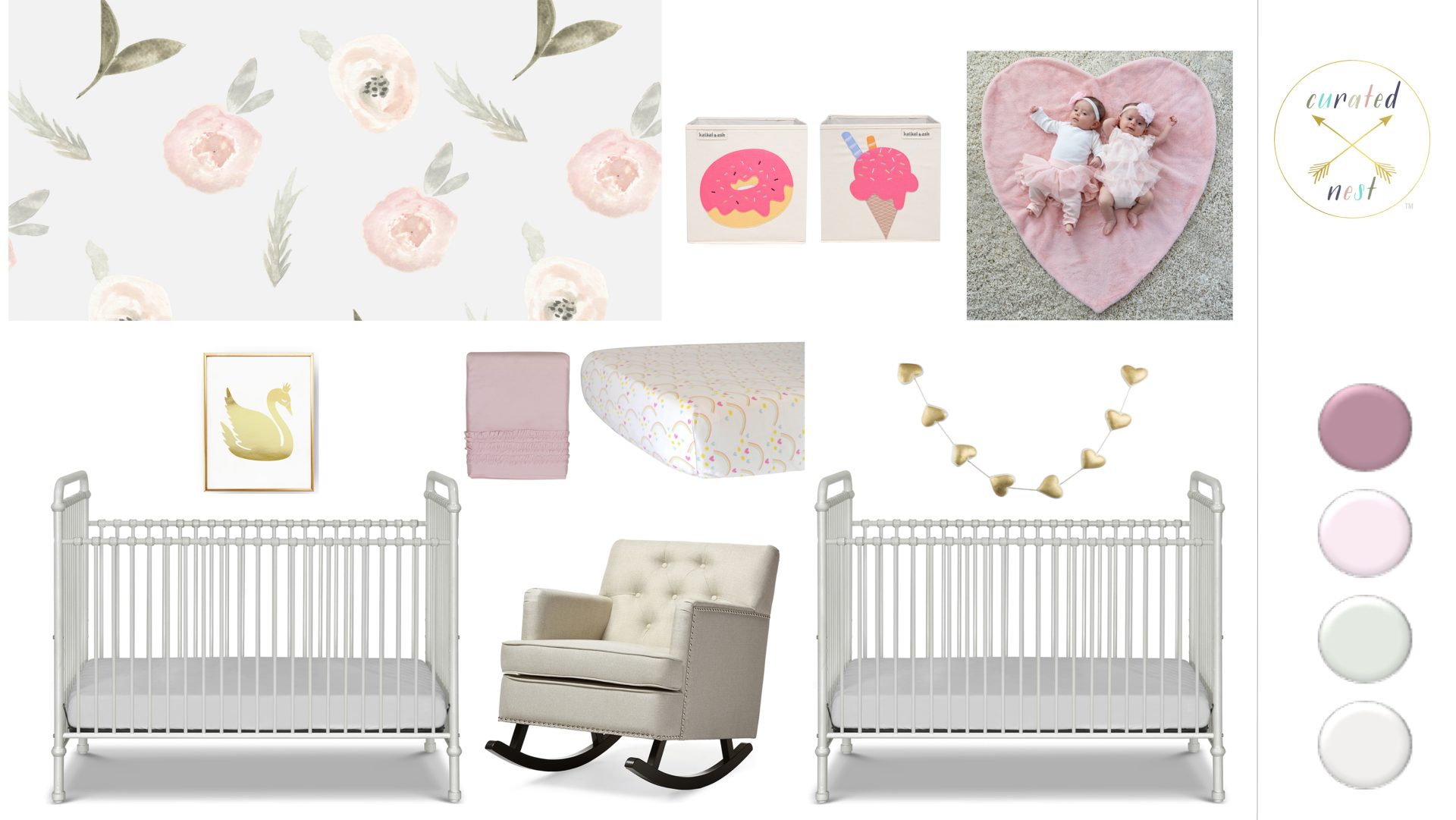 Abigail Crib / Bethany Rocker / Mallory Decals / Organic Rainbow Crib Sheet / Pink Petite Ruffle Crib Skirt / Plush Heart Play Blanket / Swan Art Print / Hearts Garland / Donut Storage Bin / Strawberry Ice Cream Storage Bin
While the prospect of twins or multiples might be overwhelming, gorgeous, functional nurseries are achievable at lots of different budgets. Decide what you're comfortable with, and enjoy creating a haven for your babies, even if a glass of wine is what you crave. Check out Curated Nest's Instagram for more ideas or sign up for Gugu Guru's Concierge Service to get a customized design by Curated Nest for you!
Don't forget to comment and tell us what types of nursery inspo you want to see next!
A. Take me back to the 80's: mermaids, unicorns, and rainbows
B. The classics: soft, light, and neutral
C. Respite from concrete jungle: nature inspired
D. Sweet escape: boho, global, travel
E. Other