Denalee is a frequent traveler with her 18 month old. She tested the Slumberpod for us in both a hotel room and at a vacation house. Check out what she had to say below!
Traveling with baby or considering taking a trip in the near future with your little one in tow? If you're sharing a room with your babe, a stickler for scheduled sleep times or perhaps traveling to another time zone, check out this review of the SlumberPod from Gugu Guide and frequent traveler, Denalee, who just came back from a vacation with her 18 month old son, Mikey.
What is the SlumberPod?
The SlumberPod is a portable blackout solution for peaceful sleep on-the-go. It is a quick-assembly privacy pod that helps babies/toddlers get a good night's sleep — especially important when sharing a room with others or when napping conditions are not ideal. It completely encloses a playard (travel crib), mini-crib, or select toddler cots. SlumberPod makes it easy to create the perfect sleep environment at home and while traveling.
I used the SlumberPod in two different situations; a vacation house and then a hotel room. I am covering both scenarios in this review of the SlumberPod.
Vacation House Review
Pros:
The room was not very dark at all so it was really helpful to have the SlumberPod, especially at nap time!
The room also does not have AC, I was a little concerned with the lack of airflow since the room is warm and the air from the room's fans can't really penetrate the tent when it is sealed. However, I opened the windows a little and kept the zipper partially open and the temperature was fine (I stuck my son's monitor in there with him so it measured the temperature and it was completely fine!)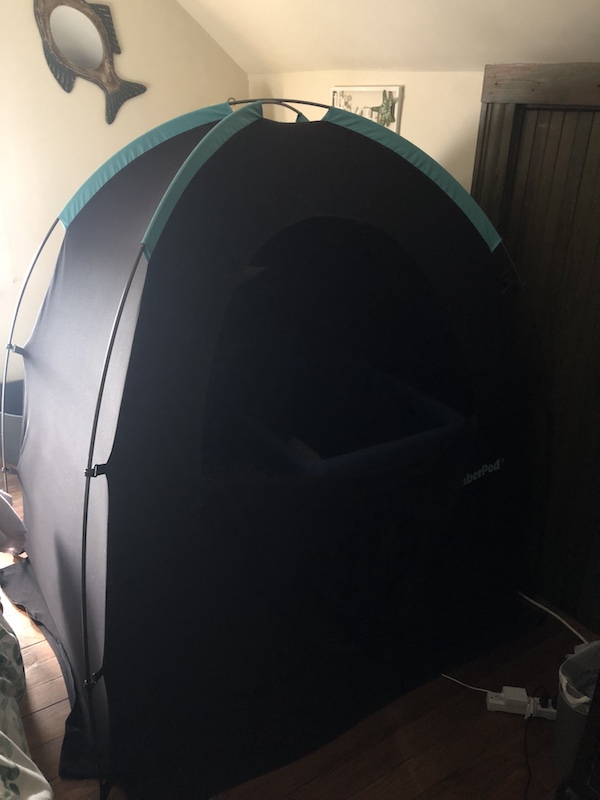 Cons:
The bedroom was a normal size bedroom and I didn't realize how big the SlumberPod was. It feels huge over our small travel crib but after I used the SlumberPod again I think it was just a combination of the room size and the furniture in it. As you'll see in the next scenario, when you're using the SlumberPod in a hotel environment I don't think this is an issue. We still made it work with the vacation home bedroom, it was just a tight space to move around and with so many people doing Airbnb in lieu of hotels these days, I thought it would be good to call this out.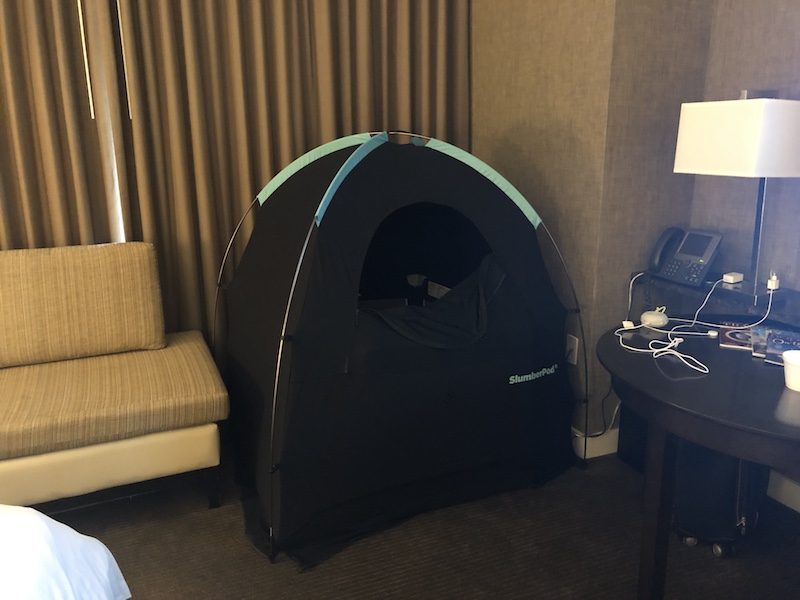 Hotel Room Review
Here we used the SlumberPod with a traditional play yard. The SlumberPod was clutch on our recent vacation to Chicago. In a hotel setting, there is plenty of open space for the SlumberPod and we didn't even notice the size. We were traveling for a wedding and had a babysitter set to watch my son one night. It was really nice to be able to let her use her phone/iPad in the room and not worry about the light. Additionally, the bathroom had a glass wall to the bedroom so anytime the bathroom light was on you could see it in the bedroom. The SlumberPod allows my son to nap while others are doing things in the hotel room that require light, e.g., getting ready for the wedding, and helps him sleep more soundly at night away from home. I was still concerned with putting the TV on while he slept in the SlumberPod but it was more a concern for noise than for light.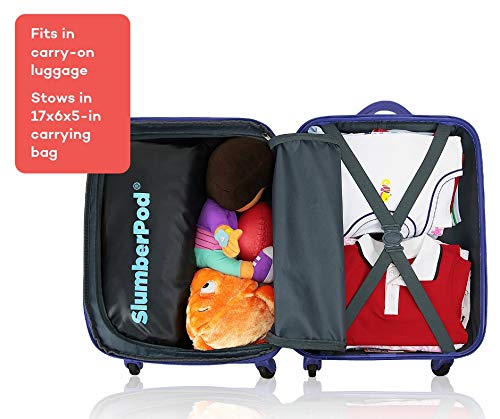 Overall, I highly recommend the SlumberPod. I do wish I had started using the SlumberPod when my son was younger. Although he was excited to hang out in it when he first saw it set up he was hesitant to go in at bed time and I had to climb in with him to get him to calm down (normally he goes down easily on his own). Also, I would highly recommend practicing setting it up. It took me a few tries at home to get it right and I was so happy to tested it first. The instructions are a little bit confusing but they suggest you watch the video and the video was very helpful to set it up. At first I was concerned it would be one more thing to lug around when traveling but it fit right in our car seat bag without an issue so we hardly noticed we were bringing it. It folds into its travel bag really easily too so taking it down is a breeze.
Grab your SlumberPod now to join you on any holiday travel!
Enjoy this post? Check out more travel posts:
Cruising with Baby
Our Best Travel Tips
Our Fav Picks: Travel Car Seats
Gugu Gift Guide: Travel Picks for Mom