September is Baby Safety Month and Gugu Guru is so proud to be a part of First Candle's new Safe Sleep Guardians program. As the saying goes, a picture speaks a thousand words and unfortunately there are way too many unsafe baby sleep images out there. Recently, Gugu Guru's founder, Monica, had the pleasure of speaking with celeb mama-to-be, Shenae Grimes about safe sleep environments and images on the web and social media that depict unsafe and confusing imagery.
We are so excited about the new Safe Sleep Guardian program because it highlights brands and influencers that are committed to showing babies in safe sleep environments. You can see guidelines for baby sleep images here.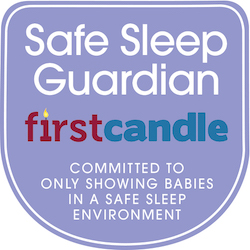 Look for the badge!
Any bloggers/influencers/companies that commit to only showing babies in safe sleep environments will be designated as one of First Candle's Safe Sleep Guardians, which entitles them to use the above badge on the website site be recognized by First Candle on social media.
Check out other the brands and influencers designated here (spoiler alert: our friends at Baby Merlin, Love To Dream and Twiniversity are included.)