We felt very honored to work with Jordan DeRosier on a safety focused rainbow registry. As you may have read in the media, Jordan is a mother who lost her son, Sloan, at 7 months old due to SIDS (Sudden Infant Death Syndrome) in July of 2017. Since Sloan's death, Jordan has been actively sharing her story to help promote safe sleep practices with new parents.
Gugu Guru worked with Jordan to help her prepare for her rainbow baby girl, Phoenix, born in May. We both worked together to take special consideration for safe sleep products and brands who have made it a core part of their missions to promote baby safety.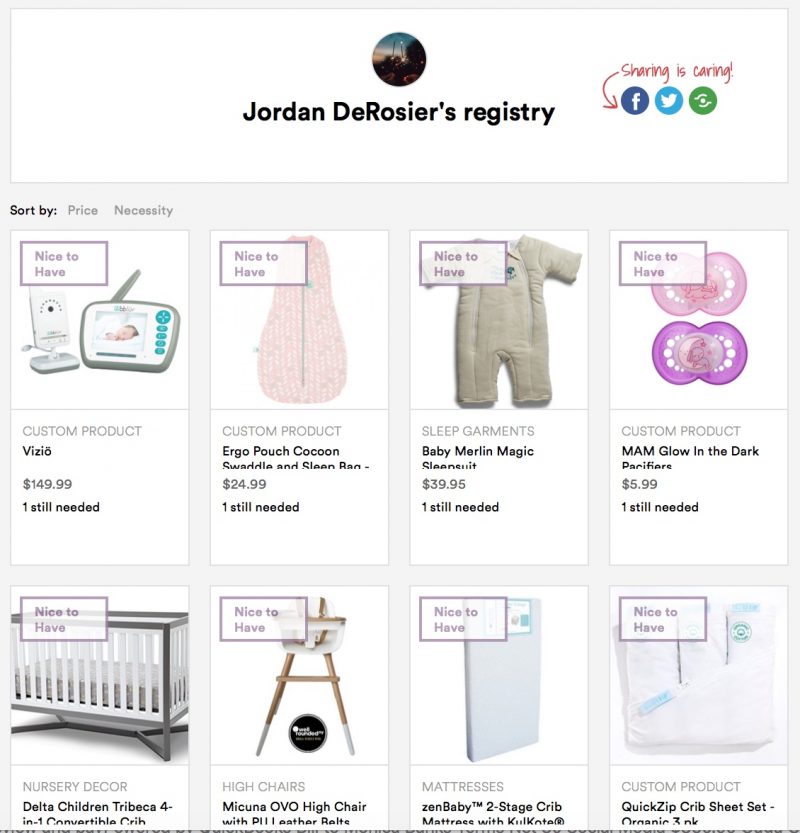 Here are just some of the brands and products that we selected for her.  You can see Jordan's full safety focused rainbow registry here.
ergoPouch – ergoPouch is an Australian company, renowned for high quality, innovative and award-winning baby Swaddles, Sleeping Bags, Sleep Suit Bags, Winter Sleep Suits and Layers (PJ's) to complement the organic and sleep-safe Sleeping Bag range. Safety is at the forefront of mind when designing an ergoPouch product. All ergoPouch sleepwear go through product safety standard testing as required by Australian law and products are designed for safe sleeping according to Australian SIDs guidelines.
MAM – MAM's number priority is to deliver safety to babies and infants with products that are functional, comfortable and safe. Since MAM developed its first pacifier in Vienna in 1976, the company has evolved to become a globally trusted baby care brand. The market leader for pacifiers in the U.S., each year more than 19 million MAM pacifiers are sold to U.S. consumers. MAM pacifiers are extensively tested undergoing 40 different tests before being made available for sale.
Baby Merlin – As a parent, Maureen Howard's highest priority is the safety and well being of her children. The Magic Sleepsuit was designed and is manufactured with safety as a top priority. Every shipment of Magic Sleepsuits undergoes extensive safety lab testing and quality control inspection.
Delta Children – Delta Children offers safe, high quality nursery furniture, strollers, bassinets and other baby and toddler products. Safety is Delta Children's #1 priority. Each Delta Children product is designed and engineered with the highest quality in order to guarantee that it exceeds internationally recognized standards and methods of testing before it hits the sales floor and enters your home.
Colgate Mattress – Founded in 1955, Colgate produces some of the highest quality crib mattresses anywhere. The company has made the health and safety of babies their primary focus and have worked tirelessly to earn the trust of parents. Colgate mattresses are made with the finest, non-toxic materials in the marketplace and have been awarded the GREENGUARD Gold certification. Find out more about how Colgate makes the safest crib mattresses here.
QuickZip – Your baby spends up to 15 hours a day sleeping. His crib sheet should be as safe as his car seat. QuickZip has reinvented the crib sheet; enclosing the entire mattress so that it can't be pulled off and won't pop off accidentally becoming a hazard that could interfere with your baby's breathing.
Owlet – Check on baby without disturbing his or her sleep. The Owlet Smart Sock tracks heart and oxygen levels and sends real-time insights to your phone. It also includes a base station which glows green to reassure you baby is okay but will notify you if heart rate and oxygen levels leave preset zones.
UPPAbaby – UPPAbaby products meet the most stringent industry standards required by the Juvenile Product Manufacturing Association (JPMA) and the Consumer Product Safety Commission (CPSC). The UPPAbaby VISTA bassinet turns the stroller into a baby buggy. With just one hand, you can detach the Bassinet and carry your sleeping infant anywhere. The flat, firm surface meets AAP safe sleep standards. Plus, the Bassinet converts into a perfect overnight sleep solution with the stand.
Molly's Suds – Molly's Suds was founded after the stillbirth of founder Monica's daughter Molly. Monica, a pediatric nurse, yearned to know what could have caused her daughter's stillbirth. During her research, she uncovered a disturbing fact: in the United States alone 80,000 chemicals were approved for use by the Toxic Substances Control Act and yet only 200 of the toxins were tested for human safety. All Molly's Suds products are formulated with a 'no compromise' attitude when it comes to using pure, safe ingredients. The brand uses earth and plant-derived ingredients to enhance efficiency and cut down on cleaning time without compromising your family's health through exposure to endocrine-disrupting chemicals and carcinogens.
BreathableBaby – At BreathableBaby, safety is the company's top priority. Safety is the starting point for product design, and the brand takes extra steps (like consulting with doctors and rigorously testing our products) to make sure all of their safer sleep solutions are dependable enough for your family. The company is proud to not only meet but also exceed all relevant product safety standards. BreathableBaby's research is helping to make products safer across the board, too.
Micuna –  Spain-based Micuna is a global leader in the manufacturing of furniture and accessories for babies and children. Recognized for their commitment to design, quality and safety of its products, Micuna was one of the first Spanish companies to comply with the high standards of European quality and safety. Micuna products are crafted with eco-friendly practices and materials including wood obtained from sustainable forests.
bblüv – bblüv believes in quality products that are safe, durable, attractive and make life easier. The company puts a great deal of effort in the design of our products so you can be assured that what enters your home will make your and your baby's life simpler.
Finn + Emma –  Finn + Emma offers modern, high quality and 100% organic clothes and toys for baby. Boring designs and toxic chemicals are a thing of the past while modern colors, fresh prints and heirloom quality construction are abundant.
Lorena Canals – At Lorena Canals, quality and safety start at the source, in their manufacturing process. The products are constructed with natural fibers, are anti-allergic, eco friendly, use natural dyes and 100% Cotton textiles. The brand prides itself on quality in every aspect of production, from the best raw materials to socially responsible labor practices. Its rugs and accessories are available in a wide variety of designs, colors and sizes, making them suitable for any room.
Solly Baby – At Solly Baby, closeness is what matters. The power of touch, the strength in being together, the comfort given just by being near, and that the most enduring relationships are not only in love but in experiencing life together. Solly Baby wraps seamlessly and luxuriously integrate all of the benefits of baby wearing while holding baby wearing safety above all else. Their on-staff baby wearing educator is readily available to offer one-one-one advice via email and you can also find her every week on FB Live sharing tips and tutorials.
aden + anais – Safety is top of mind when developing the aden + anais product range. Each and every product goes through a rigorous course of testing before hitting the market. Whether it's through eliminating loose blankets in the crib with sleeping bags, knowing the correct way to swaddle or removing all harsh ingredients from our skin care collection, aden + anais strives to make sure the brand influences families to build the safest environments for their babies.
Learn more about Jordan DeRosier and her journey on her blog Life of DeRosiers.