by Naomi Alon
Working from home can be a challenge in its own right, but working at home AND taking care of a baby can be a daunting task. With so many moms opting to work from home these days, designing the home office is a conversation worth having. Here are my top tips for creating a workspace at home and managing childcare at the same time.
Make the office a place that you want to be. Whether you have a dedicated office space, or are just using a corner of your bedroom or living room, make that space fell great! Choose a desk and decor that make you feel happy, a comfortable chair you can sit in for longer periods of time, and plenty of plants and natural light to help you avoid feeling stir-crazy.
Make room for baby. If your baby is still small and you need to keep a close eye on them while you work, a portable mini crib or bassinet is a great option. The one that's drawn in the design board has casters on the feet so it can be rolled around. This is great if you tend to work in different areas of your home, like moving from the desk to the sofa to the dining table, etc. A portable changing caddy can help in this situation.
Add some conveniences. Depending on the location of your room and the age of your baby, getting a little mini fridge can be super convenient to keep water, milk or little snacks nearby. This can be helpful if you live in a 2-story home, or if you need to work in the office quietly while baby sleeps.
Make space for yourself. If you have childcare or another stay/work at home parent, consider getting a white noise machine or noise canceling headphones. That way, if someone is in the other room playing with the baby, you can focus on your work.
Get serious about storage. Try to keep your office space as organized as possible, and teach your child from a young age that it is a hands-off space. If you're prone to clutter, consider getting a secretary desk that closes up, or a cabinet you can hide things in when needed.
Desk | Desk Chair | Floral Wallpaper | Blush Lamp | Chandelier | Floor Plant | Pink Paper File | Magazine File Table | Blush Mini Fridge | Mini Crib | Diaper Caddy | Neutral Rug | Girl Boss Mug
About the Author: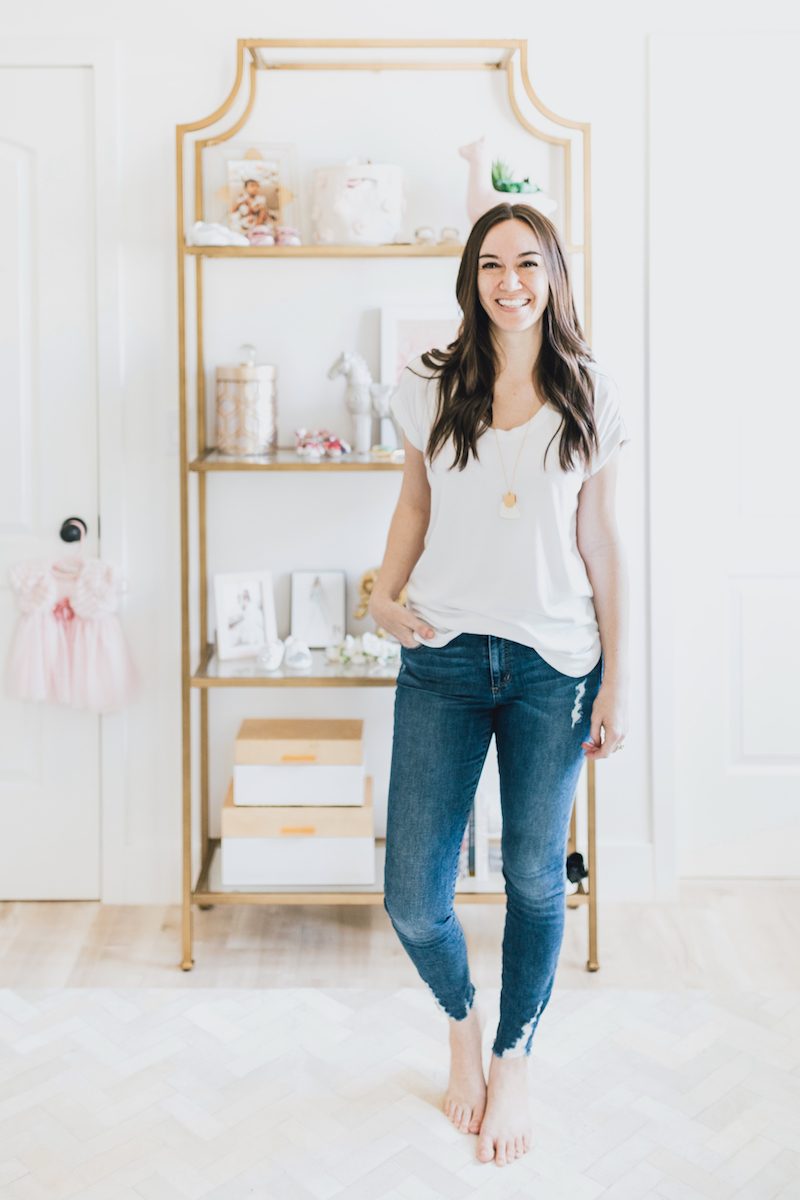 Naomi Alon is the owner of Little Crown Interiors, a design studio in Southern California offering local and nationwide e-design services just for nurseries and children's spaces.
As a special promotion for Gugu Guru readers, Little Crown Interiors is offering 10% off nursery design services when you mention "Gugu Guru", and 10% off anything in the online shop with code GUGUGURU (exclusions may apply).