Have you heard? There's a new wipe in town and, according to our Village,  there's a lot to like about bloom BABY all natural wipes.  Check out the pros and cons of bloom BABY all natural wipes as described by the Gugu Village below. Spoiler alert: there are not a lot of cons!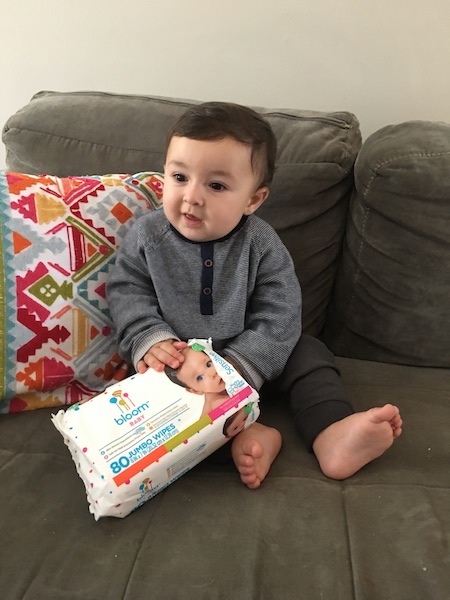 Theresa L.
Pros:
Not overly wet or overly scented. Let's face it, there are a lot of times you don't have a washcloth handy and you wipe your babies face with a wipe. I love that if I wipe his cheeks with bloom BABY all natural wipes that the wipe isn't overly wet or too scented.
Chemical Free. As a person who tries to buy organic/non gmo/natural products whenever possible I am surprised that I never even thought about the ingredients in my babies wipes! I love that this wipe has 98% natural ingredients.
More! I don't know the price difference to competitors but I can tell you this pack is about 1/3 bigger than the wipes I usually use. That means I have to refill my wipe case less often and I feel like it is a better value!
Texture. This was originally a "con" and then it turned into a "pro". The wipes have more texture to them than most wipes, which I didn't really like a first because I felt like it wasn't a smooth slide over baby. BUT I realized that the texture made messy diapers MUCH easier to clean.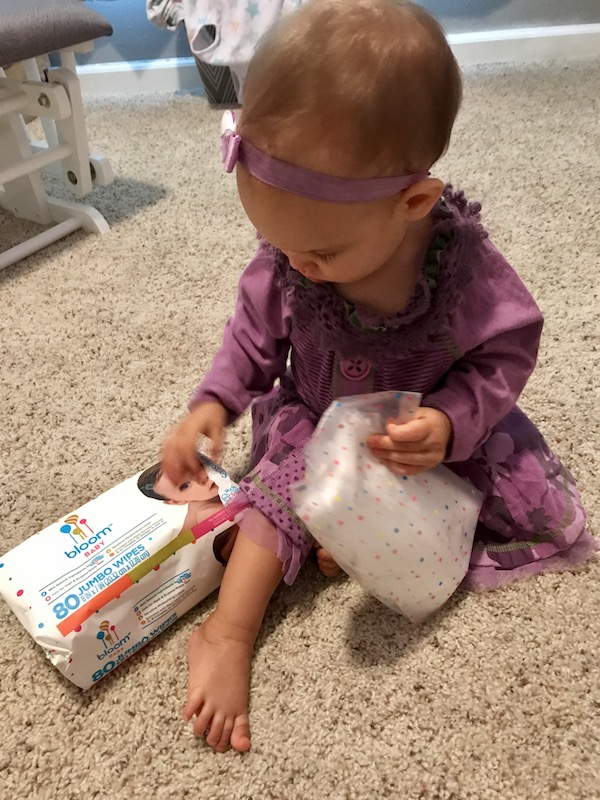 Caitlin T.
Pros:
The size of the box! 8 packs of 80 is my kind of math! The size of the individual wipes is great too; covers a large area.
Truly great for sensitive skin. My little girl has super sensitive skin and almost every type of wipe we tried would leave her irritated. Since using the bloom BABY all natural wipes she has been noticeably less red and irritated. HUGE plus.
Being naturally scented. I really like the natural scent.
The reusable pouch! Not only is is super useful for the diaper bag but it's also super cute!
Cons:
They are a little on the dry side so it takes a tad more effort to get the booty clean.
The seal doesn't stay sticky for long so after a little bit it's not really resealable.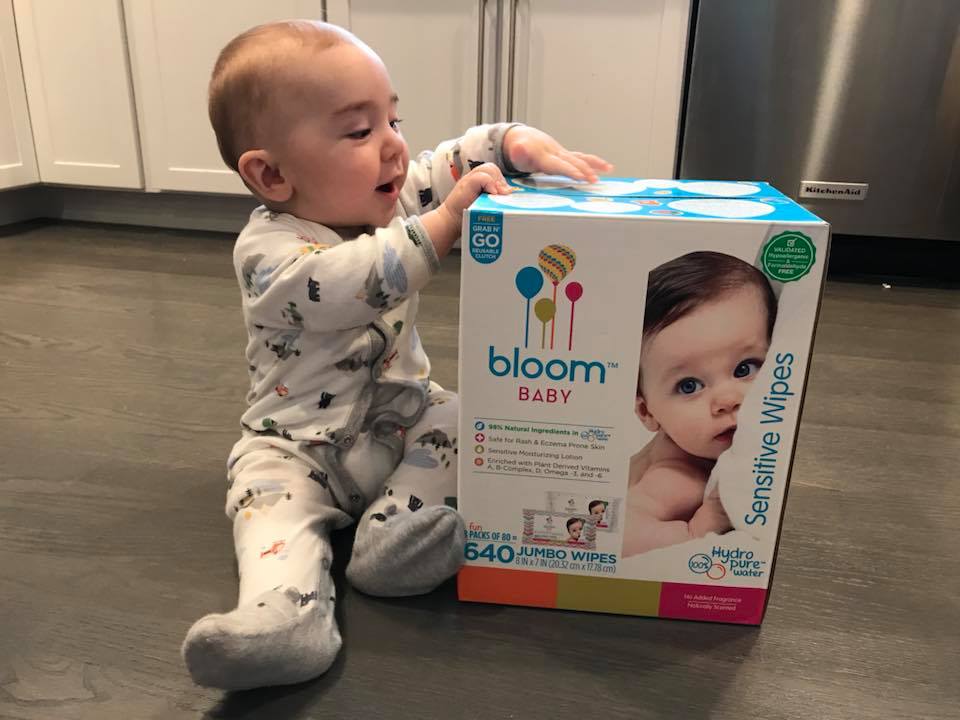 Shan S.
Pros:
My whole family loves them! My infant, my toddler and even my husband.
And real Mom talk, the bloom BABY all natural wipes also work on doors and small household spills!
Great size, very soft, good moisture level (not too wet, which is really annoying in a wipe).
The package stays sealed nicely, and they don't dry out in between uses.
Cons:
The only thing I don't really like is the scent. However, I do like that the fragrance is all natural.
Lauren K.
Pros:
bloom BABY all natural wipes have a limited list of natural ingredients.
Larger size than traditional wipes; I find myself using about 1/3 fewer wipes.
The scent is light and pleasant.
The wipes were not irritating to my son's sensitive skin!
The box is cute and provides helpful tips for first-time parents.
Cons:
There aren't many! The to-go pouches that were in my box were unusable. The zippers were placed in the center of the seal, which created an open spot that did not allow the zipper to close properly. It would have left them open to air.
Price on Amazon seems to be significantly higher than other brands.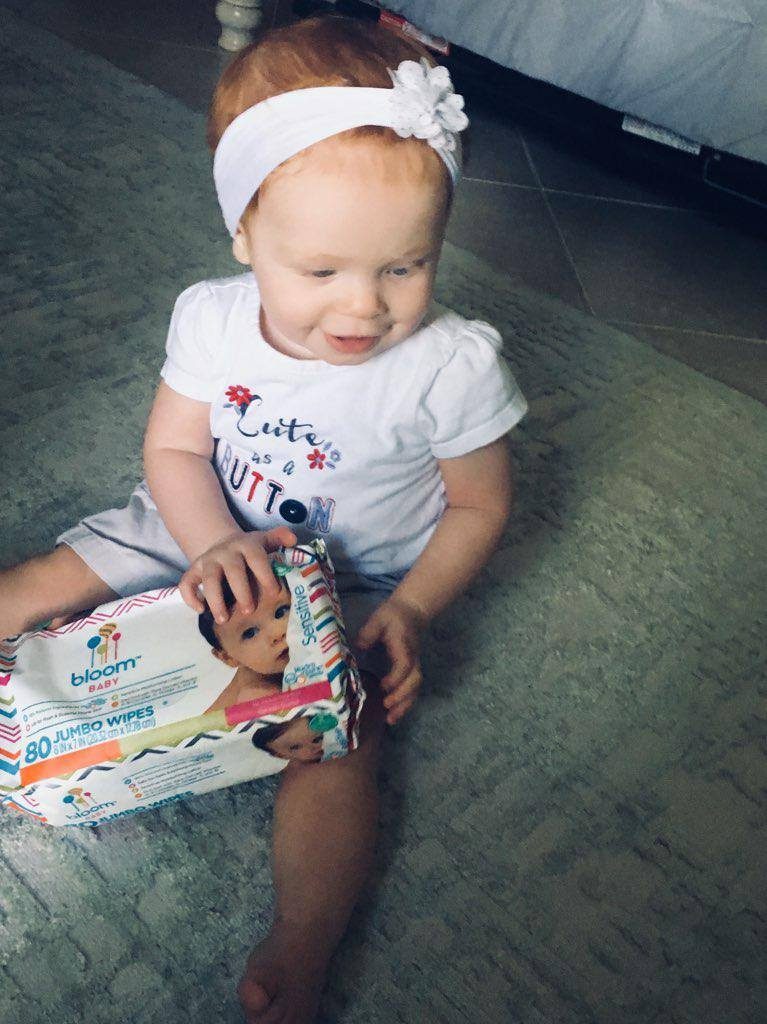 Lori W.
Pros:
The bloom BABY all natural wipes arrived in nice packaging – colorful and bright with minimal waste.
THICK AND LUXURIOUS – I only had to use two (!) wipes to clean a major blowout, when it would usually take a minimum of four.
Nice, subtle fresh scent.
Textured wipe helps make cleanup more efficient and also good for cleaning little hands/in between fingers and other hard-to-get-to places.
Hold moisture well and don't seem to dry out in the warmer
Ingredients seem mostly natural and wipes don't leave that weird residue behind that I have noticed when using other brands
I am definitely switching!
Cons:
I wasn't keen on the little plastic pouch they sent as a travel carrier, it seemed flimsy and I don't think I will use it
Sunny L.
Pros:
I love the ingredients of these bloom BABY all natural wipes.
I appreciate that they truly have no smell. Ruby (age 1) has had a positive reaction to them, in that she has not reacted with itching/rash/abrasiveness during wiping.
I love that they're quilted and very soft.
Cons:
I would like them to be just a bit thicker.
I had a little trouble figuring out how to get them open, and ended up tearing the flap, but that could be user error because I was in a rush.
Looking for more Gugu Village reviews? Check out these posts: