It can be hard to make new mom friends, and often we've found that it is easier to bond over something you both like…and who doesn't like food? We rounded up some great gift ideas for your foodie loving mama friends – and also asked our baby planners where some great places to meet new mom friends are – plus their picks for gifts for foodie moms!
What does a foodie mama need, and where can you find foodie mama friends?
Being a new mom can be super lonely; spending all day with a newborn gets long, real quick – so, we always tell our new moms to get the diaper bag ready and head out into the world. If you're a foodie fan, there are lots of places to go meet other new moms. We asked our Baby Planners where foodie moms can find new friends, and also what their one must have item for foodie mamas is:
Gugu Guru's Founder, Monica: When I ask seasoned mamas, especially those who work outside of the home, to share their tips for a work/life balance – "food prep" seems to always come up.  In my house, we cannot live without our VeeTee rice. VeeTee tastes like delicious, gourmet rice but it's ready in just 2 minutes in your microwave.  And even though it has no artificial flavors or preservatives, it lasts a whole year in your pantry so you can always have it on-hand.
Jessica Zablan of The Birth and Baby Company: Our must have foodie item is a good Mason Jar. They can be used for food storage, you can drink from them, and it's easy to take them with you. Join your local Co-Op to meet other parents that love food. Most Co-Ops support local farmers and small businesses.
Kimmie Johnson, Maternity Consultant, Co-Founder at Your Milk Shoppe, Chicago, IL: Every Foodie mama needs a go-to blog for inspo and recipes. Mine are, Skinny Taste, Iowa Girl Eats, and Frugal Foodie Mama. [The Gugu Guru team also loves our friend Ali over at Inspiralized!]
Amber Michels, Maternity Consultant, Founder at Your Milk Shoppe, Greenville, SC: My one must-have would be easy go-to recipes to have on hand for those days that seem to run on forever and also any kind of wine and/or meal delivery service! Just because us moms don't have time to cook and drink all things amazing doesn't mean we can't pay for a service to bring the yummy goodness to our homes. Not to mention, the whole household is extra happy and fed! I suggest juice shops to meet other foodie moms. As far as juice shops, I love Southern Pressed Juicery. There is nothing like their energy bowl, The Green Monstah. Every one of us moms would kill for something that tastes good, is healthy and gives us a boost of energy!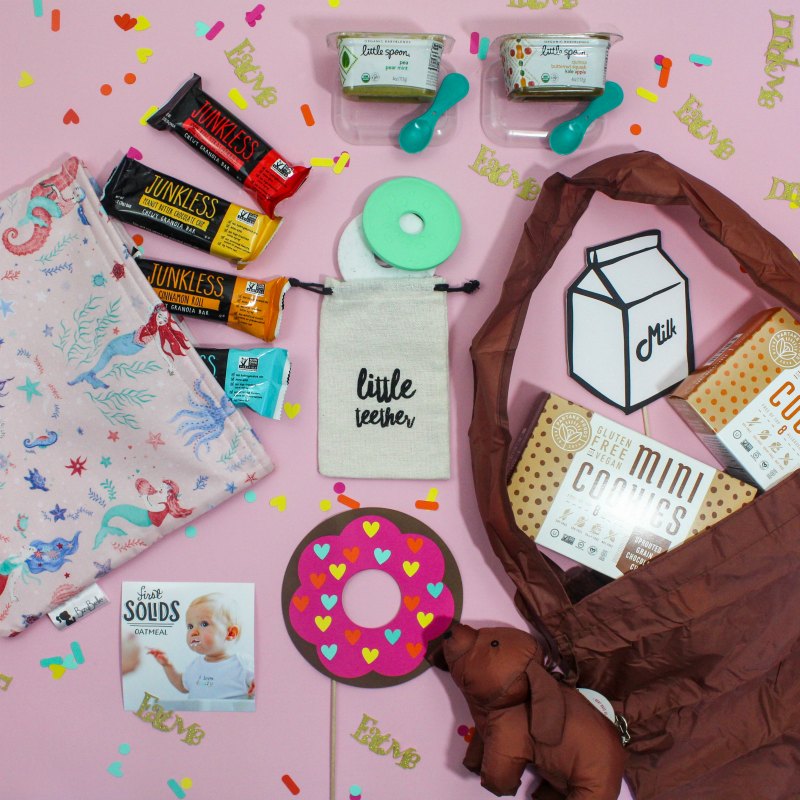 Some of our favorite Foodie Finds:
Junkless Bars: As a new mom, you'll find that you always need to bring a snack for yourself in the diaper bag. Sometimes you get stuck under a sleeping baby, or strolling a baby to sleep…for a long time, and you get hungry! We're huge fans of Junkless Bars for many reasons – they come in four delicious flavors, cinnamon roll, strawberry, peanut butter chocolate chip, and chocolate-chip. Why are they called Junkless? Each granola bar is made with just eight or fewer basic, real ingredients – ingredients that are pronounceable and commonly found in most kitchen pantries; plus they are non-GMO. These are also a great snack for toddlers!
Partake Cookies: If you're breastfeeding, you're going to probably need to pack some snacks for yourself because you'll be hungry throughout the day. However, some moms need to steer clear of dairy or gluten when it comes to breastfeeding, which is why we're loving Partake Cookies. These delicious (totally addictive!) cookies are certified Gluten Free, certified Vegan, OU Kosher, and Non GMO Project Verified! Furthermore, they are also free of the Top 8 Allergens: no peanuts, no tree nuts, no egg, no soy, no milk, no wheat, no fish, no shellfish, no corn, no sesame, no sulfites. If you're heading to meet a new mom for the first time and unsure if she, or her little one, is allergic, Partake is a great snack choice to bring along; safe for all – and really yummy. 
BizyBelle Snack Bags: Need something to pack all of those snacks in and throw in the diaper bag? We're fans of reusable snack bags, especially the adorable designs from BizyBelle (ahem, these make really cute little gifts for mom friends!). These handy bags are cotton with a velcro closure and easily washable (phew!).
Dert Bags: It seems as though farmer's market shopping is a very popular past-time for mom friends, so make sure you're prepared with Dert Bags. Why are we obsessed with Dert? These eco-friendly bags are sturdy and easy to clean…and fold up into adorable little animals! Stuff the bag back into the holder and it forms an animal shape – super easy to throw into your stroller or diaper bag.
Little Teether: Foodie fun can be had with babies too, especially when it comes to cute teething items. Little Teether is your one-stop-shop for teething toys and necklaces. Check out how adorable those donut teething rings are! They are 100% silicone and BPA free; feel free to freeze them, too. They're easily washable and lightweight for little hands.
Party at Your Door: It may be a Monday afternoon, but you and your mom friends should celebrate being awesome with Party at Your Door. This adorable shop creates everything you'd need to throw a fun bash, including custom confetti – how cool is that!
Little Spoon: Little Spoon's motto is, "it's fresh, baby," and they mean it – Little Spoon creates baby food which is not only super fresh and shipped to your door, but chock full of healthy ingredients and enticing flavors. With their signature baby spoons built into their packaging, their BabyBlends take your little one through the process of trying new foods, with flavors such as Beet Tahini Chickpea Apple Brown Rice Cardamom, Blueberry Chickpea Spinach Pear Rosemary, and Quinoa Raspberry Pear Coconut Milk Vanilla Date Wheat Germ Oil. Let's be honest, you and your mama friends will most likely dig in before baby gets a chance, but as long as  you share, we're okay with it! 
Little Nugget Co.:  We've written about why we're fans of Little Nugget before, and when it comes to food time for baby, you want to make sure the Little Nugget app is downloaded on your phone. Little Nugget uses artwork overlays to perfectly mark your baby's exciting milestones and sweet moments! Select from beautiful fonts to add your little one's name, measurements and memories you never want to forget. Easily edit your baby photo with a selection of over 15 beautiful photo filters. And, when you're done, have the photos sent to your for the baby book or share with family and friends.
This post may contain affiliate links.
Cover image via Extra On Top