Are you looking to toss your toddler's smelly washcloth? The Frida baby DermaFrida Silicone Bath Mitt has splashed into the market and does not disappoint. The silicone design ensures a hygienic way to wash while providing toddlers the opportunity to engage in independent self-care. Keep reading to see what our real Gugu Village Parents had to say about this awesome bath mitt.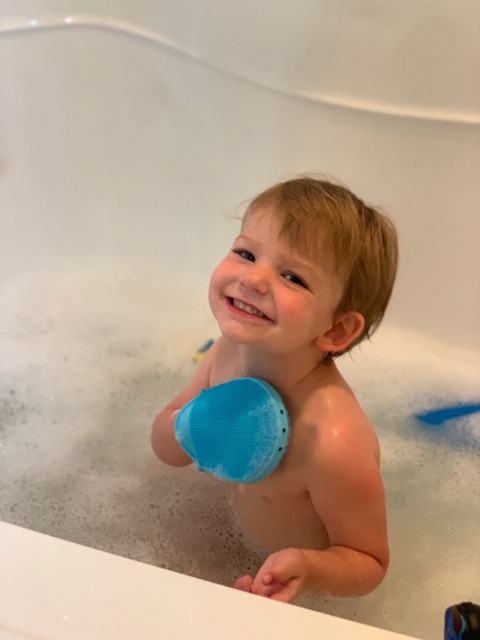 We love the Frida Baby DermaFrida Silicone Bath Mitt! My toddler took to it right away. After I showed her how it fits on her hand like a mitten, she puts it on herself and easily scrubs all over. She even washes her own face, something she's always fought me on when I use a regular washcloth. Because of the design, I feel more comfortable letting her wash herself and don't feel as much of a need to rewash to ensure she's clean. Plus at the end of the bath, we just hang it to dry by the suction cup, no fussing with wet washcloths! This mitt has been great!
-Angeline W.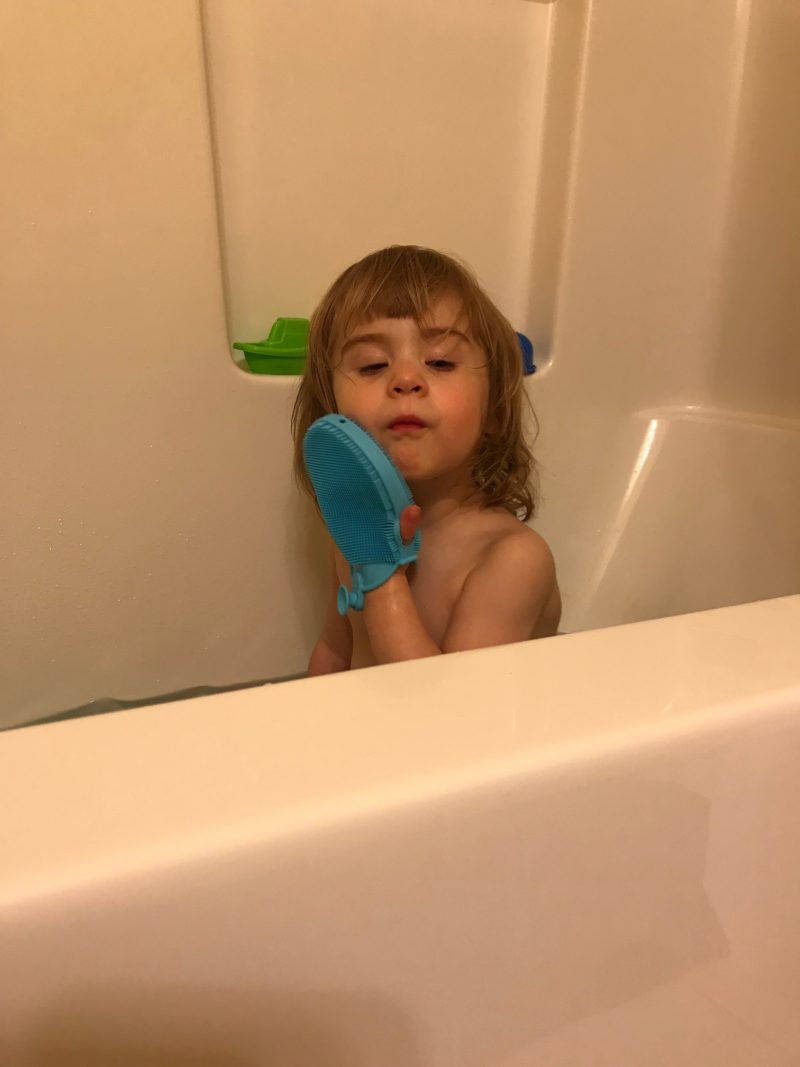 What an innovative and fun idea for a toddler who is learning early hygiene skills! Although the Frida Baby Bath Mitt is not designed to be a toy or teether, it certainly serves that dual purpose for our 21-month-old! She loved the soft silicone and thought she was hilarious as she put it on her feet to scoop up the bubbles. As Ms. Independent, she is adamant about washing her body all by herself and the size of the mitt fit her hand well (mom and dad's hands, too!). As parents, we appreciate that it is BPA-free and bacteria resistant. The built-in suction cup allows for easy storage and quick drying. It is strong enough to stay on the wall but weak enough that our daughter could pull it off the wall by herself. It doesn't get sudsy like we thought it would, but that wasn't an issue for us. Another win from Frida Baby!
-Erica F.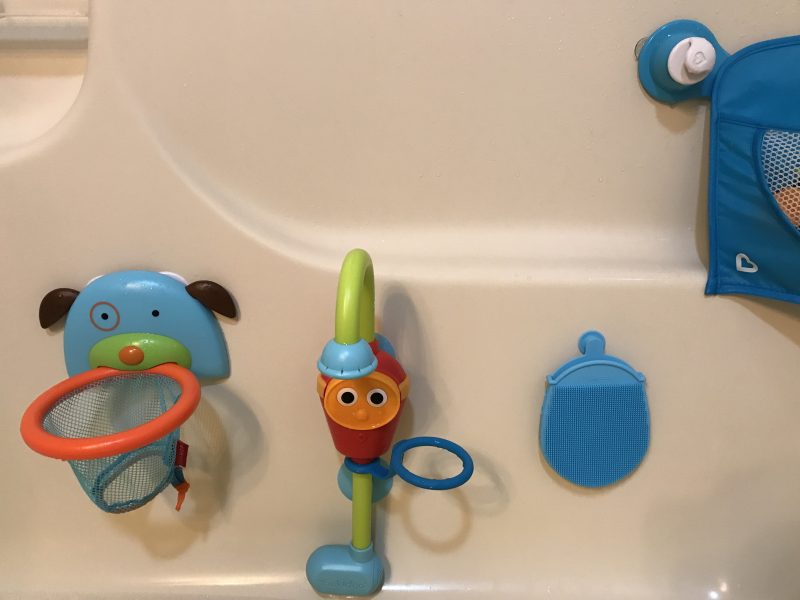 I have been using the Frida Baby DermaFrida Silicone Bath Mitt with my twin boys who just turned two. They have been having a lot of fun using it to clean themselves during bath time! One of my sons loves putting it on his own hand and sticking his thumb through the slot- it fits perfectly!  Both of them have used it to scrub themselves all over. They like me to use it on their backs and heads. I like that it has drain holes for quick-drying, and I also appreciate the suction cup for easy storage. I think this will replace all those washcloths and reduce my laundry, too!
-Briana G.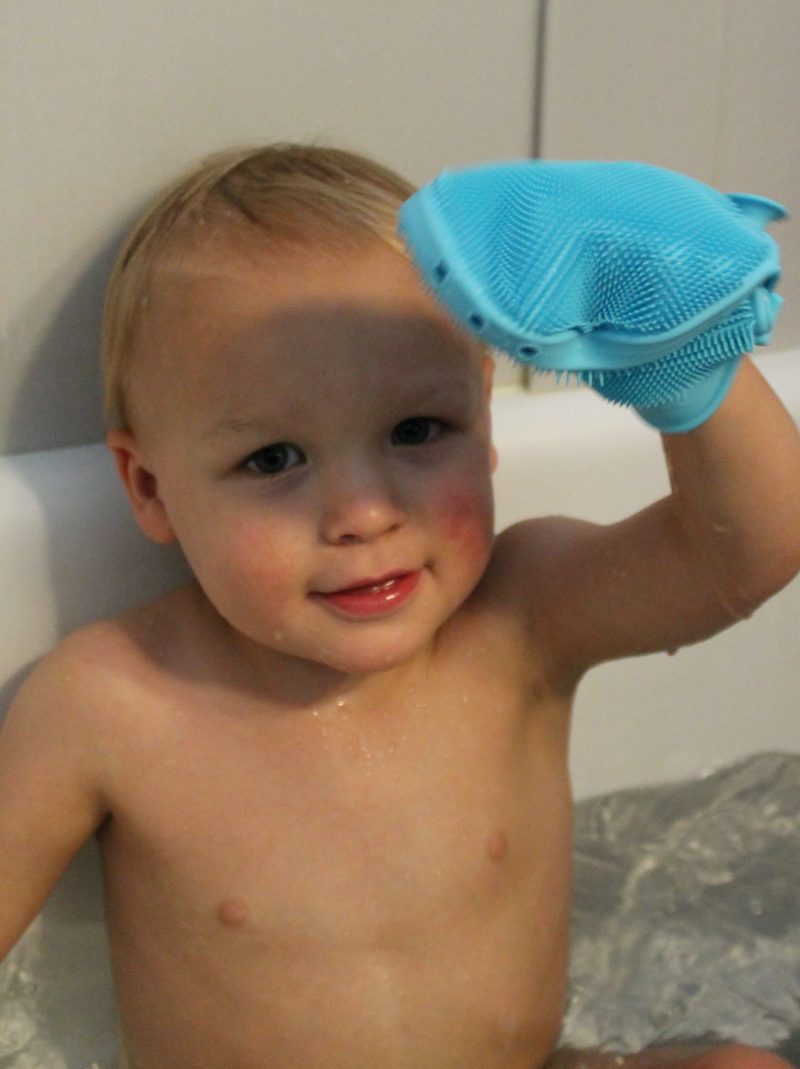 Bath time just go a little cooler and more hygienic than you can imagine! Thank you, Gugu Guru, for the Frida Baby DermaFrida Silicone Bath Mitt. My daughter has been learning to wash herself and this helps to promote this with being a wash glove that her little hand can git in. She loves the silicone texture and the prickles make her giggle.
-Crystal B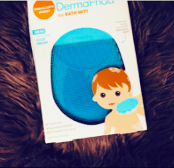 My three-year-old son was very excited to try out the Frida Baby Silicone Bath Mitt as he is in a "do it myself" phase when it comes to bath time. He did not like putting his thumb through the kid-fit hole instead keeping his thumb out like I do when I take over for him. He didn't seem bothered by the feel of the silicone but also didn't prefer it over a standard washcloth. The Bath Mitt also doubled as a pretend "oven mitt" to hand me "food" while playing in the tub. 🙂 
What I did love about the Bath Mitt was the suction cup allowing it to hang to dry. I hate how gross washcloths can get after using them if they're not wrung out and dried. We also have the Frida Baby Bath Mitt and my son now hangs them together in the bathtub to dry.
-Ashley B. 

The Frida Baby DermaFrida Bath Mitt is great! As soon as we showed it to our son, he wanted to use it during his tubby time. The Bath Mitt has a handy suction cup so it can hang in a vertical position allowing the bath water to drain out through the water openings at the end of the mitt. No mold and mildew here!  As we all know, toddlers want to do everything themselves and the Bath Mitt is the perfect size for the little one to stick their hands in with convenient thumb slots(for the left and right hand) and wash themselves up like the little grown-ups they think they are. As a parent, the Bath Mitt makes bathing so much easier without having to hold a little towel to scrub the body clean and instead we can give them a soft gentle massage while getting their bodies clean.
-David T.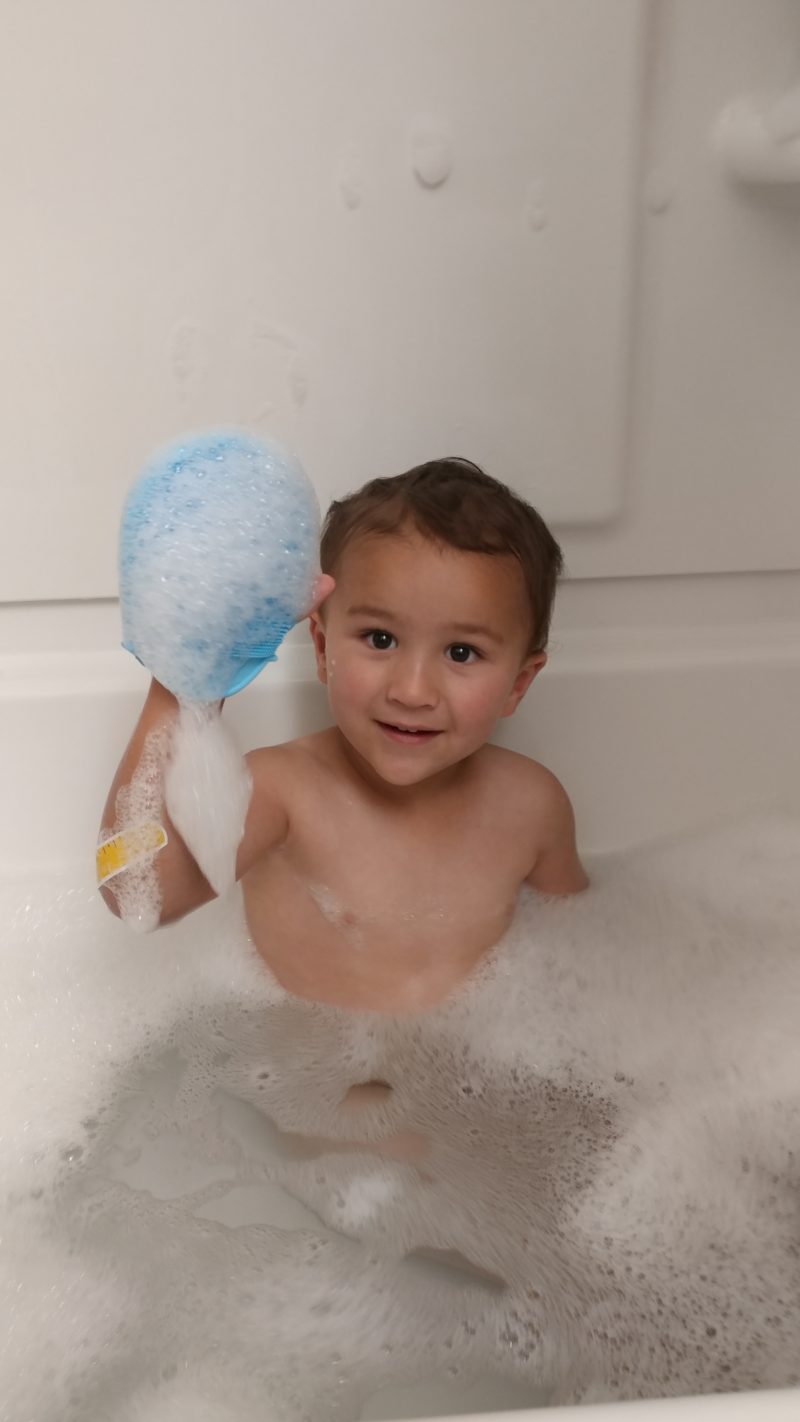 My husband and I have been huge fans of Frida Baby from the moment our son had his first cold and we discovered the amazingness of the NoseFrida. Well, the Frida Baby Silicone Bath Mitt is just as awesome and so well thought out like the rest of their products. 
​We are all about routines at our home and bath time is no exception. My five-year-old will be going into Kindergarten this year and we are trying to teach him the importance of a daily routine and being self-sufficient. Our boys get very excited about bath time and they can practically do everything themselves, except for the actual bathing part. My husband and I are always having to make sure they are getting clean and receiving a proper bath. We have been using the Bath Mitt for a few nights now, and holly molly it has been a game-changer! The Silicone Bath Mitt fits perfectly on my five-year-olds little hands and the thumb hole helps it stay without slipping off. I believe this is why it's been so hard for him in the past because washcloths and loofahs can drop and slip with little hands trying to maneuver them. My son is now able to get everything clean himself and help his brother get clean too, it's a win-win for kids and parents alike!
-Anne E.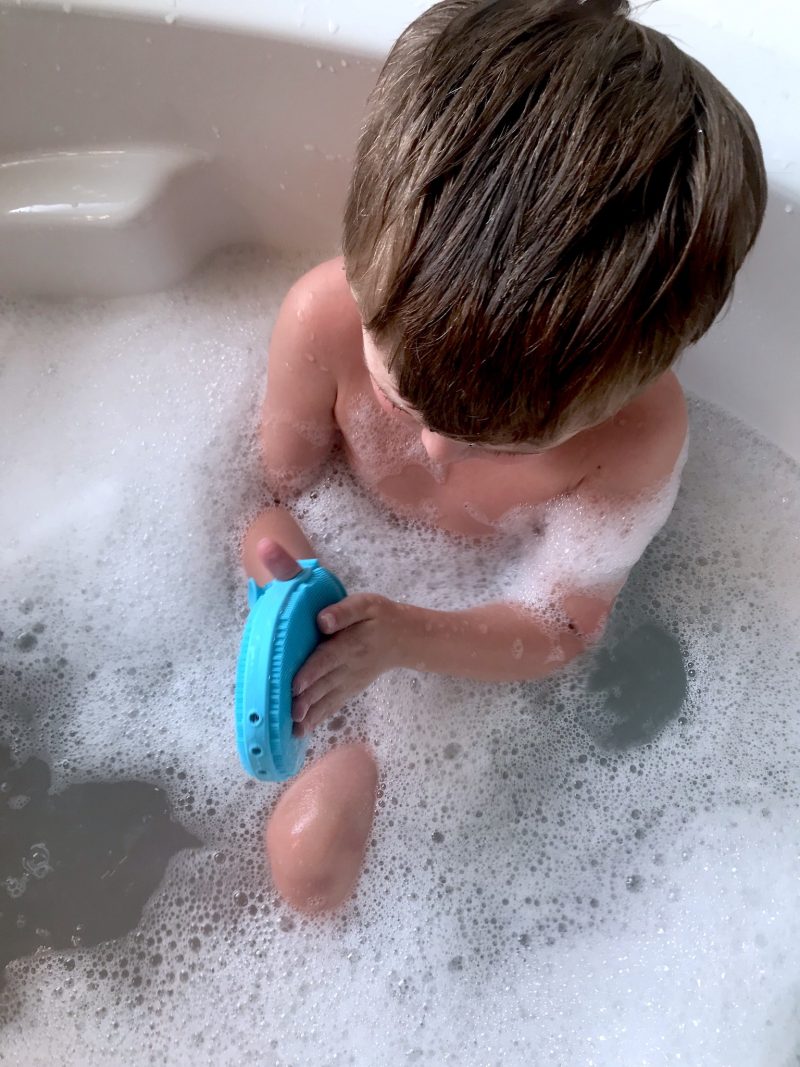 Thank you to Frida Baby for providing our Village Testers with the DermaFrida Silicone Bath Mitts and our Gugu Village Testers for providing us with their honest feedback. If you are interested in purchasing a Frida Baby DermaFrida Silicone Bath Mitt click here.
The Village Reviews: Evenflo Balance Glass Bottles
The Village Reviews: Giggle Layette
The Village Reviews: Gabri Isle