Did you know that they make weighted blankets for babies and toddlers? They do! And when it comes to helping your little one get the best possible sleep, many parents find themselves willing to try different methods or employ new techniques. Enter Aden + Anais with their stylish weighted blanket options.
If you're unfamiliar with the concept of weighted blankets, they are proven in clinical studies to both help alleviate stress and help promote longer, deeper sleep. They can promote happiness and reduce stress by releasing those happy-making hormones while simultaneously reducing the ones that cause stress. It makes sense that while a weighted blanket will help an adult sleep, it can do the same for the littlest among us. Just note that sleep experts do not recommend weighted blankets for babies under 20 lbs.
Aden + Anais created the embrace collection to help babies get their best possible sleep. They combine unique weight placement with 100% natural cotton, allowing you to use the weighted blanket all year long. Additionally, they make three different weights and sizes to accommodate babies of different ages and stages. Let's take a look at what they have to offer.
On-the-Go Blanket
$59.95
Weight: 2 pounds
Recommended Baby Weight: 20+ pounds
This is the smallest of the weighted blankets from Aden + Anais, fitting easily into strollers to keep baby both calm and warm on your morning or evening walks. This blanket is for babies who weigh 20 pounds or more, meeting the weighted blanket guidelines of no more than 10% of the baby's body weight. It comes in two neutral, modern prints that will look great tucked into your favorite stroller. A safety note: Babies should never sleep with a blanket. Keep this handy for your stroller rides and other outings.
Toddler Bed Weighted Blanket
$99.95
Weight: 2.65 pounds
Recommended Toddler Weight: 26.5 pounds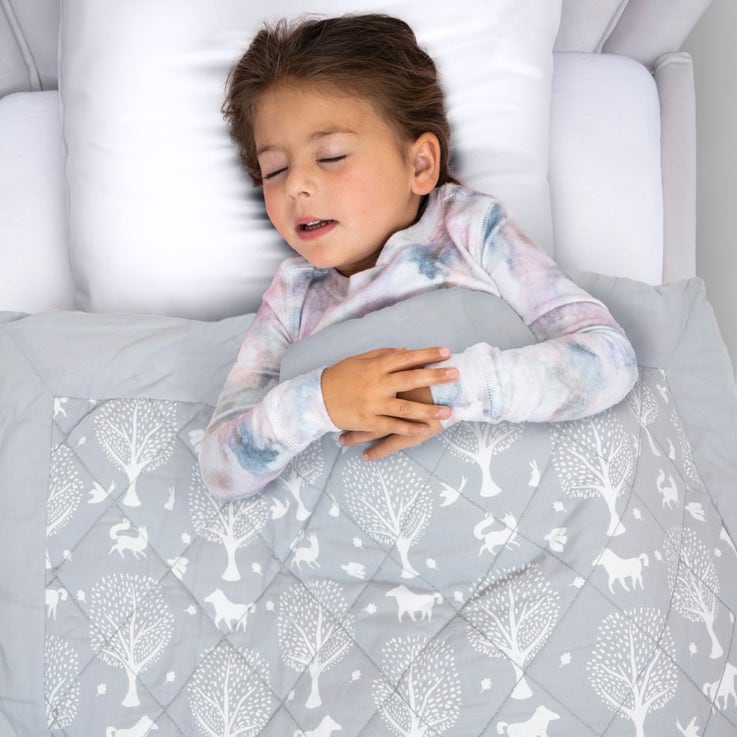 The next size up fits your toddler's bed just perfectly. This weighted blanket will help your growing little one adjust to their new bed, soothing their anxieties and helping them drift off to dream with ease. Using this blanket as part of your sleep routine could make bedtime easier for your whole family. It's made for toddlers who weigh 26.5 pounds or more. This blanket comes in three prints with colors that feel perfect for a growing toddler who wants to have a say.
Lounge Blanket
$119.95
Weight: 4.4 pounds
Recommended Toddler Weight: 44 pounds
Sure to become a favorite for the whole family, the lounge blanket is the largest option from Aden + Anais and feels perfect for snuggling together. You can throw it on your own bed for a joint naptime or cuddle under it for family naptime. It weighs in at 4.4 pounds, which means you could also use it as a solo option for kiddos who weigh 44 pounds or more. This weighted blanket comes in one classy, neutral print to complement your decor.
If you're looking for an easy way to help your baby with sleep, starting with an Aden + Anais embrace collection weighted blanket seems like the perfect choice. You'll be offering them a gentle hug when you can't be there to hold them, calming their anxieties with ease.
Check out more must-haves for sleep:
Why You Need Natural Fiber Sleepwear for Your Baby
JPMA Baby Safety Tips: Safe Sleep Basics
Sleep Must Have: Weighted Blankets for Baby & Parents