Is your little one drooling, looking to chew on everything in sight and extra cranky lately? He or she is probably teething! Finding the perfect teether for your little one isn't easy, but when you do, it's like finding the holy grail. 
The Moonjax Teether is just that! Moonjax is made from medical-grade silicone and, due to the lack of small crevices and holes, does not harbor bacteria. It is easy to clean and a favorite among babies. Our Gugu Village parents were able to test the Moonjax Teether. Here our Gugu Village product testers give us their real thoughts on the Moonjax teether.

David T. – Baby: 9 months
The Moonjax teether is a great product! Our daughter immediately grabbed for it and probably played with it, twisted and felt all the little bumps for about four minutes before chomping down on it. The teether is soft and squishy in the middle and a little bit firmer on the ends, which is a nice change for our little girl especially on days when those gums are angry! The unique design of the product allows our daughter to grab it in whichever hand and whichever way she wants and hang onto it when she's biting down hard. The fact that we can chill the teether helps a lot and our daughter loves having the soft cold squish of the silicone to numb her gums. Overall we're very happy with the product and I imagine it will get a lot of use while those teeth continue to push up.

Leanne P. – Baby: 3 months
My little guy has been chewing everything in sight and now has a new favorite toy, the Moonjax Teether. He was unsure at first but within a few minutes, it quickly became an appendage. It's so easy for him to hold, he grabs it and likes to bring it with him when I carry him around. As a mama, I love the fact that it is completely solid so water and bacteria can't get trapped. It's so easy to wash and dry, and I love the fact that I can throw it in the dishwasher. I get some peace of mind knowing that it isn't made with any dyes that could negatively impact my baby.

Daron O. – Baby: 4.5 months
The Moonjax Teether is fantastic! My 4.5-month-old doesn't seem too fond of any other teething toys, rings, etc. besides our fingers and knuckles so I was immediately interested in this teether. Whenever we offer this teether he takes it right away. My fingers say THANK YOU! He likes to chew and suck on it. It seems like a great toy for motor skills and hand-eye coordination as well. He likes grabbing and holding it with both hands. I also like that it's super easy to clean. I LOVE that I actually saw my baby's tongue sticking out of his mouth while gumming this! He had his tongue tie revised twice but is still reluctant to use his tongue…until the Moonjax Teether!  Since his teeth aren't quite as far along, we don't know if it provides relief of pain, but we are very optimistic.

Katherine H. – Baby: 8 months
I've been looking for a good and entertaining teether for my 8 month old son.  This one certainly fits the bill!
His first encounter with the Moonjax teether lasted longer than anything else I've introduced for him to chew on.  He can easily grab the teether and likes munching on the different nubs. I saw he repeats using one to get to his back gums where I think the new teeth are coming in. I loved that it's BPA free, dishwasher safe, and made in the USA. But more importantly, my son loves it! We've also tried it cold from the freezer and he liked that too. It maybe doesn't hold the cold for as long as the gel ones but he doesn't seem to mind. I would recommend this teether to friends and family!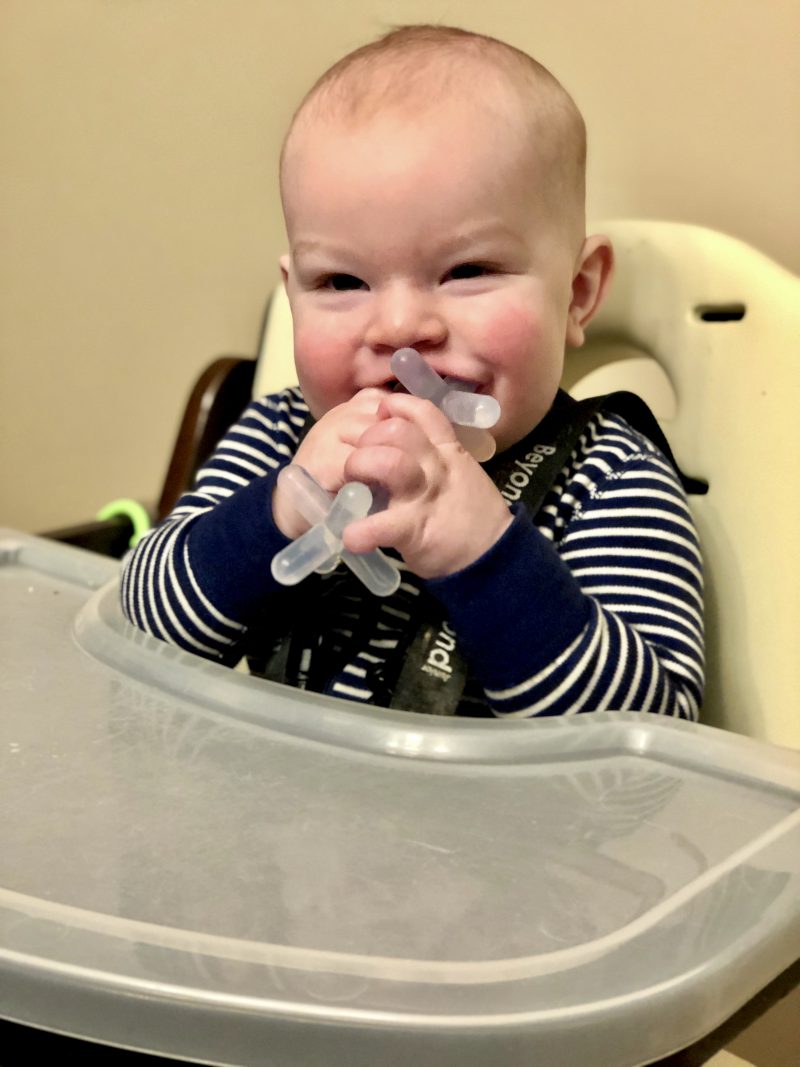 Alyssa N. – Baby: 9 months
It seems my 9-month-old son is a long, drawn-out teether, so I was really excited when Gugu Guru and Moonjax sent us the Moonjax Baby Teether to try! His top two teeth are trying to break through for weeks and all of the teething products I used with my older daughter do not hold my son's interest. The Moonjax teether has a really sleek design compared to a lot of the other products on the market, and I love that it's 100% silicone, which gives me peace of mind that it's safe for my baby and easier to clean and sterilize. My son seemed to enjoy the teether at first, but alas, it still didn't hold his interest as much as the plastic play food from the play kitchen. Since I have a crawler, I also noticed that when he crawled with the Moonjax in hand it would pick up any little piece of lint or dust on the floor, so that was kind of a bummer. It definitely wouldn't be great for a home with pets. We'll probably keep it in the diaper bag to use on the go when he's a little more contained in the stroller. I still hold out hope that the Moonjax will become a favorite teether later on when molars come through. The 'jacks' design seems like it would be great for reaching those back teeth and providing relief!
Thank you to Moonjax for providing our Gugu Village Parents with Moonjax Teethers. We appreciate our Gugu Village Parents providing us with their honest thoughts.
To purchase a Moonjax Teether, click here!
Are you looking to join an amazing community of parents and parents-to-be? Our Gugu Village is currently accepting new members!
If you have a product you would like our Gugu Village to review? Send us an email for additional information.
More to check out:
Real Mom Review: Eco-Friendly Mochi Teethers
Larktale Strollers Review by The Gugu Village
Top Baby Registry Items