By Beauty Editor Marina Klimasiewfski
This month I've interviewed top beauty bloggers, who also happen to be moms, on what they want for Mother's Day. Many answers proved to be universal. Whether they have one child or six, boys or girls, newborns or teens, moms want a little bit of time for themselves, some time with their children, pampering, and above all else, SLEEP! I could certainly use all of the above.
"All I want for Mother's Day is a NAP. j/k! (not really). For real though, I'd love to escape for a week to a spa retreat like Canyon Ranch and get all the spa treatments and just relax. I feel like as moms it's important for us to take the time to just relax and chill out. We always have a million tabs open in our mind, so it would be nice to have a blank slate of a mind for a little while." – Andrea Arterbery, freelance writer and blogger at www.theartofbery.com and mom to a boy toddler
"My daughter is an infant, and honestly, all I want is a long block of uninterrupted sleep. Six hours would be great; eight would be even better." – Karen Monterichaud, creator of makeupandbeautyblog.com and mother to a new baby girl
"I'm a working mom of two little ones, and I miss them terribly when we're apart. So for Mother's Day, I would love to receive a "mom necklace" with their names – so that they can always be close to my heart. I've been browsing GracePersonalized, an Etsy shop with beautiful custom jewelry. Every piece they make is so lovely, it's hard to choose just one!" – Daneen Baird, founder and writer of spoiledpretty.com and mom to a boy and girl
"I would like a nap without limits and a bowl of especially ripe strawberries that fits the same description." – Bryce Gruber, editor of theluxuryspot.com with 3 children at home
"I'd like one of those cool wine-of-the-month memberships. I love wine, but feel I'm not being very adventurous lately. A wine of the month club would expand my horizons beyond my current $10-$12 rut. Oooh, I'd also like membership to a monthly lash extensions club. Is that a thing? I have zero patience (or time) for mascara these days. So yeah, monthly lash extensions would make me very happy this Mother's Day." – Felicia Walker Benson, creator of thisthatbeauty.com and mother to a girl toddler
"I'm a sucker for the decadent massages at the La Prairie spa. They take me from zero to Zen every time. A 50-minute Swedish melts my racing mind into a hazy, blissful stupor. I make an afternoon out of treatments, arriving early to sit around in the opulent waiting area. Nothing beats sitting in a dimly lit, tech-free shrine with a warm cup of chamomile tea, swaddled in a plush robe. " – Polly Blitzer, founder of BeautyBlitz.com and mom to twin boys
"For Mother's Day I asked my kids to go on a hike with me to the Hanakapiai Waterfall. It's a somewhat strenuous 8 mile trek so of course they all said no! They want to have a beach day instead. As long as I have my favorite Elta MD sunblock and a good book it will be a good day. I'm dying to read The Age Fix by Anthony Youn, MD." – Erika Valente, makeupbag.net and mother to three glamorous daughters living in Hawaii
"I would love a mani! I used to get them about twice a month, but since I had my second baby in January 2015, I've only had one! I can't even do them at home. The times I've tried one of my kids will inevitably wake up early from a nap or need a diaper change. Not to mention, I could use a quiet hour of pampering!" – Anne Fritz Linval, Editor of Forever35.net and mom to a son and daughter
"Ethan is my 5th child, and I have a step-son too, which makes 6 kids…all boys even. I would love to say I want something solely for me. However, I actually just want the presence of mind to take in each moment fully with the boys. I never understood when people said it goes by in a blink of an eye, but having Ethan made me see it. Ethan is 8 months and my oldest son is 17. Suddenly you're searching your memory to remember "moments" from the last 17 years. I just need that reminder each day to just take it all in and cherish it." – Shannon Smyth creator of agirlsgottaspa.com and of a cruelty-free bath & body brand by the same name, as well as a mother to 6(!) boys
About Marina Klimasiewfski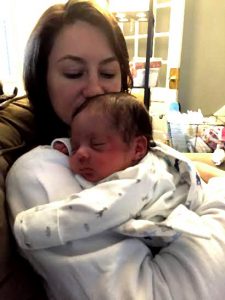 Marina Klimasiewfski has been writing about beauty online for the past decade. She is the founder and author of MakeupLovesMe.com. She has been quoted as an expert source in various outlets and has served as brand ambassador for Aveeno and Nivea in the past. This fall she became a mom, and since then has been working on the art of applying eyeliner one-handed.