Jogging and running in an urban environment is a great way to stay fit and healthy, but when you throw a stroller into the mix, things can get hairy. Between narrow sidewalks, potholes, public transportation and people traffic, finding the perfect jogging stroller for city living can be a challenge. After chatting with many parents, and lots of research, we rounded up our top picks for urban environment jogging and running strollers.
Do you have any on this list? Are we missing any? Leave a comment and let us know!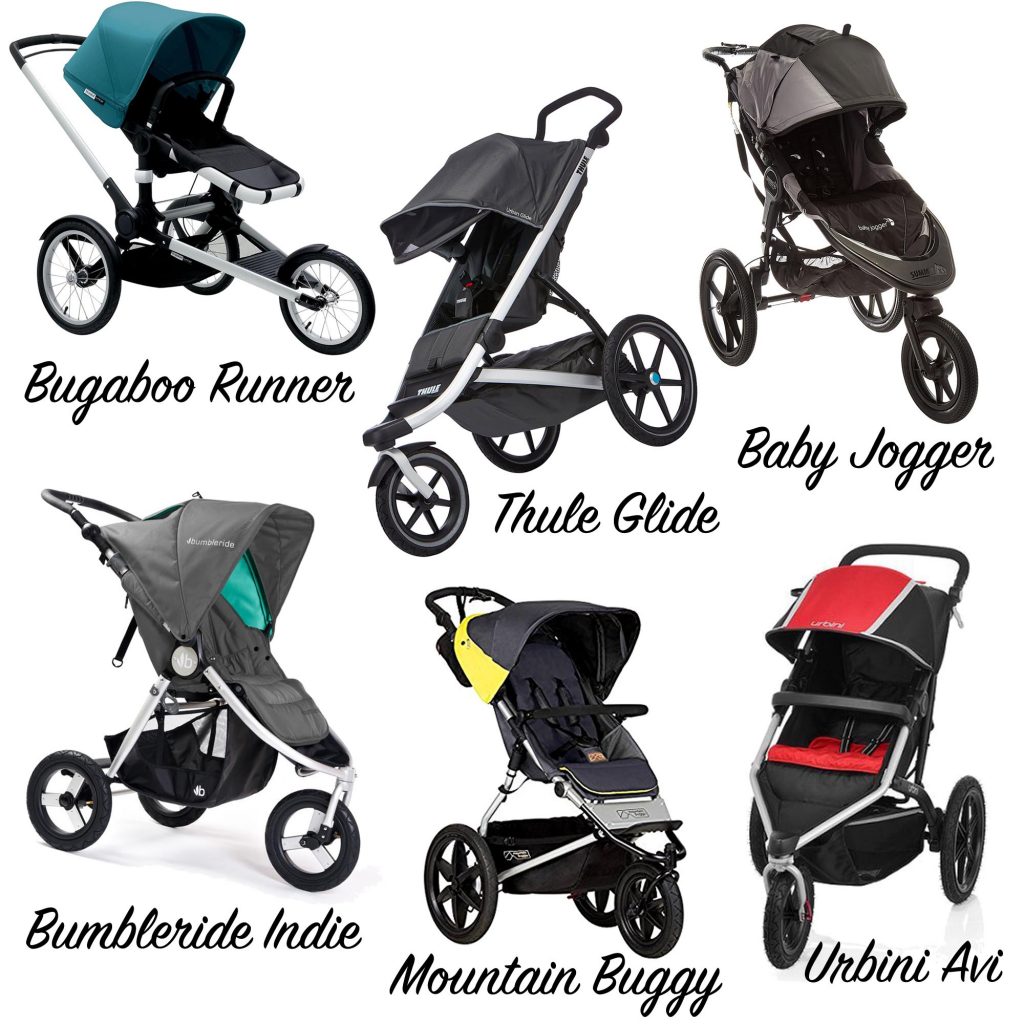 Budget Pick:
Urbini Avi: If you are looking for a quality "budget-friendly" jogger, the team at Gugu Guru recommends the Urbini Avi. Why? It's a reliable, good quality jogger complete with great features like a cup holder, ample storage and a compact fold – and it has a super price tag.
Best Storage Pick:
Bumbleride Indie: This is an absolutely gorgeous stroller with great features – a wide canopy, compact fold and ample storage. We also love that the stroller is manufactured with eco-friendlier textiles. We wouldn't necessarily recommend this stroller for hard core runners, but it's a high-quality option for your one and only day-to-day stroller and jogger.
Learn more: A real mom's review on the Bumbleride Indie
Best versatile pick:
Bugaboo Runner: Parents who have a top of the line Bugaboo stroller already can rejoice that they only need to buy the frame – it's compatible with other Bugaboo seats. Designed with active parents in mind, the Bugaboo Runner comes in two versions; as a complete jogging stroller and as an accessory for existing Bugaboo owners, offering an easy, click-and-go jogging extension. The large under seat basket will hold your essentials and most accessories are compatible with the stroller. In characteristic Bugaboo fashion, you can choose to have the seat facing you, or facing the world. What are you waiting for? Run free!
Best for everyday use:
Baby Jogger 2016 Summit X3 Single Jogging Stroller: With its patented quick fold technology, you can fold your stroller with one hand, which means if you're hopping on and off the subway and there's a possibility you're going to have to fold up the stroller, this is the one for you. This 3 Wheel Stroller has 16″ rear and 12″ front air filled tires with front wheel lock mounted on the handlebar for easy conversions between jogger and stroller mode, meaning you can use for jogging and everyday use. All wheel suspension system soaks up road bumps making it the perfect all terrain stroller, especially for going over cobblestone streets or cracked sidewalks. Plus, the hand operated rear brakes make for more control on hilly or uneven terrain. And, it features a large adjustable sun canopy with peek a boo windows and side vents. 
Best lifespan:
Mountain Buggy Terrain Premium Jogging Stroller: If you're looking for a space-saving stroller, the Mountain Buggy Terrain Premium Jogging Stroller is your pick, as it is not only can double as an every day stroller, but is able to be used from newborn to 70 pounds. The newborn perfect reclinable seat, compatible with the Mountain Buggy Carry Cot+ in matching fabric (sold separately) and infant car seats from most major brands (sold separately) allow you to use the Terrain from birth. Plus, the Terrain offers a  new, extremely easy one hand fold offers ease and convenience. Now a full size jogging stroller fits everywhere a standard stroller will. 
Best for Avid Runners:
Thule Urban Glide Jogging Stroller: We know how hard it can be to find time to work out, so when running is your only option, you're going to want your stroller to keep up! At 22 pounds, the Thule Urban Glide is super lightweight and aerodynamic; this is perfect for winding through crowded sidewalks and around tight corners. The front wheel swivels for easy maneuverability, and locks into place for jogging. As an added feature, the padded ergonomic handlebar has a range of heights for parent's comfort, so you can run comfortably. Plus, the seat reclines almost all the way, so baby can nap while you get your groove on.
Also seen: An Avid Runner's 6 Baby Registry Picks
Still not sure which jogging stroller is right for you? Don't worry, we have a quiz for that! What are your top features in a jogging stroller? Head to this post to find out what won the vote. Looking for some tips? We have top ten tips for running while pregnant!