With Fourth of July coming up, we wanted to share some design inspiration for Red, White, and Blue nurseries. Red, white, and blue nurseries often tend to lean towards Americana, nautical, stars & stripes, even a farm theme. We rounded up basic nursery essentials which fit the red, white, and blue theme – and a few special accessories, too!
Want to see more nursery inspo posts? Check out Gray Nursery Ideas, Gender Neutral Nursery, Botanical Nursery; Buffalo Plaid Nursery Inspiration; Princess Bride Inspired Nursery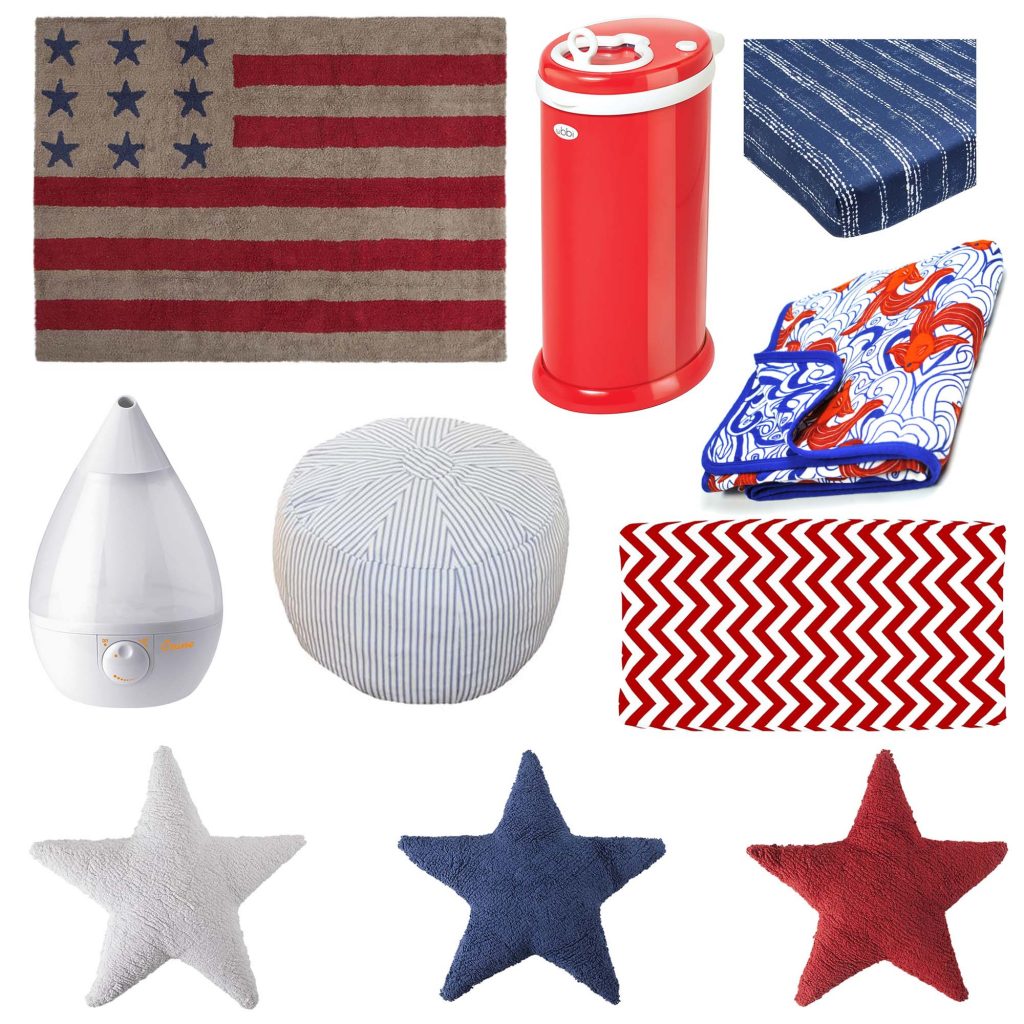 Brooklyn Born Sheets, Shibori, Navy/White: Brooklyn Born Sheets are 100% GOTS certified organic cotton sateen and have 300 thread-count, making it a super soft sleep surface for baby. We love these blue sheets with some detail!
Ubbi Diaper Pail, red: An Ubbi Diaper Pail is a must have for any nursery; with a modern look, you can add efficiency with an essential nursery item to your nursery decor and not break from the theme of the nursery's style. The Ubbi Diaper Pail holds up to 55 diapers, and with its powder-coated steel interior, it keeps smells far, far away – plus, it comes in 13 colors and has a child lock – perfect! This bright red pail is sure to add pizzaz to any nursery.
Also seen: Gray Nursery Inspiration; Top 5 Must Have Essentials: Baby's Nursery; Mama Wellness Nursery; Spring Cleaning Must Haves; Gift Ideas, a Touch of Gray; Gender Neutral Nursery Inspiration
Crane Humidifer, white: We have posted many times about why Crane Humidifiers are a nursery essential, so we had to include a white Crane Drop Humidifier for a red, white, and blue nursery. Humidifiers are especially important for Newborns because they are Obligate Nasal Breathers, breathing only through their tiny noses for their first 4 – 6 months. Any congestion can make breathing, feeding, and sleeping incredibly difficult for your little one. Why not grab this nursery essential in white to match your nursery?
Also seen: Gray Nursery Inspiration; Top 5 Must Have Essentials: Baby's Nursery; Mama Wellness Nursery; Nursery Essentials, Penguin Humidifier; Well Home: Crane Humidifiers; New Mom Series, Preventing Congestion; Minimalist Baby Registry; Budget Baby Registry
Lorena Canals American Flag Rug: We can't do a red, white, and blue nursery roundup and not include this gorgeous (and machine washable!) Lorena Canals American Flag Rug. If you're going for more of a stars theme, check out their navy and white star rug, too.
Also seen: Cause-driven Baby Registry; Spring Cleaning Must Haves; Nursery Style, Botanical Theme; Endless Summer Registry Picks; Gender Neutral Nursery Style
Oliver + Kit Reversible Cuddle Blanket: Oliver + Kit crib reversible bamboo cuddle blankets are made from the highest quality bamboo blend of 70% bamboo rayon and 30% cotton blend for the durability of cotton and the luxurious softness of bamboo.  Our cuddle blankets are the perfect way to wrap your little one in cozy comfort. Our plushest blanket has eight comfy layers that are ultra breathable while giving babies, and toddlers soothing extra weight for added security.  Our generously sized quilts are 47″ x 47″, big enough to grow with your child.
Lorena Canals Star Pillows: We are huge fans of Lorena Canals' pillows because they are easily washable at home, in your regular washing machine – you don't even need to take out the filler! Plus, they are handmade by artisans from non-toxic dyes and 100% natural cotton. Grab a red, white, and blue star for your Americana nursery.
Shop Sugar Babies, Navy Pinstripe Pouf: Great for kicking your feet up while feeding your baby in the nursery and converts into an extra seat in the nursery, too. Measures 15″ x 20″ x 19″ and weighs approx. 5 lbs. 100% cotton canvas cover with zipper bottom for removal and wash.
Carousel Designs Red Chevron Changing Pad Cover: Carousel Designs changing pad covers are made with 100% certified organic cotton fibers, which are printed in the USA with certified organic inks. Both the cotton and the inks are third party GOTS (Global Organic Textile Standard) certified. Each changing pad cover is a woven 200 thread count fabric that is perfect for your baby girl or baby boy. We love this red chevron changing pad cover, because the red fits the nursery theme, and is still modern with the chevron pattern!
Other fun nursery accessories for your red, white, and blue nursery: