Best Natural Deodorant – Review of Earth Mama's New Travel Size Deodorants (Just in Time for Summer!)
Hey everyone! Monica here – founder of Gugu Guru.   I distinctly remember a conversation that I had with another mom about ingredient safety when I was pregnant with my first baby.  She said to me, "You know what keeps me up at night when it comes to personal care during pregnancy? Anti-perspirant – there's so much toxic stuff in there."  I hadn't really thought about it until that moment but it made sense. Clearly there is something in anti-perspirant that represses perspiration, which seems unnatural altogether. In case you didn't know – aluminum compounds found in many popular anti-perspirant products actually clog the pores of your armpits so that you don't sweat.  So generally, we advise sticking with deodorants and not anti-perspirants because of this. (If you want to learn more about why you should think about toxins lurking in your anti-perspirants, check out this article from Don't Mess With Mama.)
It was because of this conversation that I started my journey to find the best natural deodorant out there, which leads me to this review of Earth Mama® Organics' Mini Deodorant 4-pack.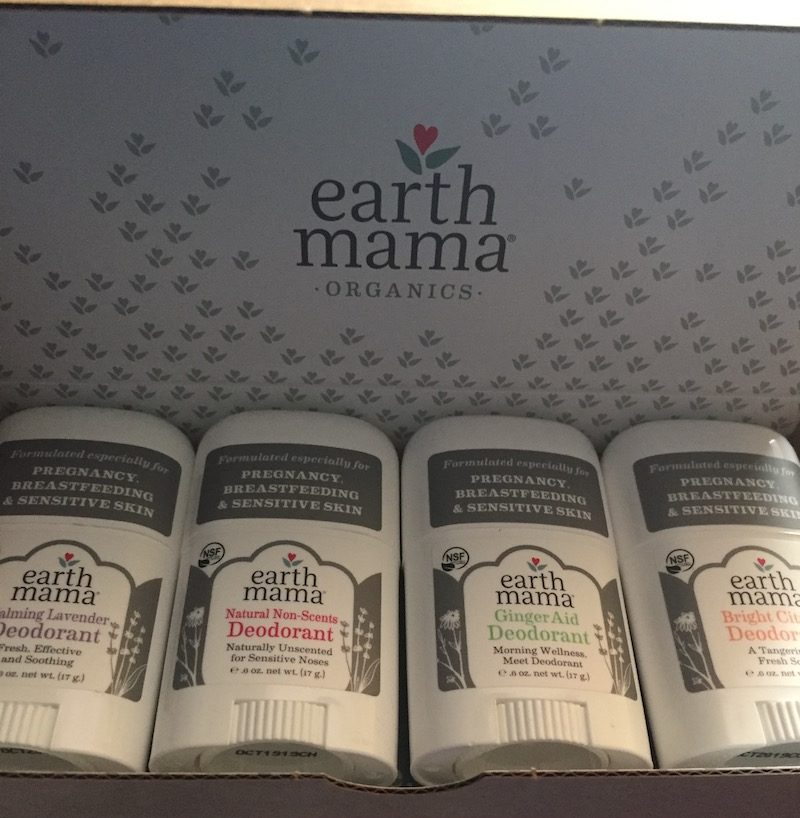 What I Loved:
The variety. You get four different "flavors" to try out: Refreshing ginger-lime GingerAid Deodorant, tangerine-y Bright Citrus Deodorant, unscented Non-Scents Deodorant, and fresh, soothing Calming Lavender Deodorant. If you're like me and can be picky about the scents you wear (I was once haunted on a business trip by a "powder fresh" fragranced antiperspirant I had accidentally purchased), then being able to give different scents a test-drive is a must.
The ingredients. When you read the list of all-natural ingredients, you can see why the organic formulations are totally safe for pregnant & nursing mamas (and also humankind in general!)
The beneficial scents. When I opened the box, the first thing that struck me is that these deodorants are like the benefits of essential oils for pregnant and nursing mamas + non-toxic deodorants all in one stick. If you feel a little nauseous, try the GingerAid. Tossing and turning at night? Calming Lavender has your back.
The size. These are travel-sized, which means that they're compact enough to throw in your weekender for getaways, gym bag, beach bag and even your diaper bag.  As it's currently the month of July as I am writing this review – and a scorcher at that – it's always nice to tote around one of these sticks just in case I need it.
What I Didn't Love:
Note: I think that the two things that I didn't love about the Earth Mama® Organics' Mini Deodorant 4-pack are probably due to user error.
The residue.  When you look at the sticks, they look transparent so I figured that these deodorants are invisible once applied.  I think I may have applied way too much but when I put on a black t-shirt, I did have streaks on the side.  This is not a big deal because the next time I threw something black on, I just more carefully put it on to avoid any streaks.
The volume. Again, I think I may have applied way too much but these did seem to go somewhat quickly.  I took the unscented stick on a recent trip to Florida and found that all-in-all the stick lasted me about 6 or 7 days. Since these aren't full size and I was doing multiple applications each day due to swimming, showering, etc., I am not sure what I was expecting.
UPDATE: In response to our review, our contact at Earth Mama had this to say, "Since the texture is soft, we recommend keeping the amount out of the tube somewhat low, to reduce the amount of waste. Personally, I take the extra off the side of the tube and rub that in too! When I first started using our deodorants, I piled it on – I find now that I don't need that much."
Overall, I give the  Earth Mama® Organics' Mini Deodorant 4-pack a big A+ and will now be referring to it as Gugu Guru's pick for best natural deodorant. (Psst: Pick it up with their organic herbal sitz bath – another must have for prenatal and postpartum mamas.)