With July being the time to celebrate America, we wanted to celebrate American made baby gifts; we rounded up some of our favorite baby gifts made right here in USA. Don't forget, you can also add these to your favorites, too!

Carousel Designs: When it comes to picking crib bedding, it's so much fun to match the bedding with the design of the nursery and really personalize the whole room. We're huge fans of customization, which is why we love Carousel Designs bedding. Not only do they offer a gorgeous assortment of designs in a huge variety of nursery themes, but you can also design your own bedding set! With the nursery designer program on their website, you can drag and drop styles and designs to create your own custom bedding set – yes, it really is that cool! Carousel Designs was founded over 30 years ago and has worked to personalize the nursery design experience by offering our customers unmatched service and the ability to custom design their baby's bedding, all right here in the USA.  In August of 2017, Carousel Designs was acquired by Crown Crafts, Inc., one of America's largest producers of infant, toddler and juvenile consumer products. Now a member of the Crown Crafts family of businesses, Carousel Designs continues to operate out of Douglasville, Georgia and proudly manufacture products in the USA, while offering an even wider range of design possibilities and nursery products for customers. These make a perfect baby shower gift!

Bets & Emy Wipes: As any new parent knows, when it comes to wipes for baby, you want to make sure that they are soft, gentle, and safe for baby's skin, which can be very sensitive at times. When we came across the Bets & Emy Wipes, we were thrilled about all components of them – especially the fact that they are made in America! Bets & Emy was founded in April of 2016 by Emily Frazer, CPSM. Emily began work developing Bets & Emy wipes in 2013 after the birth of her son, Archie. When Emily realized how many chemicals were in her baby wipes—even the "natural, fragrance free" baby wipes she was using—she believed the baby wipes were part of the problem, and began her search for something better. In August of 2016, after many months of sampling and testing, Emily's first sample run of 1,000 packs was a success. She is proud and excited to bring you this alternative to conventional baby wipes. Bets & Emy Wipes are 99.9% water and 0.1% Citrus Extract, they are soft and strong with no fragrances or oils – super safe for babies and kids. You won't want to be without your Bets & Emy Wipes, once you open a pack, you won't ever go back! These are a great gift for a new mom who may not know how sensitive babies' skin can be; set her up with these made in America wipes with no chemicals or preservatives.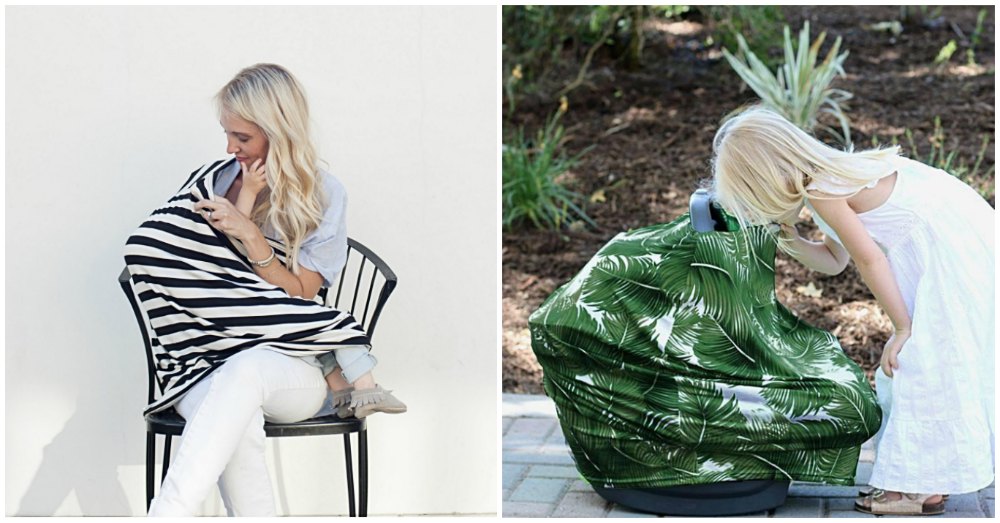 Covered Goods, Original Multi-purpose Nursing Cover: When it comes to creating registries for moms who plan to breastfeed, we always add Covered Goods Multi-Purpose Cover to the list. These covers, which comes in a huge variety of colors and styles are also Made in America! Did you know that Covered Goods is the original multi-use nursing cover, too? Founder Jamie Yetter, herself a mother of four, faced a common fear that many women have while nursing in public; the fear of being exposed! She set out to create a way mothers could safely and comfortably breastfeed in public, all while still staying stylish. Plus, we're huge fans of multi-purpose baby items, and these covers can be used as a carseat cover, grocery cart cover, or a scarf for mama when she's not breastfeeding. The high quality covers are made from an ultra-comfy breathable lightweight and stretchy fabric.  There are no straps, rings, or cords to mess with.  The covers take seconds to put on and take off, and alleviate any worry that baby will kick or pull mom's cover off.  The flexible neck is also designed to be able to be worn down under one arm to give mom even more freedom when nursing.  An added benefit of the flexible neck allows mom to peek in on baby or to make sure her little one has latched properly.  Covered Goods nursing covers can be folded compactly for storage and they are ideal for traveling with baby.
Check out some of our other favorite Made in America Gift ideas:
Thank you to Carousel Designs and Covered Goods
 for making this sponsored post possible!