-Sponsored Post-
Looking for a caregiver holiday gift idea for the mom, grandma, sister, babysitter or friend in your life? You've come to the right place. We are loving Tiny Tags jewelry for the ultimate holiday gift! Coming in a variety of shapes, sizes, colors, and price points – this personalized jewelry is a loving way to show someone that you appreciate them this holiday season.
Tiny Tags, founded by a mom (of course!), creates gorgeous and stylish jewelry for women which are also incredibly meaningful. Whether it is the date you first laid eyes on your partner or child, or all of your children's names, or the time your baby was born, Tiny Tags turns memories into heirloom jewelry pieces. With a ton of styles to choose from, as well as gold or silver, you're sure to find a unique gift for the women in your life this holiday season. We rounded up some of our favorite pieces from Tiny Tags to add to your holiday wish list and shopping list. Any of these would make the ultimate caregiver holiday gift idea.
Check out our top picks under $100: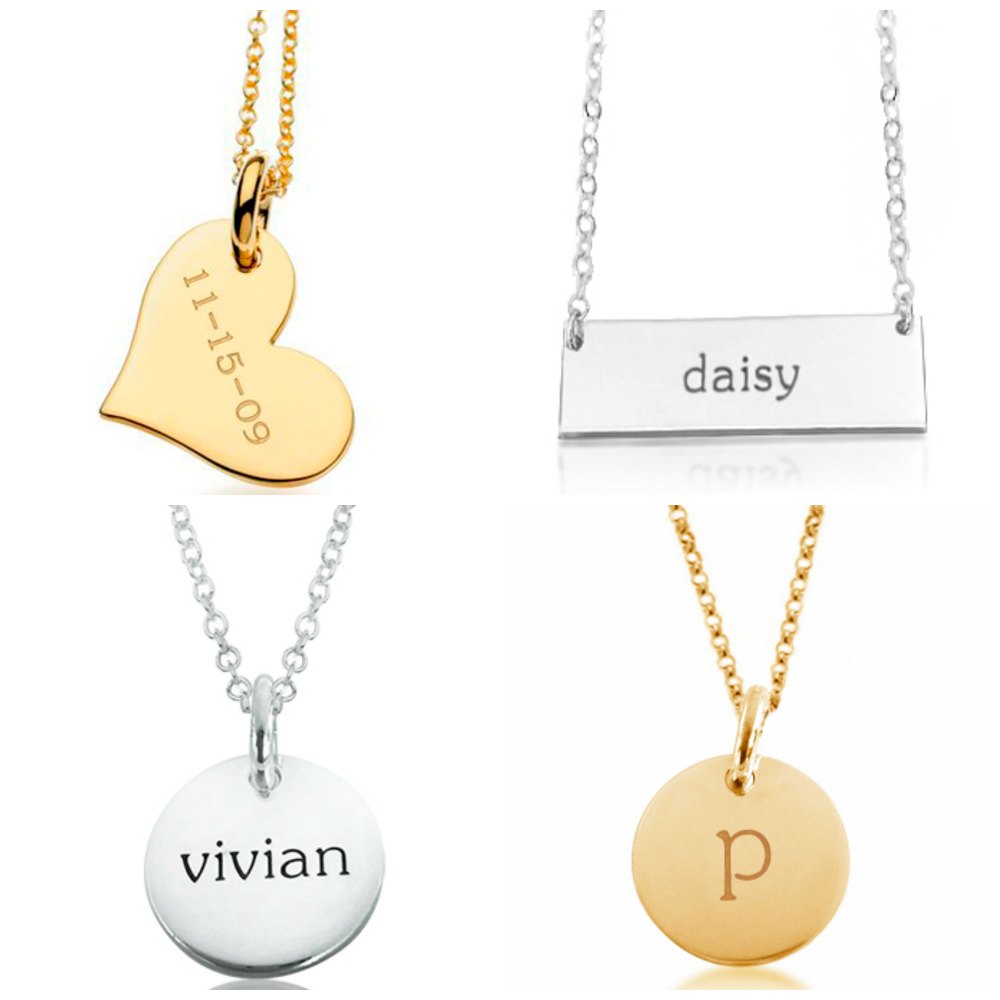 Top left: Gold Heart Necklace ($95); Top right: Silver Bar Name Necklace ($85); Bottom left: 1 Name Necklace Silver ($65); Bottom right: Gold Lower Case Initial Necklace ($95)
We love that each Tiny Tags necklace tells a story – it may just be a piece of gorgeous jewelry, but there is such sentiment and history behind every piece. And, since the holiday season is really about giving back, we love that founder Melissa says, "As a mother of three healthy boys, I am deeply aware of life's blessings, and I am passionate about giving back. Every month, Tiny Tags donates to Save the Children, Plan USA, and the St. Jude Children's Research Hospital, and our goal is to keep on giving." Tiny Tags are also made in America! We also love that you can buy a new mom or grandmother a Tiny Tags necklace and add charms as more babies come into the family. Tiny Tags makes a perfect push present for a holiday baby, too.
Check out some of our top holiday gift picks below – which one would you buy for yourself?
Top left: Gold Family Necklace ($170); Top right: 3 Name Silver Circle Pendant ($105); Bottom left: Gold Skinny Bar Necklace ($125); Bottom right: 4 Name Silver Necklace ($200)
Thank you to Tiny Tags for making this sponsored post possible.