When you close your eyes at night and dream, you're probably dreaming about cupcakes, right? Yup, that's what we thought! We're so excited to introduce you to Baked By Melissa – and we love the message behind their brand. Baked By Melissa is all about the little bites – life should be about enjoying the sweetness in life – whether it is a bite sized cupcake or macaron! We love Baked By Melissa because they are such a fun way to celebrate new babies – we wanted to share some cute ideas and ways you can use Baked By Melissa Cupcakes in your pregnancy and baby journey!
Gender Reveal: Have your friends and family over for a fun Baked By Melissa Gender Reveal Party! We love these It's a Girl! and It's a Boy! Celebration boxes – filled with bite-size goodies and their bite-size tie-dye onesie, the It's a Girl! and It's a Boy! Celebration Boxes includes a selection of Baby Girl Sugar Cookie cupcakes, and their Latest and Greatest collection.
Baby Shower: When it comes to your baby shower, indulge in bite sized goodness from Baked By Melissa with their Baker's Delight! A 100 bite-size cupcake sampler of every handcrafted flavor on Baked By Melissa's current menu. Their most-loved originals, the ever-changing delicious Mini of the Month, and the new seasonal flavors. With 100 cupcakes, there is more than enough to go around…and don't forget to have some "for the baby," too. Wink.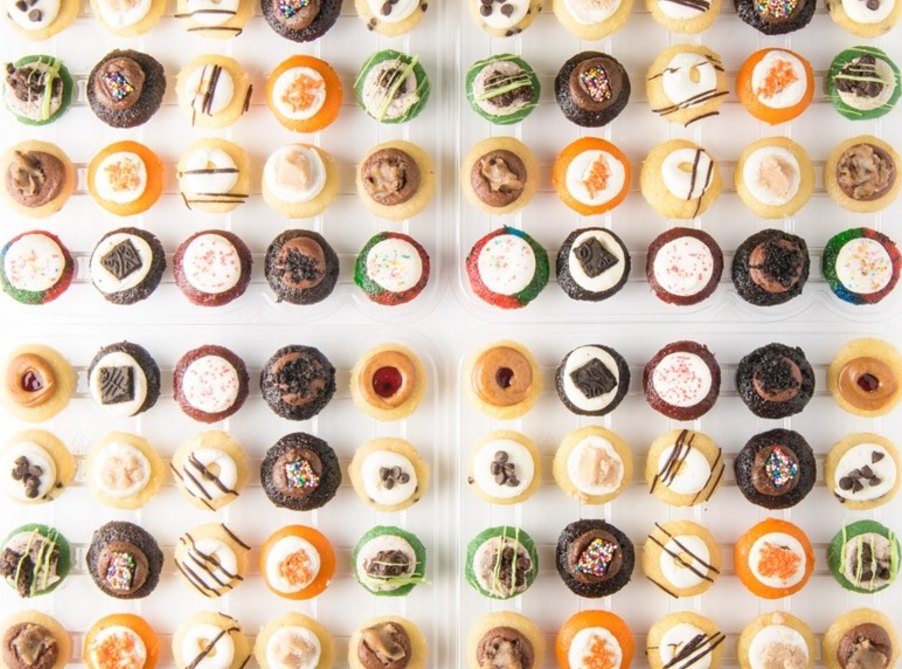 Baby's Here…Let's Eat!: You know those days after you get home from the hospital where there is a never-ending stream of visitors? Have some Baked By Melissa cupcakes out for your guests – we think The Hundo is perfect for those occasions.  The Hundo features 100 bite-size cupcakes in their eight signature flavors; this includes their famous Tie-Dye, rich Triple Chocolate Fudge, gooey Cookie Dough and more.
Can't get enough of Baked By Melissa's bite sized cupcakes? Don't forget to add them to your registry – they're already in our database – so take our fun style quiz (if you haven't already) and add away!