For today's Celebration of Feeding post, Natalie Diaz, the founder of Twiniversity, is here to share her tips for feeding twins!
There are MANY options when it comes to feeding your twins. This week we are celebrating formula feeding and in my expert opinion, bottle feeding in bouncers is the best way to go. The BabyBjörn Bouncer Balance Soft is incredible. Not only will your baby be comfortable, but it can hold him/her until their 2nd birthday! My only problem with this bouncer is that they don't make one I can buy in my size. So let's get down to business. How are we going to bouncer feed twins?

Here's how you do it:
Step 1: Set up your situation! Get your "home base" ready to feed those hungry babies. You should have: Full bottles with the correct amount (maybe a little extra for that morning feed!), burp cloths, wipes (for cleaning up small spills) and the remote to turn on some tunes. Hey, why not? Ever go to a restaurant that was silent? Yeah, it was uncomfortable, right? Well, set the mood for fine dining even if it's just in your living room. Suggestions: Harry Belafonte, REM, Trace Atkins (those were my twins' favorites!) 
Step 2: CHANGE your babies. You should never begin a feed — breast or bottle — without first changing the babies. That way if they are fussy you at least know it's not because they are wet. Once they are changed, bring them to their bouncers and strap them in safely. SAFETY FIRST, ALWAYS! If they are little and having a hard time with neck support, buy a head positioner, or just use a rolled up receiving blanket behind the neck to help prop them up into place.
Step 3: Go to the bathroom yourself! Same as the babies, no one should be uncomfortable during a feed if you can avoid it.

Step 4: Sit on the floor with your back against a chair or couch, stretch your legs out in front of you, get your supplies within arms' reach and settle in — you're going to be here a minute. Once you are all adjusted, place a bouncer on each side of you so that your arms can comfortably reach the babies.
Step 5: Feed those babies! Hold each bottle in one hand and let your hungry babies go to town. Remember to make sure that the nipple is filled 100% of the time with the milk! Our suggestion would be to use the Dr. Brown's Options bottles. Start off with a level 1 nipple but move to a level 2 nipple once your doctor gives you the green light. If you are doing a combo of breast and bottle feeding, STICK WITH LEVEL 1! That is closest to the actual flow of your nipple and the baby will be most comfortable with that.
Step 6: Halfway through the bottle, stop for a quick burp. I'm sending successful burping vibes your way! Start with the easier burper first and move over to the one that's a bit more challenging.  Make sure you take advantage of that burp cloth. If you end up getting some formula on your clothing, or theirs, try the Dapple Stain Remover which we find works like a charm to get those stains right out. Then go back to feeding as usual but still make sure that the nipple is full 100%!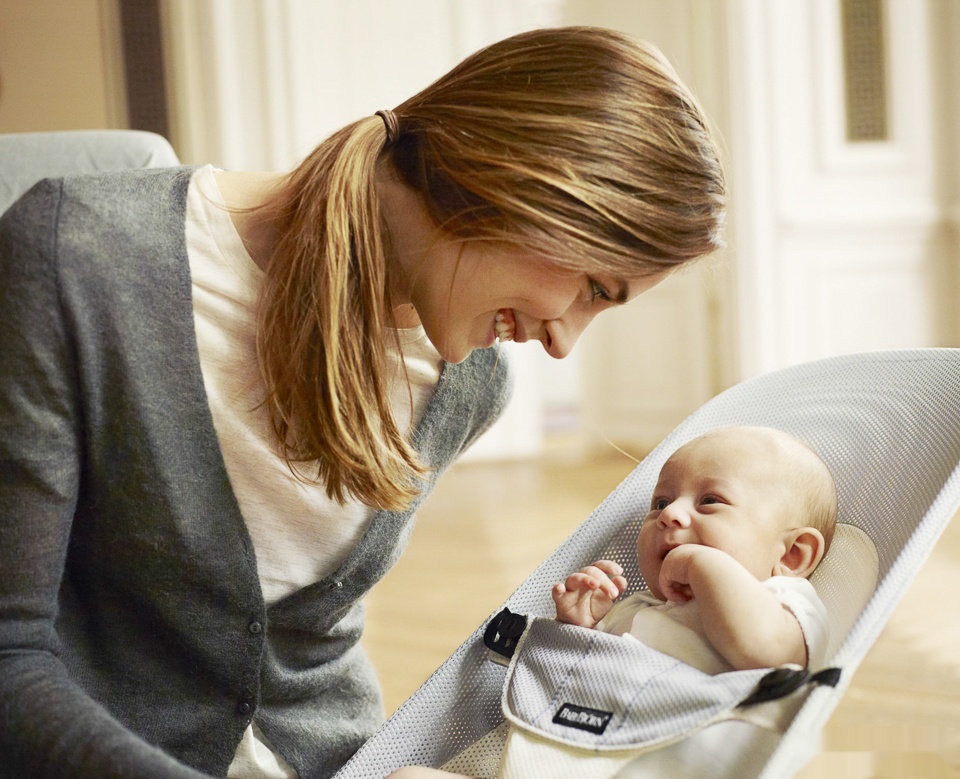 When the feed is done, feel free to give 'em one final burp. Then, PUT YOUR BOTTLES IN THE SINK! Make sure that after each feed you get some fresh water into those bottles. By the days end, even if it's a ¼ oz, it might be tough to get out. Keep a large basin in the sink prefilled with sudsy water for those bottles to go right into.
Make sure that every night you do a final tally of your bottles. If you used 16 bottles, make sure they are all accounted for in the dishwasher! You don't want to have a rogue bottle floating around your house. In a few days' time, if you don't find it….you will. You can just track the scent! Yuck!
Follow BabyBjorn on Facebook, Twitter, Instagram, and Pinterest.