Designed by a doctor in the mid-nineties, Dr. Brown's has become a leading standard for baby bottles and accessories for all parents. Dr. Brown's is known for their Dr. Brown's Natural Flow® bottle, which is the only bottle "to feature an internal vent system that helps reduce colic, spit-up, burping and gas by eliminating negative pressure and air bubbles, helps preserve vitamins C, A, & E by minimizing oxidation of breastmilk and formula, and provides vacuum-free feeding similar to breastfeeding." Whether you're breastfeeding, supplementing, pumping and feeding or formula feeding, Dr. Brown's makes it easy for parents with their well-thought out products designed to make baby fed and happy. Today we're sharing some products that make life easier on all parents – because no matter what, we can all agree that washing bottles and preparing formula is time consuming, but Dr. Brown's aims to make it as simple as possible for all families!
When we chatted with formula feeding parents in preparation for the Celebration of Feeding, the number one essential which came up over and over again was the Dr. Brown's Formula Pitcher. Using the pitcher, a parent can prepare up to four 8 oz/250 ml bottles at once in this pitcher with a spill-free locking lid, no drip spout and soft-grip handle. It's easy to use and BPA free, but most importantly, it mixes formula quickly without clumping and dissolves formula quickly with no clumping, which helps limit the amount of air in the formula. The less air in the formula, the less air in your baby's tummy, and less gas and colic to contend with. The pitcher makes those middle of the night feedings so much easier – no need to spill powdered formula all over your counters as you sleepily make a new bottle!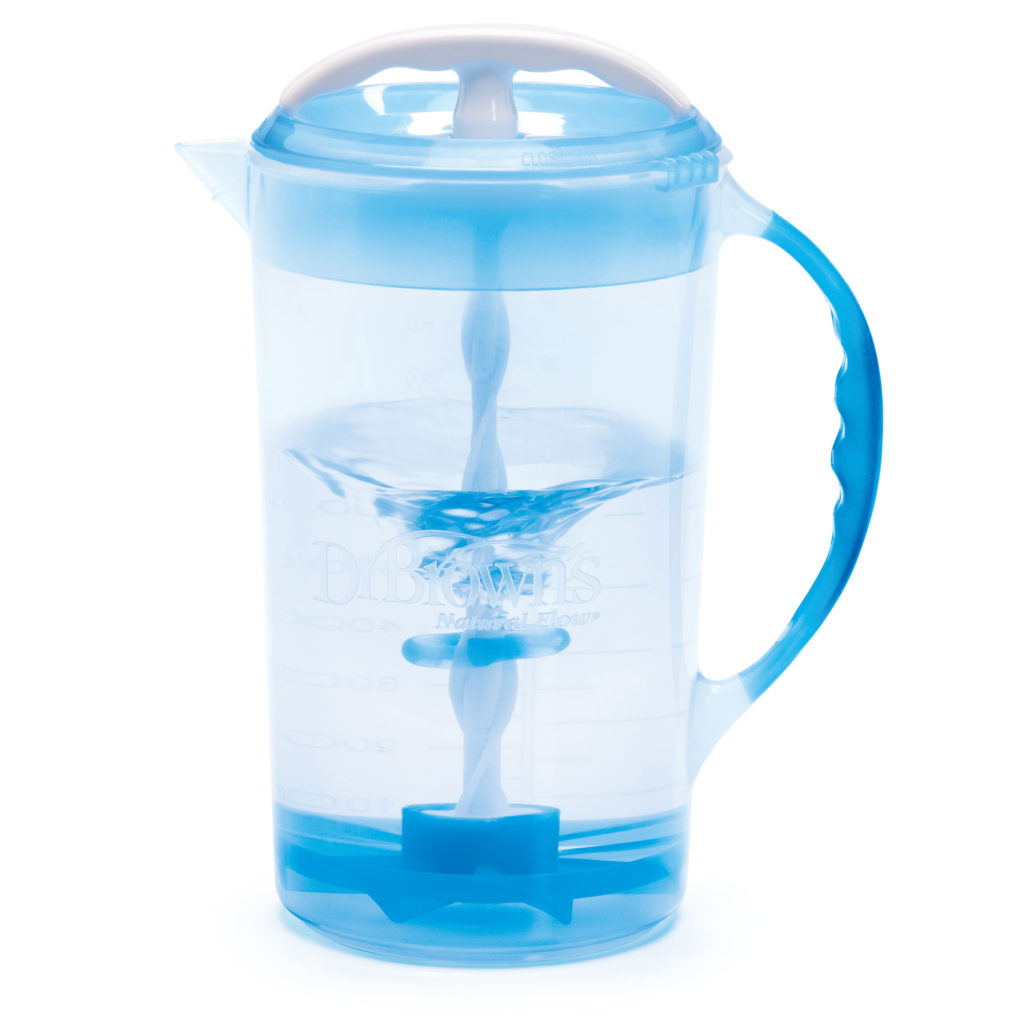 Like we said before, Dr. Brown's is known for their bottles with a special venting system to keep air out of your baby's stomach; and now, for the first time, they have introduced the Options Bottle, the market's first convertible bottle that can be used with or without the vent system. The new vent system is designed to grow with baby, and it is recommended to use this system in order to experience all the health benefits of the Options Bottle. The vent system helps reduce feeding problems, helps digestion and helps preserve vitamins. However, some parents find removing the vent system a convenient option as their baby's feeding becomes more developed. The nipple venting creates a paced flow, and provides a feeding experience similar to most nipple-vented bottles. Options bottles also fit most breast pumps, and are BPA-free. Dr. Brown's believes in letting parents choose what's best for their baby, which is why they're so proud of the Options bottles, which will allow the bottles to grow with the baby.
And, lastly, we all know how tedious and time consuming it can be to wash all of those bottles (Twiniversity mentioned washing 16 bottles a day for twins in their post!), but Dr. Brown's is here to help with their handy Deluxe Bottle Brush. The bottle brush is perfect for any kitchen, as it has a suction cup on the bottom to keep it upright and away from any dishes or food. It's compact and efficient, as the tiny nipple brush is located within the handle of the bottle brush, so you'll never lose the nipple brush! The brush features combination sponge and bristles for thorough cleaning of bottles, and chevron channels at the base for cleaning nipples. This is a must-have for any parent who will be washing bottles, whether formula or breastmilk.