See Kate Sew partners with Gugu Guru once again to share a fantastic DIY tutorial. This time? A DIY piñata perfect for a fantastic gender reveal!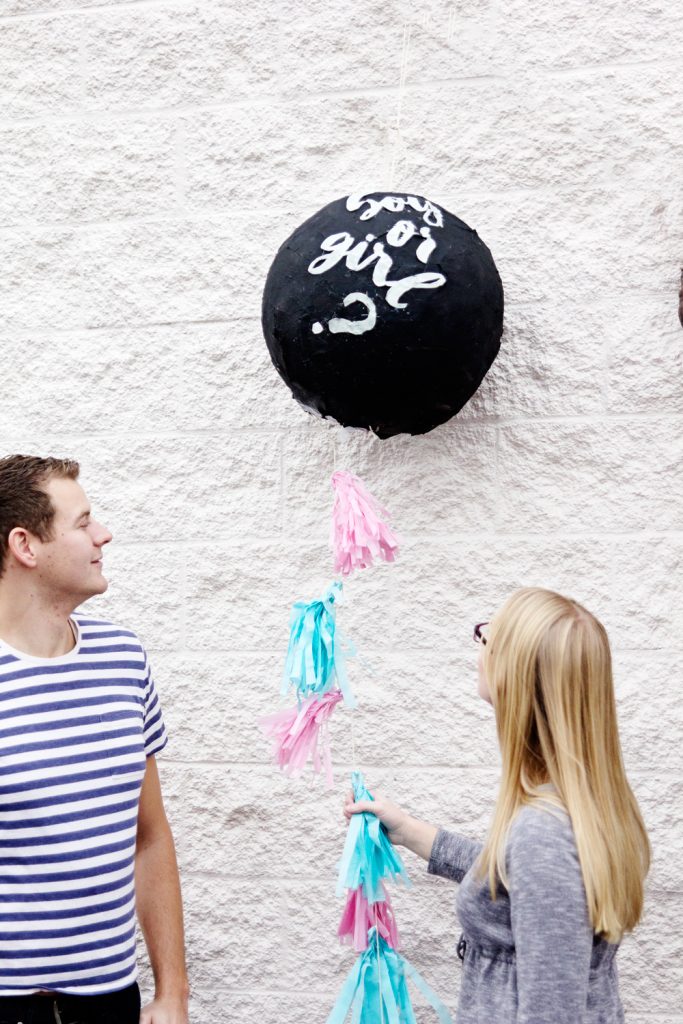 Gender reveals are so much fun! This one is a pull piñata full of confetti! It's simple to make and makes a fun surprise and great photos for sharing on social media! We'll use paper mache to create the piñata, it's a bit messy, but it will be worth it!
We partnered with
Purl Lamb
for this tutorial! Purl Lamb has the cutest little hoodie sets for kids and many of their options are gender neutral! It's so fun to be able to buy a few cute outfits before knowing the gender of your baby and Purl Lambs are adorable for boys and girls! The hoodie sets can be mixed and matched and this mint green and turquoise outfit is cute for either boy or girl. We used the outfit as a little photo prop for this shoot to amp up the excitement of a new baby!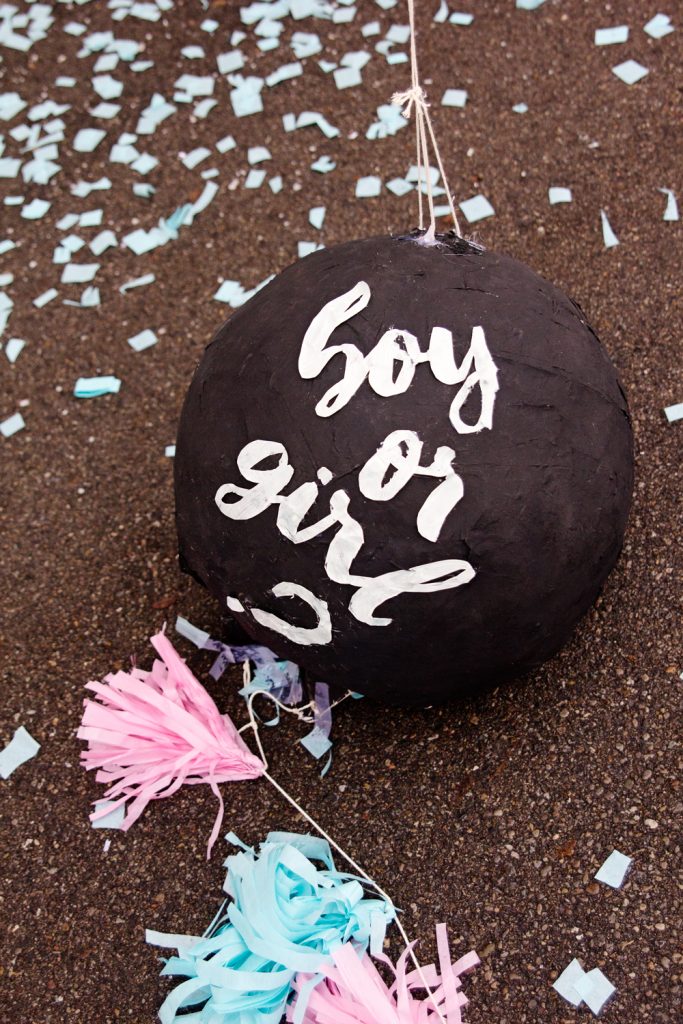 Materials:
-3′ globe balloon
-newspaper/kraft paper
-flour and water mixture
-blue and pink tissue paper
-chalkboard spray paint
-string
-confetti cut from tissue paper
Instructions:
1. Cut or tear strips of paper. Create flour/water mixture by mixing it 1:1.
2. Blow up the globe balloon so it is about 18″ in diameter. Don't blow it up all the way!
3. Soak your strips in the mixture and flatten on the balloon. Work your way around until you've covered the whole balloon. Let it dry a bit and add two more layers.
4. Let the paper mache dry overnight so it is completely dry. Pop the balloon inside.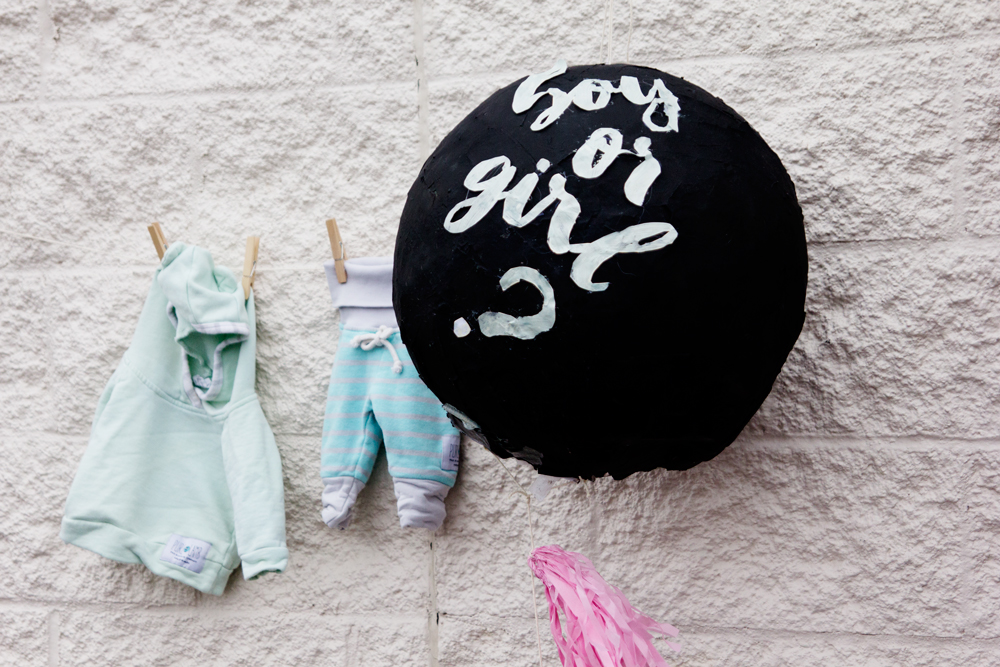 5. Spray paint it with chalkboard spray paint. Poke two holes at the top of the balloon with a screwdriver. Thread string through and tie at the top to make a loop to hang piñata from.
6. Print out the "boy or girl?" graphic and cut out the letters. Paint them white and glue to piñata.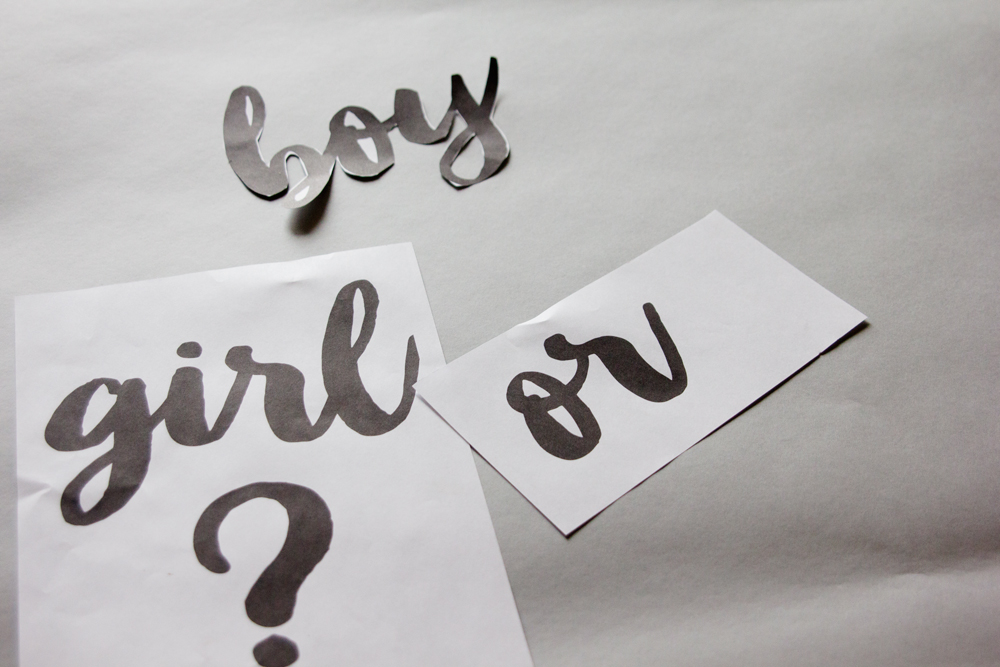 7. Cut 5″ of string and tie tissue paper tassels, alternating blue and pink. Cut a little trap door at the bottom of the piñata and punch a hole in the flap. Tie the tassel string to the door and fill the piñata with confetti. Tape tape closed using scotch tape.
8. Now your piñata is ready to pull! When the door is opened, the confetti will fall out!