Domino's Baby Registry
Did you know? Gugu Guru powers the awesome Domino's Baby Registry for pizza loving parents? Together, we are celebrating "Labor Day" with a huge giveaway. We're teaming up to offer a prize package worth over $1200 including a $100 Domino's e-gift card and some of our favorite must-haves for navigating parenthood. Check out each of the prizes below and  good luck!
-PRIZES-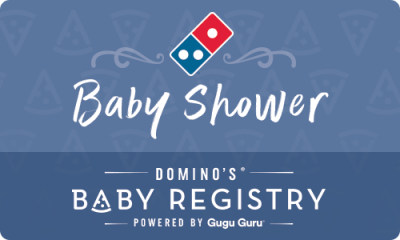 $100 Domino's e-gift card (awarded as five $20 e-gift cards) for pizza-loving parents who prefer melty cheese over wipe warmers.


One (1) HEPA Air Purifier & one (1) Top Fill Humidifier from Crane USA.

Nanobébé New Baby Bundle – This new baby bundle has everything a new parent needs to win at feeding: including a complete Newborn Gift Set: the first ever nutrient-preserving bottles, baby-loved pacifiers, ultra cleaning Sterilizer, a modern and slim drying rack. Also included in this bundle is space-saving breast milk storage bags, the eye-catching, multi-functional Bebe Diaper Backpack, and an adorable Nanobébé onesie.


Evoz Wi-Fi Smart Baby Monitor. A baby monitor that lets you see your baby from anywhere – and only you! True HD video meets excellent cybersecurity. Smart cry alerts let you know when your baby needs you. And wake-up tracking helps with sleep training down the road.

One (1) Original Baby Carrier and one (1) Flex Diaper Bag from Baby K'tan. The Baby K'tan Original Baby Carrier (Color: Black): The Baby K'tan is simple and easy to use, requiring no hardware! That's right, the K'tan has no buckles, rings, snaps, or zippers, and offers 5 carrying positions! It provides ergonomic positioning for healthy infant development and evenly distributes weight across the back and shoulders when worn. Its unique double-loop design slips on like a t-shirt and is made from 100% all-natural cotton.

Flex Diaper Bag (Style: Tie Dye): Baby K'tan's 3-way adjustable Flex can be worn as a tote, messenger bag, or as a backpack. The Flex has 9 pockets, including a laptop/tablet pocket and an insulated bottle pocket. It also features a built-in cooler and is 100% machine washable!

$100 Bundle of Love To Dream products including the Swaddle UP Organic, Newborn Swaddle UP Small and Swaddle UP Transition Bag in Medium.
Lifestyle photo via Kristina Williams