Sara, a mother of two and pre and postnatal fitness specialist, is back with us to share some key moves to do after baby to regain core strength, increase cardio endurance and tone the areas that are most affected by pregnancy. All of the exercises mentioned below can be found in Haley's postnatal workout program, Expecting MORE: The 4th Trimester Workout.
1. CORE: This is the area that is most affected by pregnancy and an area you need to be strong — your abs and low back will help support you in functional every day activities, from cooking and cleaning to lifting and carrying for your baby. It's so important that you avoid crunch like moves and instead do stability exercises to strengthen your core and tighten your abs so you can maintain good posture, live pain-free, and get your abs back after baby!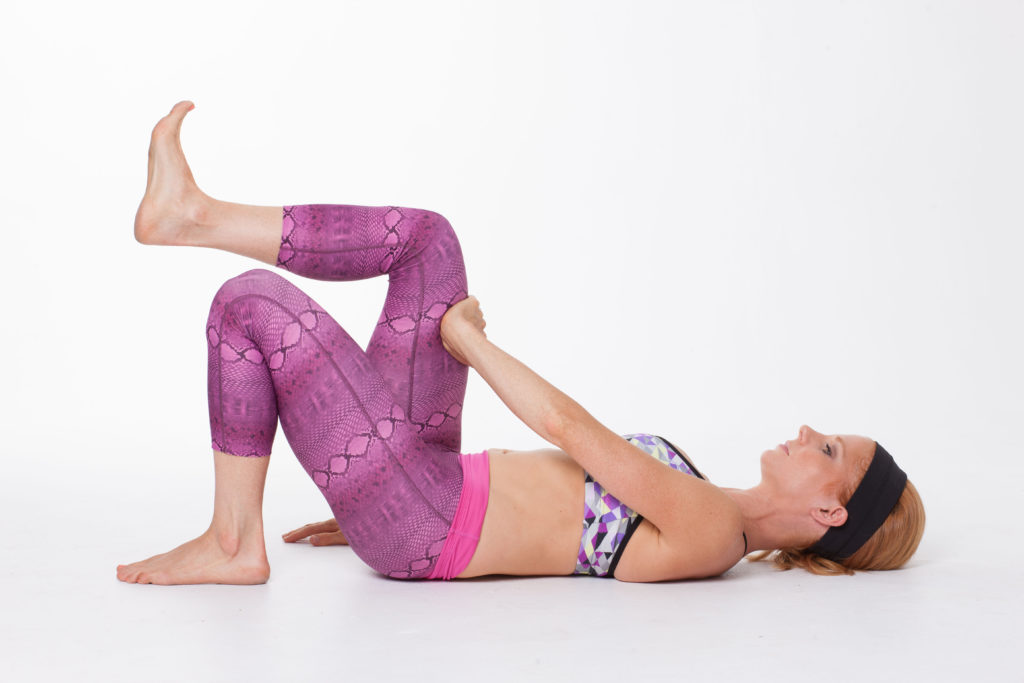 Key Move: Resistance Fight (works core): Lie on your back and lift one leg up to tabletop so that your knee is in line with your hip. Take your opposite hand and push against your thigh. As you try to push your leg away with your hand, resist by pushing your leg into your hand in opposition. While all this is happening you should be focusing on pulling your navel towards your spine and closing your rib cage. You may feel your body start to shake. Begin by holding for 15 sec on each side and gradually increase to 45 sec.
2. ARMS & BACK: As a new parent, you are constantly picking up and carrying your little ones (and all of their stuff), which means your arm and back muscles are needed more than ever before. Key moves like the Towel Tighteners will help you begin to ignite your back muscles and tone the back of the arms. When you're ready, trade out the towel for some free weights.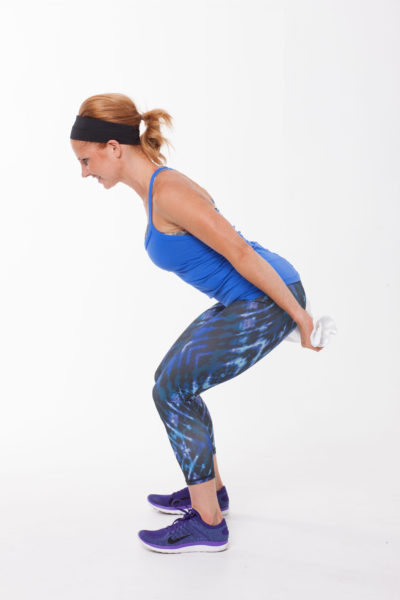 Key Move: Towel Tighteners (tightens your triceps and back): You will need a towel to assist you (or light hand weights when you are ready). Hold your towel behind your back, stand shoulder width apart, soften your knees, and hinge forward at the hips. Pull your navel to your spine, as you lift your hands up behind your back. Lower back down and repeat anywhere from 15-30 reps (eventually you might even be able to do more). Your goal is to work to fatigue.
3. ENDURANCE: Life moves fast once baby arrives and before you know it your little ones will be crawling, walking, and eventually running! Cardio exercise is key to helping increase your endurance so you can keep up with your little one. Interval drills like Go Time paired with active recovery help burn fat even after the workout is complete.

Key Move: Go Time! (works your heart, legs & butt): As a mom, I always feel like no matter how organized you think you are, when it's time to get out the door all chaos hits. (Hence the title of this move). 3 options for this move (You can progress as you get stronger). Begin by doing a football run (GoTimePic1), count to four, and then walk your feet together into a squat (picture 2) and then back out wide into a squat, or scoot your feet together so that you are on your toes (picture 3) and back out into a squat, or when you are ready, jump up into the air and back into a squat (picture 4). Do this exercise for 15 seconds, rest for 10 seconds, and repeat 4 more times. If you're not exhausted after 15 seconds, add more time or more intensity to the movement.
4. RECOVERY: As a mom, your body is put through the ringer, which is why it's so important to incorporate dynamic stretching into your workout routine to help your muscles recover and give relief to your overused muscles.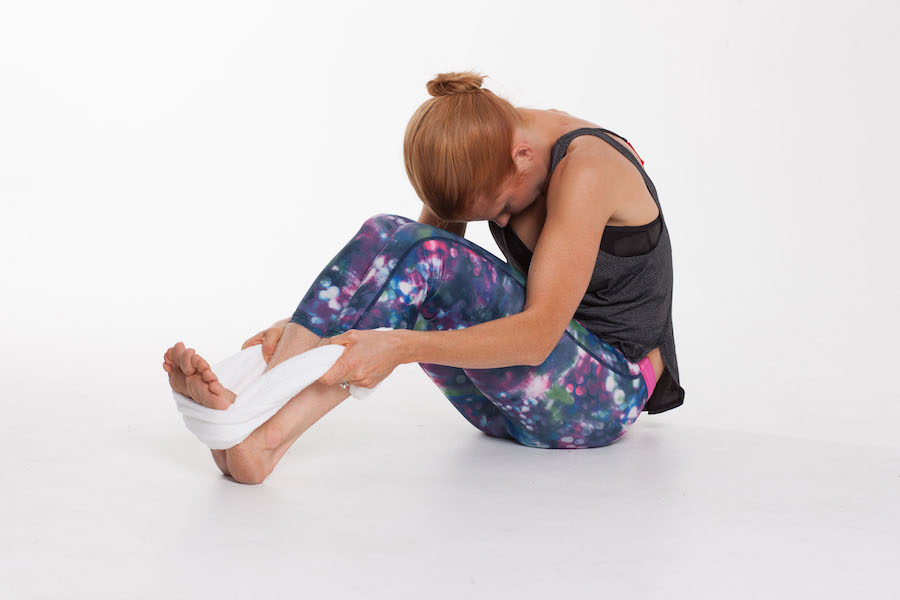 Key Move: Baby Back Relief (stretches your back): After nine months of pregnancy, potentially nursing, and carrying your baby everywhere, your back and posture suffers dramatically. I promise this exercise will help so do it as often as needed. You will need a towel to assist you. Begin seated on the floor with your legs in front of you. Place the towel under the arches of your feet. Bend your knees as much as you need to, tuck your chin to your chest, engage your core, and pull on the towel as you round your back. You should feel an immediate stretch in your back. Hold this position for a count of four. Release and then repeat 4-6 times as needed.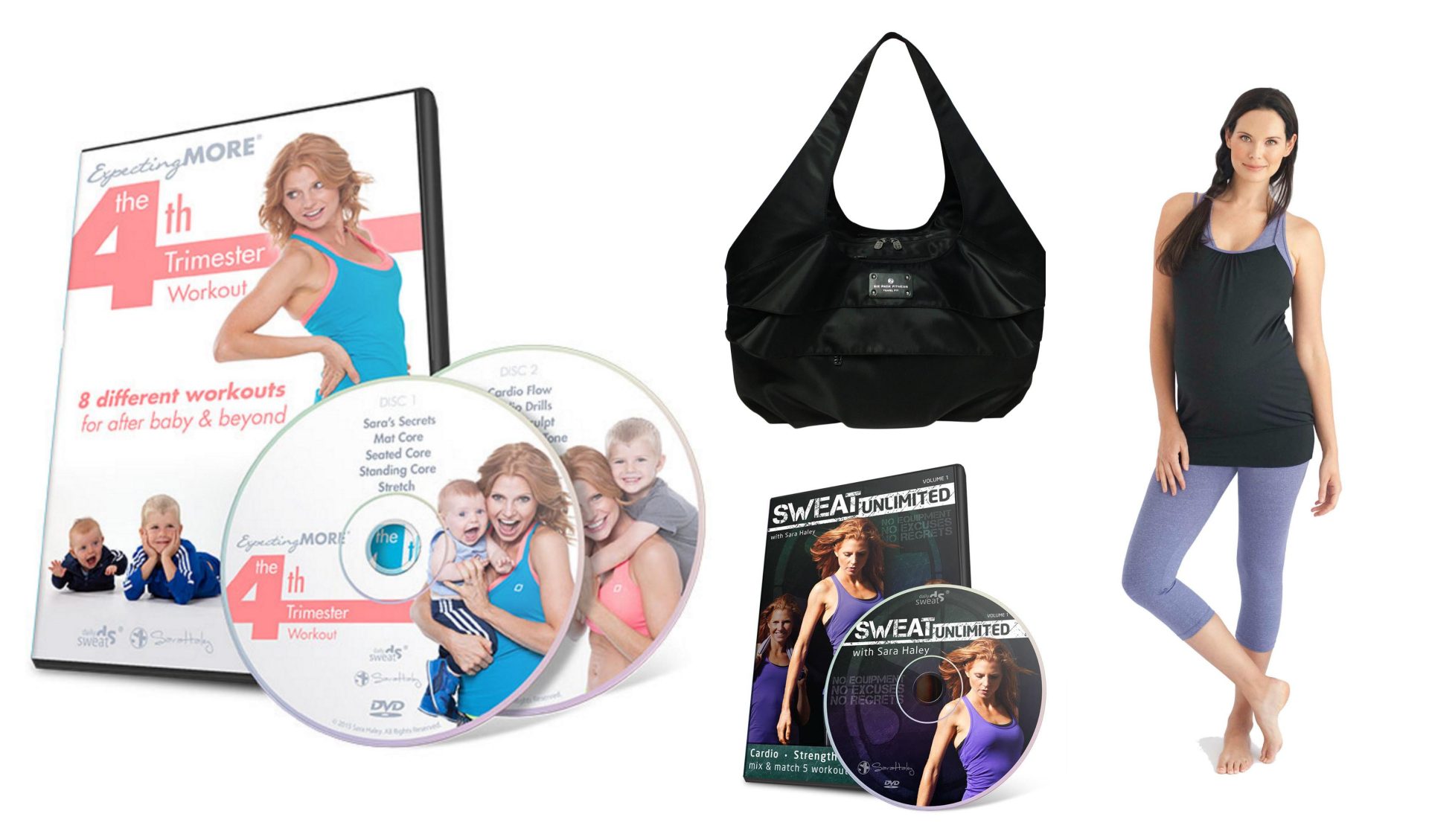 Get ready for postpartum fitness with this giveaway bundle! Enter to win Sara Haley's The 4th Trimester Workout DVDs, Sara Haley's Sweat Unlimted DVD, a Sara Haley towel, an Asana Tote from Six Pack Bags (this bag can hold your yoga mat and has an insulated meal core which keeps food fresh for 8+ hours!), and this adorable outfit (Room to Flow Cami in Black and Convertible Capri in Heather Lilac) from Belabumbum, perfect for working out before pregnancy, during pregnancy, and after (even for nursing moms!).
About Sara Haley: Sara is an LA-based pre and postnatal fitness specialist and creator of three award-winning programs; the excuse-proof workout, Sweat UNLIMITED, the prenatal workout, Expecting MORE and the new postnatal program, Expecting More®:The 4th Trimester Workout. With over 15 years of experience in the fitness industry and 7 years as a Reebok Master Trainer, Sara has a passion for helping people stay fit, healthy and strong in the safest and most effective ways possible. For more from Sara, follow her @SaraHaleyFit on all social channels.