Gray baby nurseries seem to be all the trend right now for so many reasons. Gray is a gender neutral color, so you can easily decorate the nursery long before you find out the sex of the baby, or if you're waiting to see what the sex of the baby is, you can finish the nursery beforehand. Furthermore, gray is a really calm color, so if you're looking for a soothing room, it's always a good bet to go gray. Gray nurseries can also be used for boys and girls, so if you're planning on moving a big sibling out of the nursery someday, and moving in a new baby, you won't have to redecorate. And most of all, gray seems to go with every other color, so you can have subtle hints of any other color you like in the nursery!
We rounded up some of our favorite gray nursery essentials – and head to the bottom of the post for more inspiration and a chance to win a bundle of items for your gray nursery!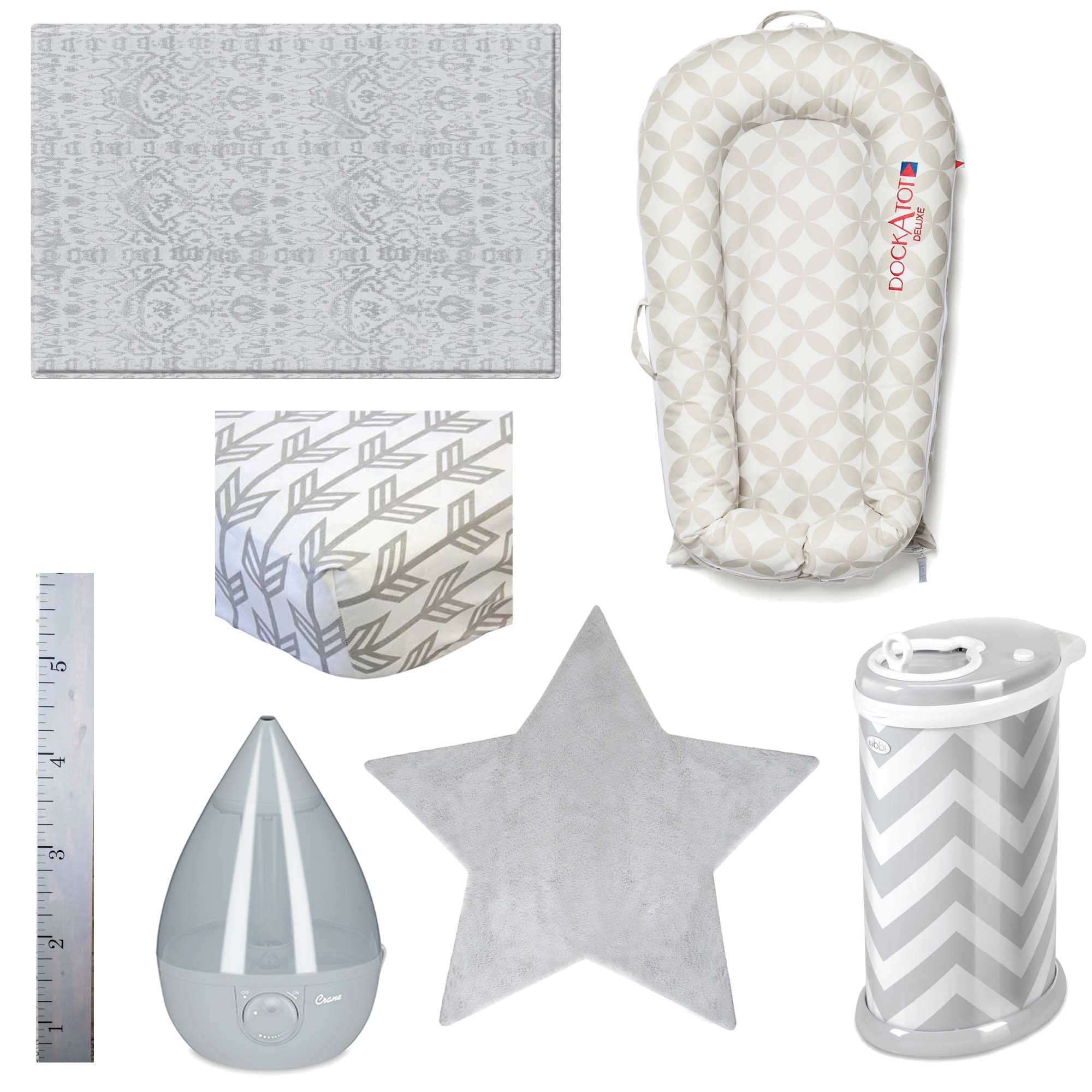 Ubbi Diaper Pail: An Ubbi Diaper Pail is a must have for any nursery; with a modern look, you can add efficiency with an essential nursery item to your nursery decor and not break from the theme of the nursery's style. The Ubbi Diaper Pail holds up to 55 diapers, and with its powder-coated steel interior, it keeps smells far, far away – plus, it comes in 13 colors and has a child lock – perfect! You can find Ubbi on their website, Facebook, and Instagram.
Caden Lane Gray Arrow: If you're looking for bedding for a gray nursery, your go-to shop has to be Caden Lane. They have a ton of gorgeous designs to choose from. We're digging the Gray Arrow print for a gray nursery, as it is modern, yet classic. Not sure how to pick bedding for your nursery? Check out this handy post from Caden Lane. You can find Caden Lane on their website, Facebook, and Instagram.
Ruggish Play Mat: We love the concept behind Ruggish – a stylish play mat which looks like a fancy rug, but is actually super soft and double sided for play time. Their Romy Play Rug is a gorgeous gray design which would add glam to any nursery. It is durable, waterproof, and is made from non-toxic materials that are free of BPA, Phthalate, Lead, Latex, Formaldehyde and EVA. Plus, flip it over and it has a fun interactive play map on the back for playtime. You can find Ruggish on their website, Facebook, and Instagram.
Crane Drop Humidifier: We have posted many times about why Crane Humidifiers are a nursery essential, so we had to include a gray Crane Drop Humidifier for a gray nursery. Humidifiers are especially important for Newborns because they are Obligate Nasal Breathers, breathing only through their tiny noses for their first 4 – 6 months. Any congestion can make breathing, feeding, and sleeping incredibly difficult for your little one. Why not grab this nursery essential in gray to match your nursery? You can find Crane on their website, Facebook, and Instagram.
White Loft Growth Chart: An often overlooked nursery essential is a growth chart to measure how much your little one has grown! We're huge fans of this rustic ruler looking growth chart from White Loft. We love that this is a portable chart, as you may not always be in the same house, so you can easily take this wooden chart with you. Each growth chart ruler is constructed from 100% pine — selected, sanded and stained by hand.  The numbers are in black ink; not vinyl adhesive. Dimensions are appx. 6 feet tall, 7.25 inches wide, 1 inch thick. The growth chart can also be personalized! What an amazing baby shower gift this would make. You can find White Loft on their website, Facebook, and Instagram.
DockATot: Hailed as the newest must-have for all babies, the DockATot is a wonderful place for baby to lounge in their nursery, and with many styles to choose from, we're fans of the Dream Weaver print to match a gray nursery. DockATot is a multifunctional and ultra stylish baby lounger.  The unique shape and design allow babies to comfortably play, snuggle and log in some tummy time. The idea is that your little one feels snuggled in a safe haven that feels a lot like the womb. The bumpers are made with a special air-permeable fabric that makes DockATot particularly worry-free. It's easily washable and can be thrown in the car without taking up any space! You can find DockATot on their website, Facebook, and Instagram.
Hello Spud: Founded by a mama and designer, Hello Spud is a line of high quality baby items, such as blankets, quilts, crib sheets, towels and pillows. All of their crib sheets are organic, and have a modern, yet classic baby look. Their organic cotton jersey photo blanket would make a perfect baby shower gift, as you can take baby's monthly photos on it. All of their towels and washcloths are also organic, because Hello Spud's mission is to provide designer baby items which are both safe and soft for baby skin. You can find Hello Spud on their website, Facebook, and Instagram.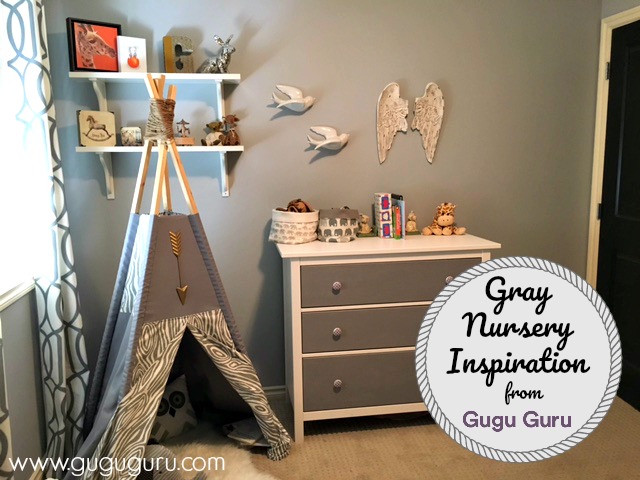 Looking for gray nursery design inspiration? Check out some of our favorite gray nursery posts:
*Featured Nursery Image via Veronika's Blushing, photograph by Jacquelyn Nicole Photography
* Bottom nursery photo via Darling Designz