With Father's Day around the corner, we wanted to put together a gift guide to help pick out the perfect gift for all the dads in your life – especially all of those new dadas! We teamed up with actor (and new dad) Ryan Cooper from the almost released movie Rough Night to celebrate making memories with dads and their babies – plus, we spoke to Brian the Birth Guy about great ways dads and babies can bond, so read on for more!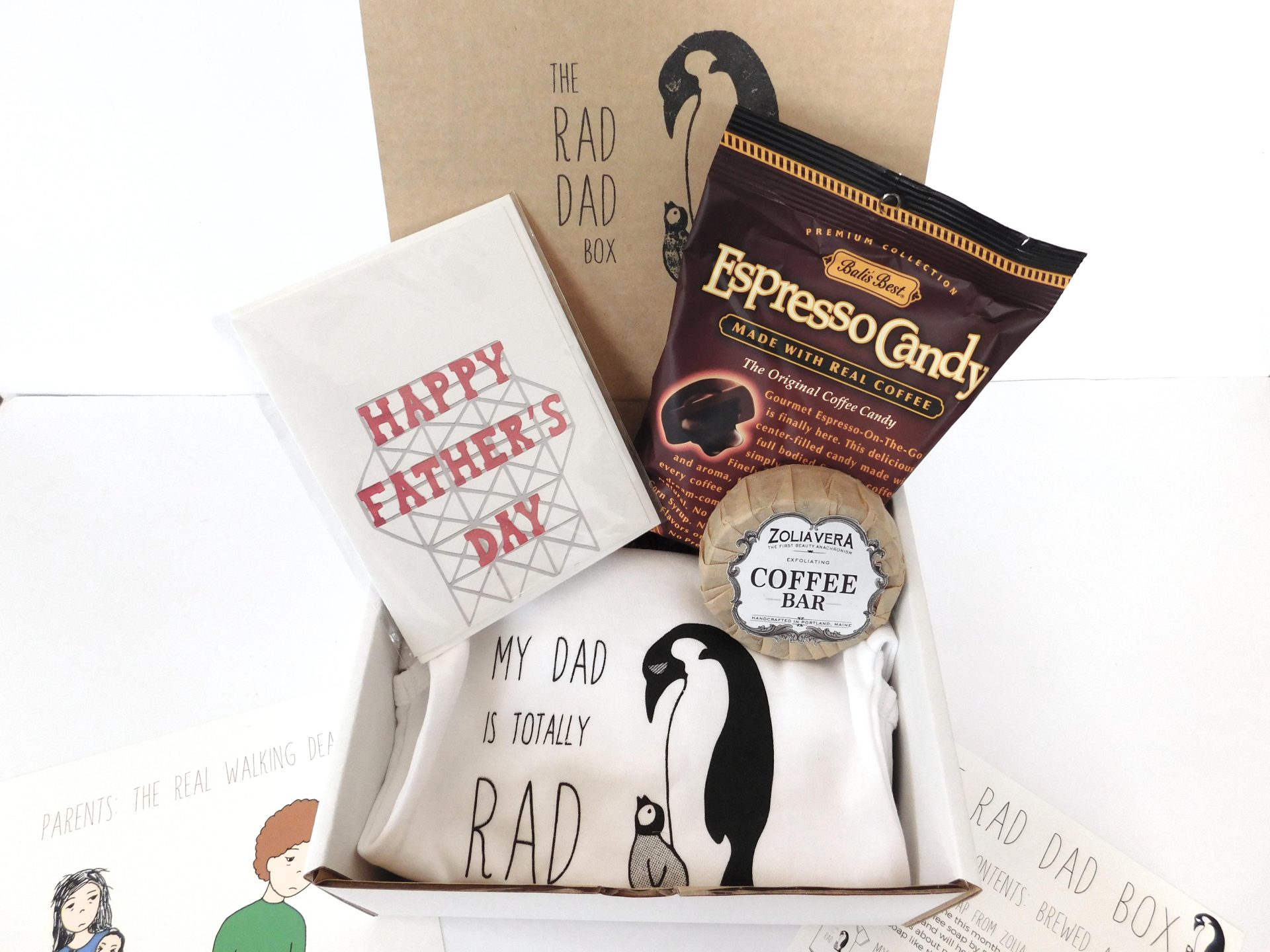 Rad Dad Box: What a better gift for a new dad than to celebrate how rad they are with a monthly box dedicated to them? Rad Dad Box was created and founded by a new mom who felt that all of the new baby gifts were geared towards moms, and dads needed some gift-loving too. The Rad Dad Box is a monthly subscription box containing items to support new dads and their children. We include self-care products, such as soap, deodorant, and hand sanitizer, dad-themed books and apparel, and dad-approved toys and products for baby. Rad Dad Box curates items from small shops for dads of all kinds! They offer month-to-month, 3, and 6-month subscription plans, as well as a variety of one-time boxes in their online store. If you don't want to commit to a subscription box, Rad Dad Box offers a plethora of thematic boxes, including boxes for the new dad, a Father's Day box, a box for hipster dads, a box to fight the winter blues, and much more! Rad Dad Box is a really awesome way to celebrate fatherhood and shower a new dad with gifts, they can even customize boxes, as well.
You can find Rad Dad Box on their website, Facebook, and Instagram.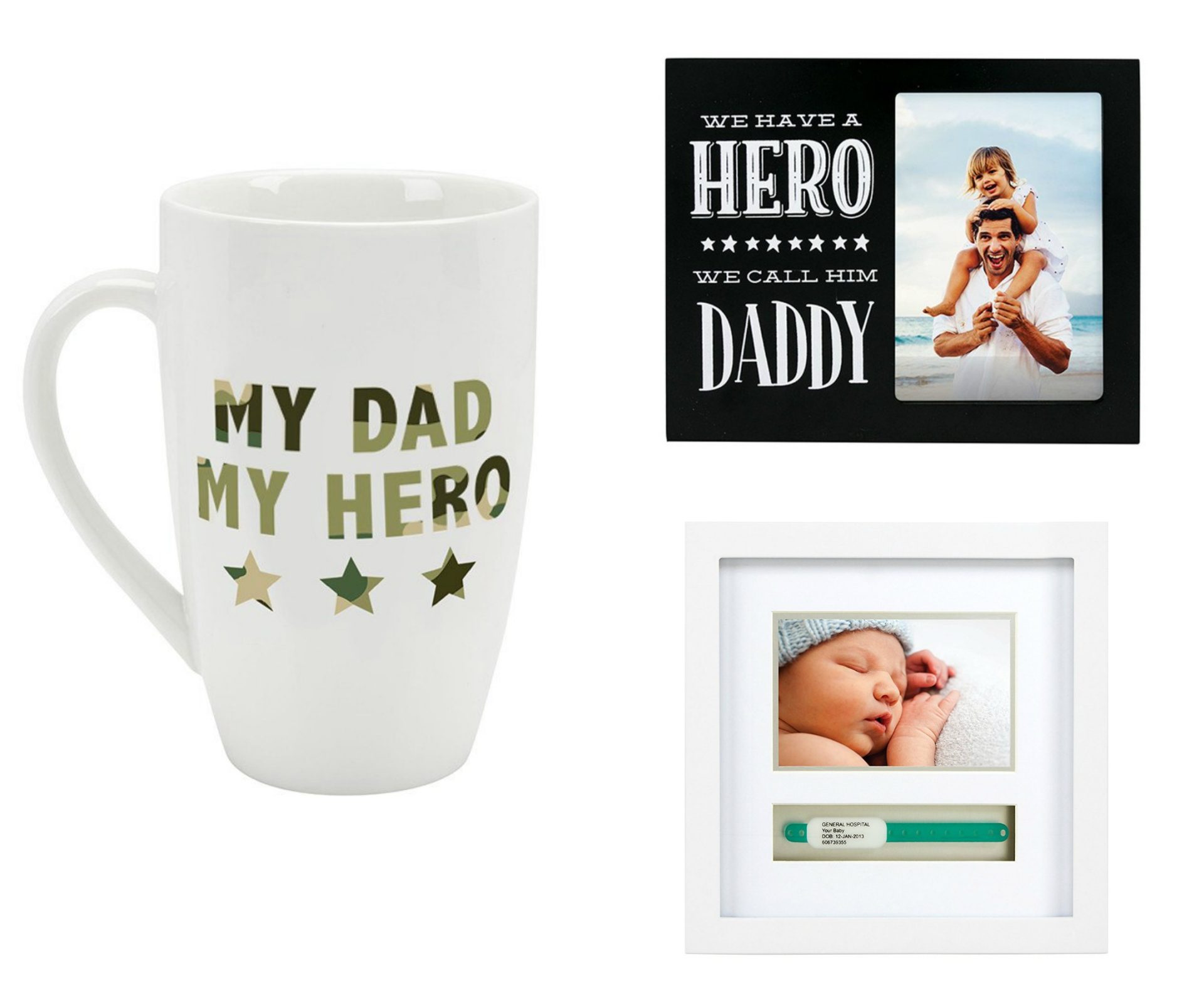 Being a dad is all about making memories, even from the very beginning. Brian the Birth guy recommends dads "make a recording welcoming their baby and telling him/her all of the things he loves about mom and why they started a family. Talk about all the things they hope their baby gets to experience. They can talk about making mistakes and how they know it is a growth thing […] When your child gets older and experiences hardships and trials, give the recording to them so they know how wanted and loved they are. It can restore their sense of purpose."
However you choose to make memories of baby and dad, we love Pearhead for all of their wonderful products to savor those memorable moments. Pearhead has a huge variety of items to capture all the moments in life, whether big or small. If you're particularly looking for Father's Day gifts, we think a My Dad, My Hero Mug for his coffee is the perfect gift from a little tot to his papa. And, you can't go wrong with a picture frame; what dad doesn't want a "We Have a Hero, We Call Him Daddy" frame? If you're looking for a way to remember the moment that your spouse became a dad, check out this hospital bracelet frame – it's a perfect way to save the little hospital bracelet from your baby. Pearhead is known for their memory making gifts which can be easily personalized at home – even by the littlest of babies. A Newborn Baby Handprint and Footprint Photo Frame Kit is an easy way to capture your baby's footprints and turn them into a special gift for a new dad. If you're looking for a way to create special and customized gifts for dad, check out all of Pearhead's frames, mugs, baby books, and more.
You can find Pearhead on their website, Facebook, and Instagram. 
As Brian the Birth Guy explains, dad and baby can bond begins even before baby is born, and directly afterwards, "Once baby is born, dad can cut the cord, help with breastfeeding and change baby after mom feeds. He can also skin to skin that sweet bundle of joy and sing a special song to his baby. Dads have such an important role in care of mom, baby and breastfeeding.  This can really help his psychological bonding with baby as he assumes a role of care for them both and even assists in breastfeeding."