As any toddler mom or dad knows, it can be a really emotional struggle to take the pacifier or binky away when they no longer need it – but one mom decided to turn the struggle into a delightful story and accompanying bear – it's no surprise that we're fans of mompreneurs over here at Gugu Guru, so we're thrilled to introduce you to Binka Bear! We absolutely love this idea, and especially because it really does start a family tradition about handing over the pacifier! Check out all the info below and if you like the idea, head to their Kickstarter and help make this mama's dream a reality!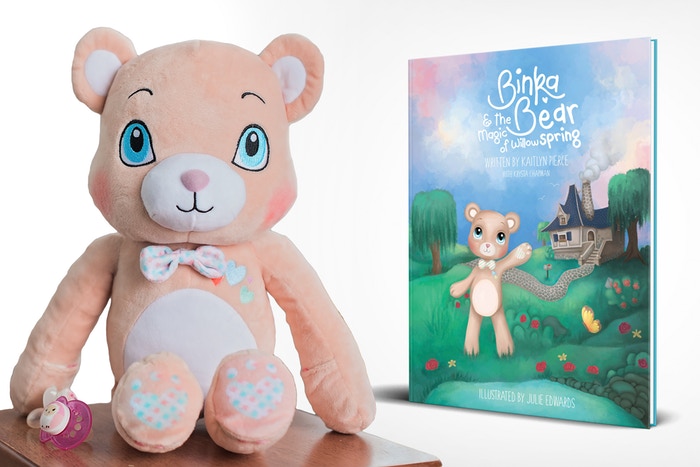 Finally, a No-Muss, No-Fuss- and Dare, We Say Magical- Way to Wean Your Child From Their Pacificers! Let Binka Bear replace your child's favorite comfort item with a cuddly plush toy as they adventure along the journey of Binka Bear and the Magic of Willowspring, helping your child to lose the paci once and for all.
Step One: Prepare!
You've made the decision: it's time for the pacifier TO GO! What now? Introduce Binka Bear and use the included Prep Guide to begin preparing your little one (and yourself) for losing the pacifier for good. The prep guide will include a couple of simple steps to make the process more effective before Binka Bear does his "magic".
Step Two: Read the Story
Set special time aside to read "Binka Bear and The Magic of Willowspring" to help your child discover how Binka must wait for his magic to arrive- and how only your child can help make it happen by giving their beloved pacifiers to their new friend for permanent safekeeping near by, but out of their mouth!
Step Three: Give Pacifiers to Binka Bear
Watch as your child excitedly shares the magic with Binka Bear by sealing up to two pacifiers within his or her new best friend's specially designed pouches located in each of his hands!