-Sponsored Post-
We know that it can seem overwhelming to register for everything you may need for a baby; so, we've broken all the necessities down into your Top 5 Must Haves for every category you may need. Today we're covering the Top 5 Must-Have Essentials for Baby's Nursery – don't forget to add them to your registry! Head to the bottom of the post for a handy checklist you can use to make sure you don't forget any of these Top 5  Must-Have Essentials for Baby's Nursery.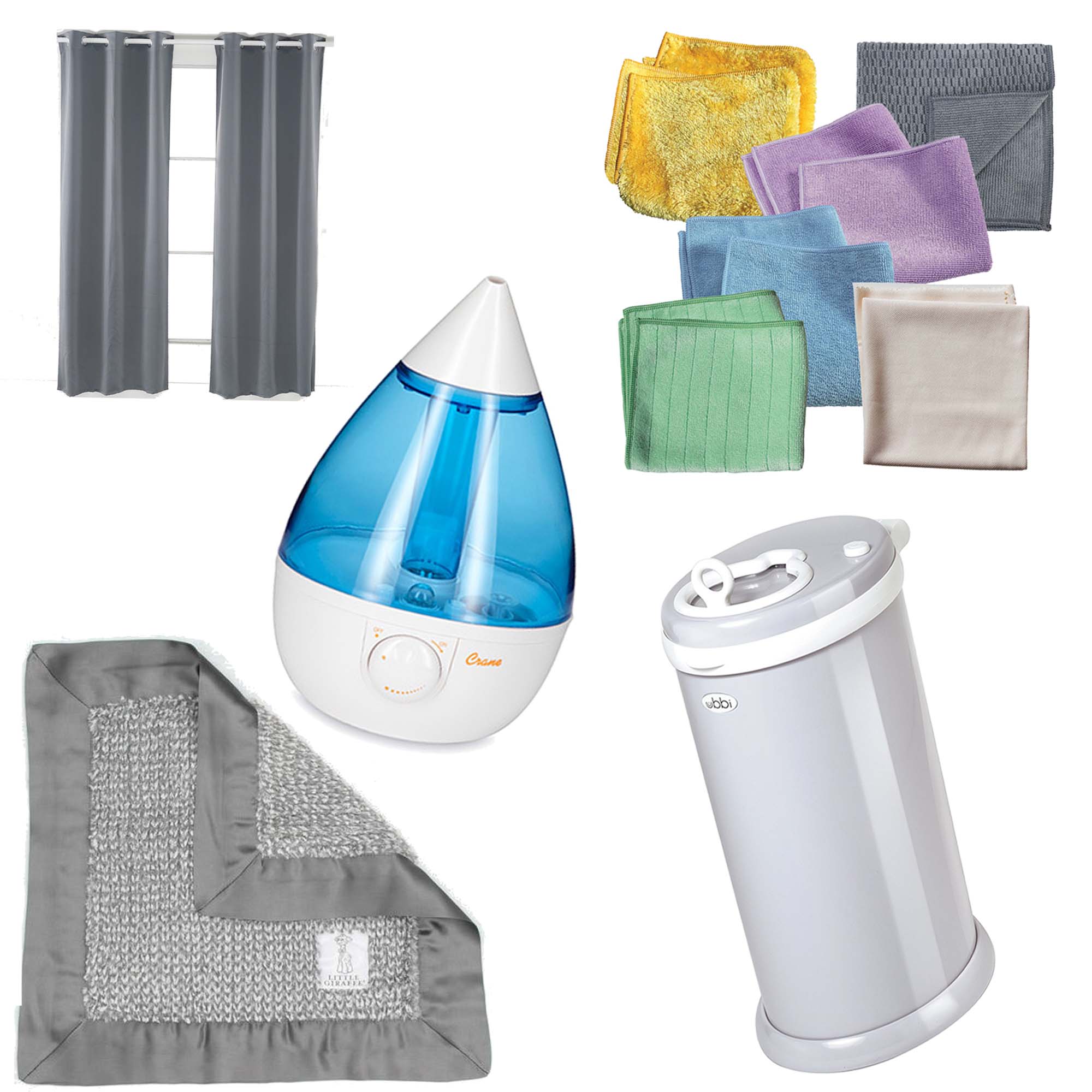 Crane Drop Humidifier: A humidifier is an essential item for any space which baby will be spending time and sleeping. The Drop Humidifiers from Crane feature a ultrasonic cool mist which increases moisture in the air for easier breathing and a good night's sleep; whether it is in your bedroom, the living room, or baby's room, wherever the family will spend time, or sleep, is a wonderful place to have a Drop Humidifier. It's so important to have the right amount of humidity in bedrooms, as proper humidity relieves cough, cold, and flu symptoms, as well as nasal congestion, dry cough, sinus irritation, nose bleeds, and dry skin and hair. Furthermore, the clean control antimicrobial material in the base is proven to help reduce mold and bacteria growth up to 99.96%.
Blackout Curtains: Any new parent can tell you that babies sleep better when the room is pitch black; it takes babies a while to "figure out their days and nights," and blackout curtains at night are an essential for helping baby sleep soundly. We've found that basic panel curtains are easy to install, come in a ton of colors, and really help keep the light out so baby can fall and stay asleep.
Baby Care by e–cloth® Safe Home Baby Care: It's essential to keep a nursery clean and germ-free, but it can be very confusing for new parents to figure out what products to use to clean the nursery. We're big fans of Baby Care by e–cloth®, because they are an amazing chemical-free way to keep your baby's room clean. You know that clean smell in most places? The "clean" smell we're used to are actually dangerous chemicals. 30% of childhood asthma is caused by exposure to chemicals in your home. And it starts with babyhood. The cloth is proven to remove over 99% of bacteria from a hard surface.  These cloths don't kill bacteria, they collect bacteria from surfaces.  This is another benefit of all of those fibers – they literally scrape the surface clean at a microbial level.  The best part – when you run this cloth under hot water in your sink, all but .01% of that bacteria, dirt, oil and grease is released from the cloth down the sink.  So, there is virtually no transfer back onto clean surfaces. Keep your sweet little one's nursery clean and toxin free by only cleaning with water. We're big fans of Baby Care by e–cloth® – these mighty cleaning cloths are gentile, totally safe and remove 99.9% of all bacteria including e-coli and listeria.
Ubbi Diaper Pail: It's essential to keep baby's room free from disgusting smells, like diapers! The Ubbi Diaper Pail is made of powder-coated steel to achieve maximum odor control. It is equipped with rubber seals that are strategically designed to lock in odors as well as a sliding lid that minimizes air disruption, keeping the smell inside the pail. Offering a modern and sophisticated twist to a once very industrial product, the sleek Ubbi diaper pail includes a child-proof lock and is available in an array of 13 colors and 5 patterns. All the style and none of the smell — a promising solution for every nursery.
Little Giraffe Baby Blanket: What's a nursery without a blanket to cuddle baby in? We think baby blankets are an essential for any nursery; even if your baby isn't sleeping in their crib yet, we highly recommend spending time in the nursery to get them used to their space, and a soft blanket from Little Giraffe is a Must-Have item for your baby's nursery. Their chenille baby blankets are incredibly soft and perfect for wrapping babies, toddlers, and kids up for a sweet snuggle. The Herringbone blanket pictured above comes in multiple colors and would make a great baby shower gift. However, Little Giraffe has a ton of blankets to choose from – in all different styles and colors – even polka dot and chenille with satin trim. Make sure you like the blanket, too, as many moms sleep with their baby's blanket so it smells like mama!
Thank you to Ubbi, Crane, Little Giraffe, and E-Cloth for making this sponsored post possible.