Today's guest post comes from the crazy talented and hilarious mama and makeup extraordinaire, Jamie Greenberg, of Jamie Makeup. She's a mama to two littles and one on the way and is here to share what she thinks are must have essentials for Los Angeles mamas. You can find Jamie on her website and Instagram. 
Being a working mom of two (almost three!) can be a bit challenging- especially while living in the crazy city of Los Angeles! My name is Jamie Greenberg and I am a celebrity makeup artist to some of the funniest gals in the game (Kaley Cuoco, Rashida Jones, Chelsea Handler to name a few) but my favorite job of all is being the mama to Leni (7) and Simon (3). It has taken some time, but with baby #3 on the way, I can confidently say I have finally found my favorite baby products. They make being a mom in LA a lot easier!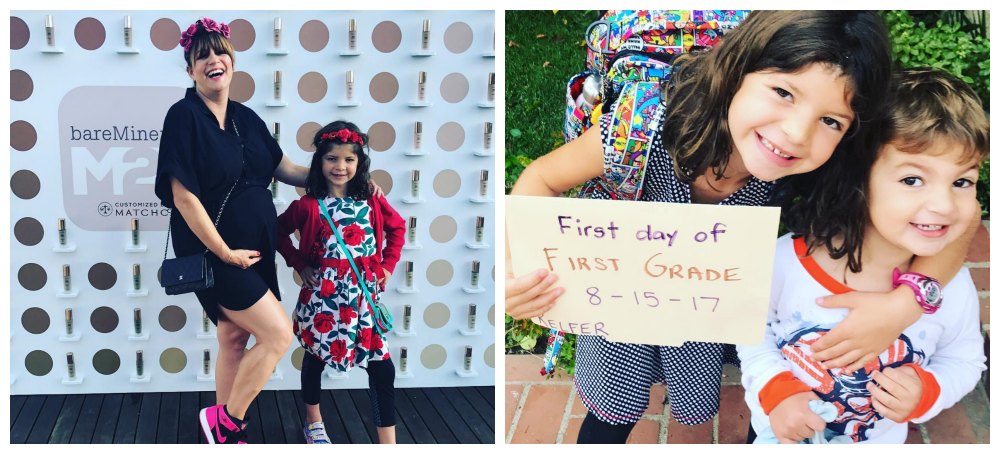 Kirkland Ultra Soft Baby Wipes (Costco!): Living in sunny Los Angeles has one minor downside- dry skin. On top of that, my kiddos have sensitive skin so finding the right baby wipes was important to me. I stumbled up these ultra soft Costco wipes a few years ago and haven't looked back! They are made without all the bad stuff (dyes, parabens, phthalates, etc.) so I can feel good knowing they aren't going to cause their bum bums any discomfort!
The Honest Company Bubble Bath: Los Angeles heat=lots of dust and dirt. Bath time is much needed in my house! My favorite bubble bath of all time is by The Honest Company. The bubbles won't disappear after a few minutes of playing!
The Ollie World Swaddle: Super easy to use- who doesn't love velcro?!
Project Nursery Sound Machine: Living in a busy city can mean a lot of hustle and bustle right outside your window. My favorite sound machine is by Project Nursery. It is very affordable (only $49) and not only plays soothing sounds for the baby, but is also a projector and a nightlight! We've had ours for years!
Kickee Pants-Clothing/Pajamas: Los Angeles is filled with some very fashionable people- why shouldn't the babies be dressed to the nines as well?! My favorite brand for baby pajamas is KicKee Pants! I love how they wear and they wash very well. I wish they made my size!
Skip Hop Vibrant Village Activity Gym: It's a great place for baby to play and rest – and pretty rad looking too! Because it is super lightweight, it can travel around the house easily, and even on set or outside in the gorgeous LA weather.