Summer is coming to an end and students are heading back to school. MadeGood Foods takes the guesswork out of selecting healthy and satisfying snacks for your child. MadeGood products contain the highest quality organic ingredients and have nutrients equivalent to a serving of vegetables. The MadeGood facility is completely nut-free, making their foods school-safe. Keep reading to see what our Village Parents thought of these delicious snacks.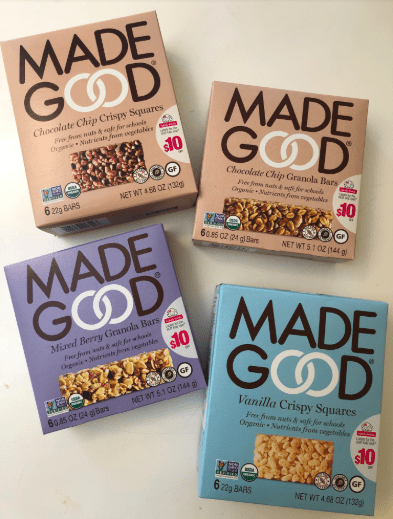 I'm always delighted to find allergy-friendly treats that are safe to send to school. The petite-size of these snacks is perfect for toddlers and younger kids. I was also impressed that the MadeGood Mixed Berry Granola Bar has way less sugar than my 2-year old's other favorite granola bar. When my daughter tasted the Chocolate Chip Crispy Square she exclaimed, "that's really yummy!" I'm glad we found a new line of snacks that are #toddlerapproved and will be on regular rotation in our house!
-Alyssa N.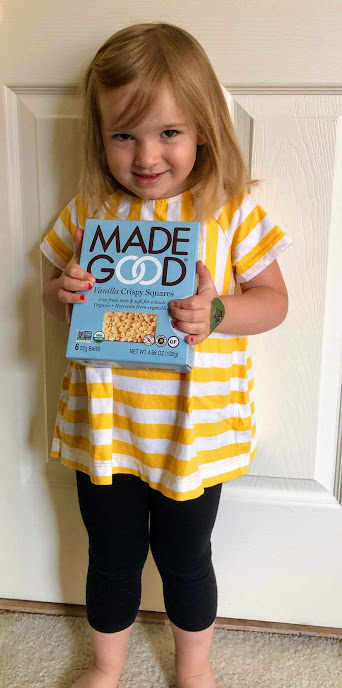 My kids have loved the MadeGood bars! My daughter (3.5, no allergies) is obsessed with the chocolate chip ones, and I feel good about it because of the relatively low sugar content! She also really liked the Crispie Rice Squares, which I use in a "less mess needed" situation like the car. 
My son (15-months, dairy and tree nut allergy) absolutely loves the bar with dried fruit. He literally murmurs "mmmmm" while he's eating them. Also, it's really nice that texturally he can take bites directly from the bar (supervised) without needing me to rip it in tiny pieces first!
I will for sure continue to buy these products!
-Naomi P. 

BUY THEM ALL! My kids (ages 5.5, 3.5 and 1.5) gobbled every single one of these up – and I felt good giving them a healthier snack/treat option – so we all won. Both the granola bars and the crispy squares have the nutrients of a full serving of vegetables (don't ask me where they're hiding, you'd never know there was any kind of vegetable in there). My kids asked me for one every single day until we ran out so I will definitely be keeping them on hand in the future. And don't be fooled, these are definitely not just for kids, I enjoyed them as well and like having one of the granola bars with me for a quick snack at work. I also love that their products are organic, non-GMO and allergy-friendly (free from the 8 most common allergens – peanut, tree nut, soy, dairy, egg, fish, shellfish, gluten, and sesame). And if you value a company's mission and standards as much as I do, this one also passes that test with flying colors – they are a certified B corp and a Zero Waste facility, are transparent about their ingredient selection/production process, and use a third-party auditor to monitor food safety and supply chain management. Definitely a company and a product I can get behind!
-Christine C.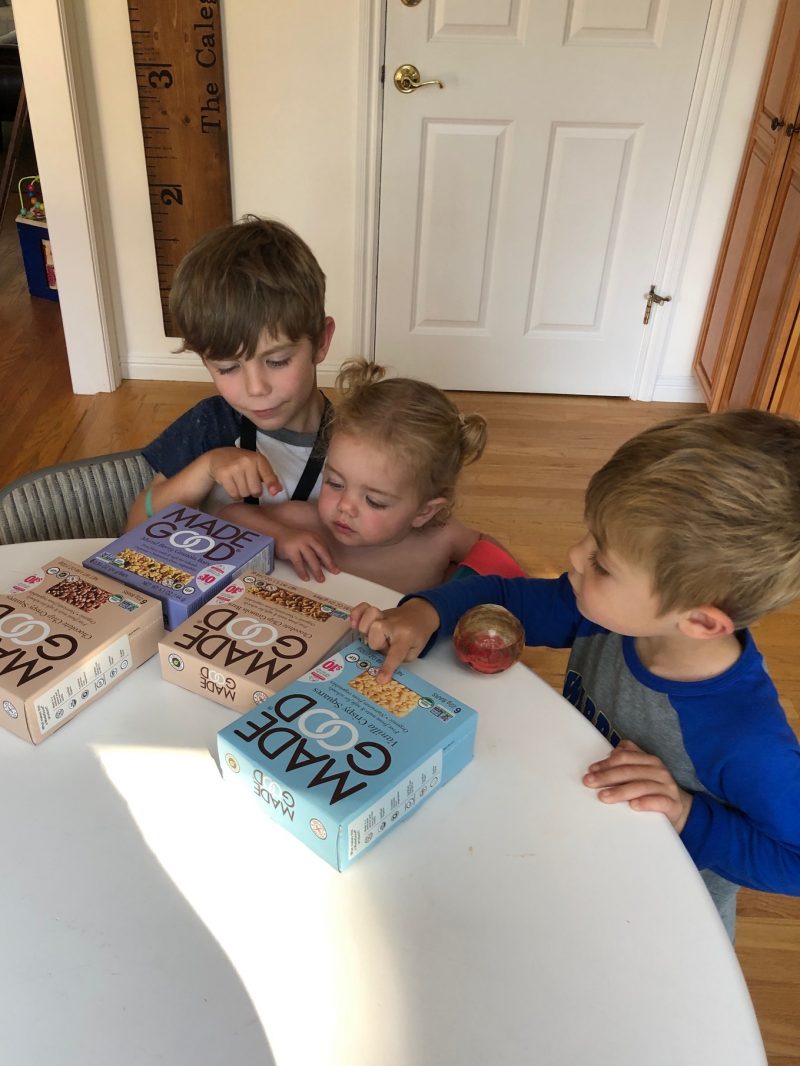 Snacks! Anyone else's kids want a snack all the time or just wants to graze while playing? It appears my boys are always hungry and finding quick and handy snacks that are healthy can sometimes be a challenge. The MadeGood Granola Bars and Crispy Squares are healthy, organic, non-GMO, and nut-free! My boys love the chocolate chip flavor and I'm all about the mixed berry. These bars are so quick and easy to throw in your bag and go. My favorite thing about these bars is that they are nut-free! I must be honest for a second, I was one of those moms who would roll my eyes every time I would hear that I couldn't put any nut products in my sons' lunch. One kid with an allergy had to make it inconvenient for all the other parents. Boy, was that inconsiderate of me! My dear friend's son has a very severe peanut allergy and I have seen firsthand what she has to go through to ensure the safety of her son. My eyes have sure been opened and I am now much more aware of the snacks I buy for my kids. I love that I don't have to worry about the MadeGood products and that they are a safe snack for our friends with allergies. Also, my kids love them, and they are husband approved as well! All around winning in my opinion.
-Anne E.

The MadeGood products are AMAZING! I cannot say enough good things about them. The fact that the crispy square bars contain the same nutrients as a serving of vegetables, come in Chocolate AND are dairy-free is mind-blowing! I struggle with snacks sometimes, because my 20 MO has a dairy allergy & she gets upset when her brother is able to eat things she cannot. We are definitely switching to MadeGood granola bars and crispy squares! It's so nice not to have to compromise on taste for quality, natural snacks!
-Heather L.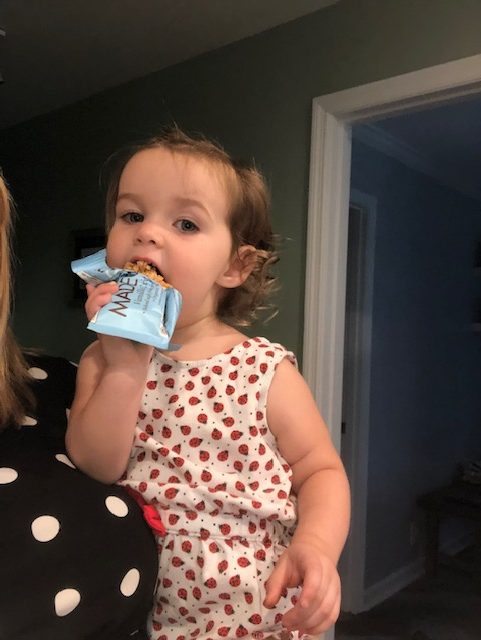 We found a yum yum yummy new snack, that everyone in our house likes! The crispy squares and granola bars are delicious! It's an easy decision to continue to buy this product. I personally love the granola bars, knowing that they are a better choice compared to a lot of the other granola bars out there. Being a teacher, I can appreciate the fact that they are "free from nuts & safe for schools". Too many times do I see an issue with student's snacks, or even when it comes to a students birthday and them wanting to bring in a special treat, and it then being approved by the school. This is an all-around yummy and smart option for snacks for my family!
-Danielle C.
My daughter loves these (the Vanilla Crisp Squares are her fave)! They remind me of a rice crispy treat. I love that they are healthy for my growing toddler and have vegetable nutrients. She wasn't a huge fan of the mixed berry granola bars but hopefully, that will change soon!
-Crystal B.
Thank you to MadeGood Foods for sending these snacks to our Gugu Village Testers. We appreciate our Gugu Village Parents for providing us with their honest thoughts. For more information on purchasing MadeGood Foods, click here!
The Village Reviews: Monti Kids Wooden Books