Are you wondering how and when to choose maternity and nursing bra? This maternity bra calendar from Cake Maternity can help.
The Right Fit
The easiest way to get the correct bra size is to have it fitted professionally. However sometimes it's hard to find a specialty store near you, or you might not have time when pregnant or right after giving birth. Cake Lingerie – a leading designer and specialist of maternity and nursing bras is here to help and guide you.
For almost 10 years now, the Cake team have been closely engaged with lactation consultants and industry specialists, listened to pre and post natal women, analyzed the most common problems and changes in their bodies they are undergoing, month after month. With all this information in place, Cake has acknowledged and segmented pregnancy and post natal timeframes into 5 main stages: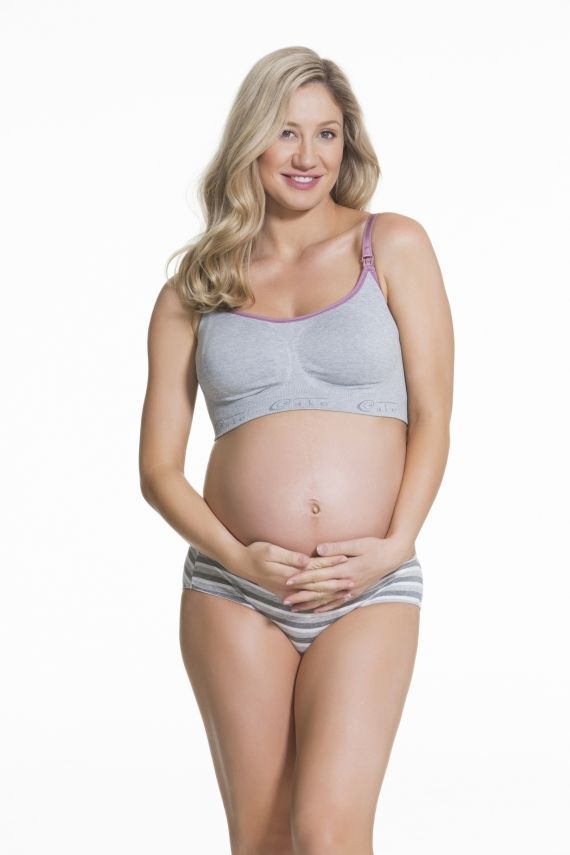 • Stage 1 – Pregnancy
1-3 Months – women experience sudden breast growth/tightness. These changes in the bust can be 1-2 sizes. Breast fluctuation is one of the first symptoms most women experience in the first few weeks of pregnancy. This is the time when pre-pregnancy bras start feeling uncomfortable and irritating. For this stage, Cake suggests one of the Candy family of seamless maternity and nursing bras, that are luxuriously comfortable, stylish and allow breast growth without restriction. These same styles are also ideal immediately post birth – Stage 4.
• Stage 2 – Pregnancy
3-8 Months – a little more gradual breast growth occurs, but it is usually pretty stable. During this period, the most amount of expansion occurs around the ribcage. One of the unique features of Cake bras to others is the extended 5-6 Hook and Eyes bra closure. This helps to accommodate expansion of the ribcage and allows for extra adjustability to tighten as the rib cage retracts after the birth. Just remember: "Tight isn't right!" Plus, adding an extender to the traditional bra as a fix is really just a compromise to support, comfort and the overall look under the clothing.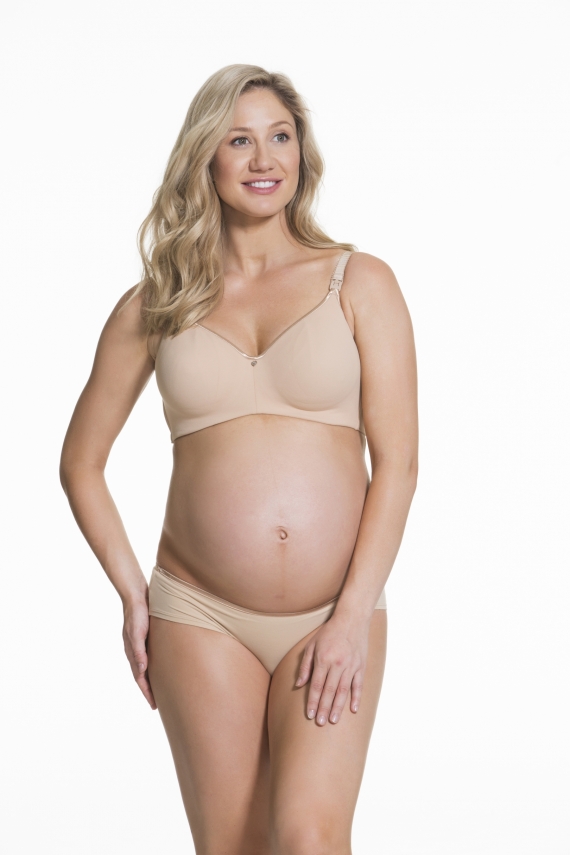 Traditionally women choose Croissant or Waffle flexible wire bras at this stage, that has a similar feel to a pre-pregnancy bra, but provides ribcage adjustability and is designed to accommodate breast growth.
• Stage 3 – Pregnancy
8-9 Months – this is where the bust will grow in readiness for the arrival of the milk. The last growth of the baby and ribcage expansion can sometimes be quite painful. Whilst purchasing bra at this stage, it's worth having Stage 4 in mind. The bra should accommodate the breast size increase/ fullness in 2-3 sizes. This is the best time to think about what bras to take to hospital.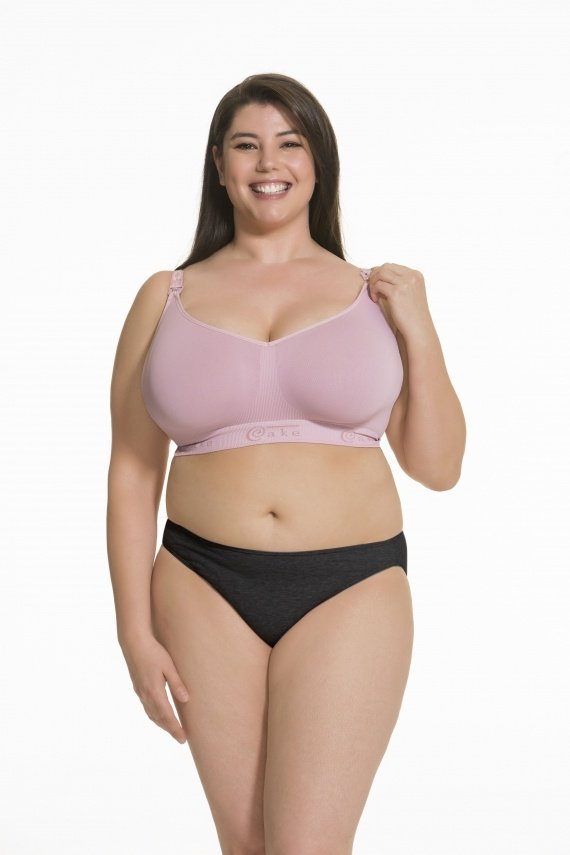 The multi Award winning Cotton Candy (for B-F cups) or patent pending Sugar Candy (for G-L cups) seamless bras are chosen by many women at this stage. Our customers feel these bras are 'Must Haves' for those first few months and usually women purchase 2-3 of them.
• Stage 4 – Post Birth
0-4 weeks – Milk comes in – lots of breast growth, average 2 – 3 cup sizes. The ribcage will slowly start go back to pre-pregnancy. It's recommended not to wear wire bra after giving birth until about 4 weeks post, as breast fluctuates the most during this period.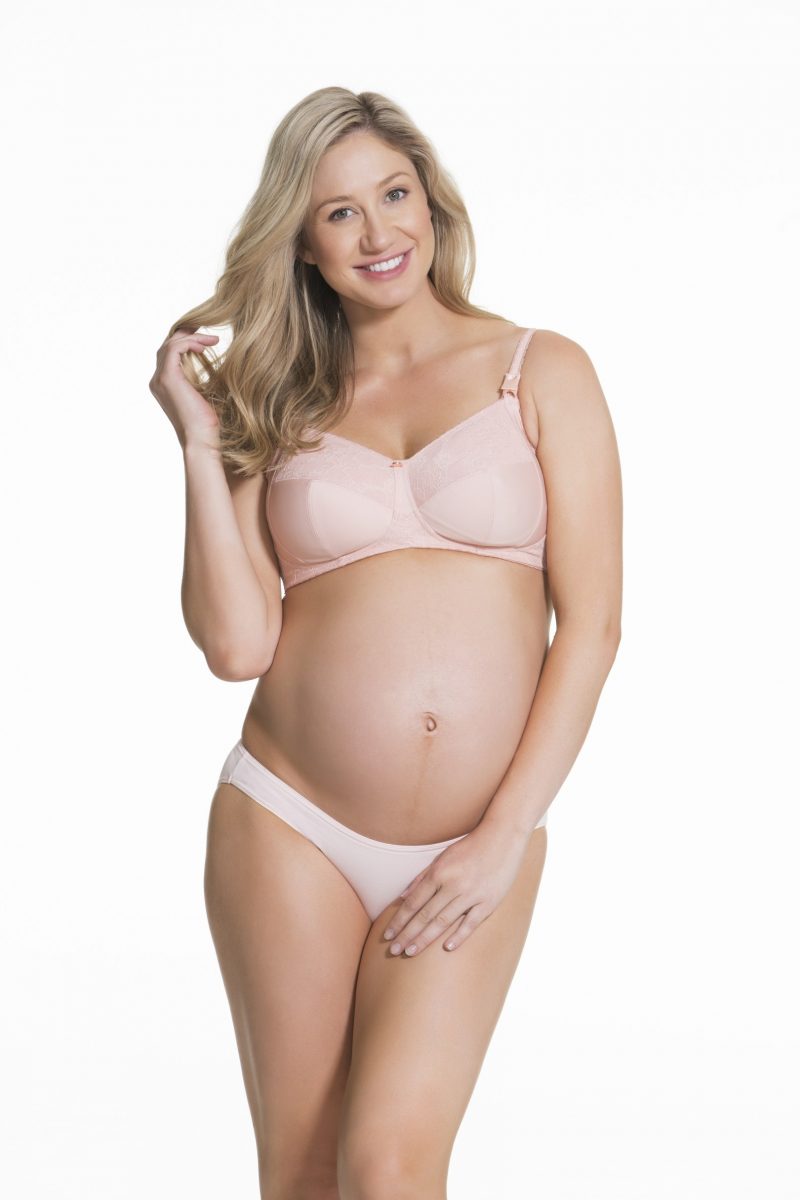 Whilst you can continue to wear Candy family bras, at this stage women often start looking for cup sized bra for going out and meeting other moms, therefore Tea and Mousse are top picks of many at this stage. With reinforced lower cup these bras are well constructed to lift, support and most importantly, have sufficient Top Cup Stretch to avoid restriction or cut in.
• Stage 5 – Post Birth
+4 weeks – Cup size usually reverts to approx size of when 8 months pregnant. Most women do not fully go back to their pre-pregnancy rib expansion until about 4 months after baby. When searching for a bra at this stage, women have an absolute freedom to choose any Flexi wire or Wire free nursing bra to meet her needs.
Many would go back to the exercising at this stage and chose Cake fashionable and functional Zest High Impact Sports Nursing bra or Lotus Pumping and Yoga Bra to accommodate their lifestyle.
Besides the key points mentioned, few other things to take into consideration when looking for maternity and nursing bra are:
Wider wire "smile" so not to constrict and damage breast tissue – wire should sit below and completely around the breast tissue
Nickel free hooks and sliders to prevent skin allergies and irritation
Easy drop down cups for breastfeeding
Cotton A-Frame or Inner Sling – provides added support, security and coverage for modesty
Cake Lingerie designs and develops maternity and breastfeeding bras with a woman's body and its changes during each stage in mind. With the one of the largest assortments of fashion and basic styles in a wide range of sizes, they have got you covered from the time you conceive until you're ready to stop breastfeeding. Quite often though, women find Cake bras so well constructed and comfortable, they just continue to wear them. It is also worth investing in good premium quality maternity and nursing bra, which are durable and made from ecological fabrics. This period in your life is when you bust will go through the most change. You need and deserve a well-made bra that will not only protect but provide you with maximum benefit.
Every woman and every pregnancy is unique hence if you are uncertain or need help with your fitting, check for a Cake stockist store near you at Cake Store Locator or ask the Cake Customer Support Team for advice.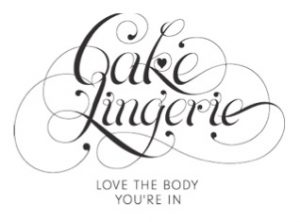 ABOUT CAKE LINGERIE / Cake Lingerie is pioneering the future of highly constructed and beautifully designed, Maternity and Nursing Bras. Cake Lingerie is accredited for creating a brand for women, focused on luxurious quality and fit perfection.