When it comes to pregnancy and postpartum style must-haves, maternity pajamas are an essential staple to your wardrobe. While it may seem like you can squeeze yourself into your pre-pregnancy pajamas for nine months, investing in a fantastic (and stylish) pair of maternity pajamas will make the journey of pregnancy through the "fourth trimester" so much more comfortable. Gugu Guru highly recommends Belabumbum's Lounge Chic  Nursing Cami, Pant + Robe Set that can be worn for maternity, postpartum, and is nursing-friendly, as well. You're going to want to bring your maternity pajamas to the hospital to deliver the baby, and if the pieces are breastfeeding friendly and comfy, it's a win-win. (Plus you can grab some mommy and me selfies in the hospital, with their adorable sets.)
Belabumbum's Lounge Chic  Nursing Cami, Pant + Robe Set is made with super-soft jersey and features piping and lace trim details. The Cami includes a built-in bra for support and one-handed clip for easy nursing access. The Cami is hip-length, giving you all the security and comfort you may need, and the curved hem adds a flattering detail to the maternity pajamas.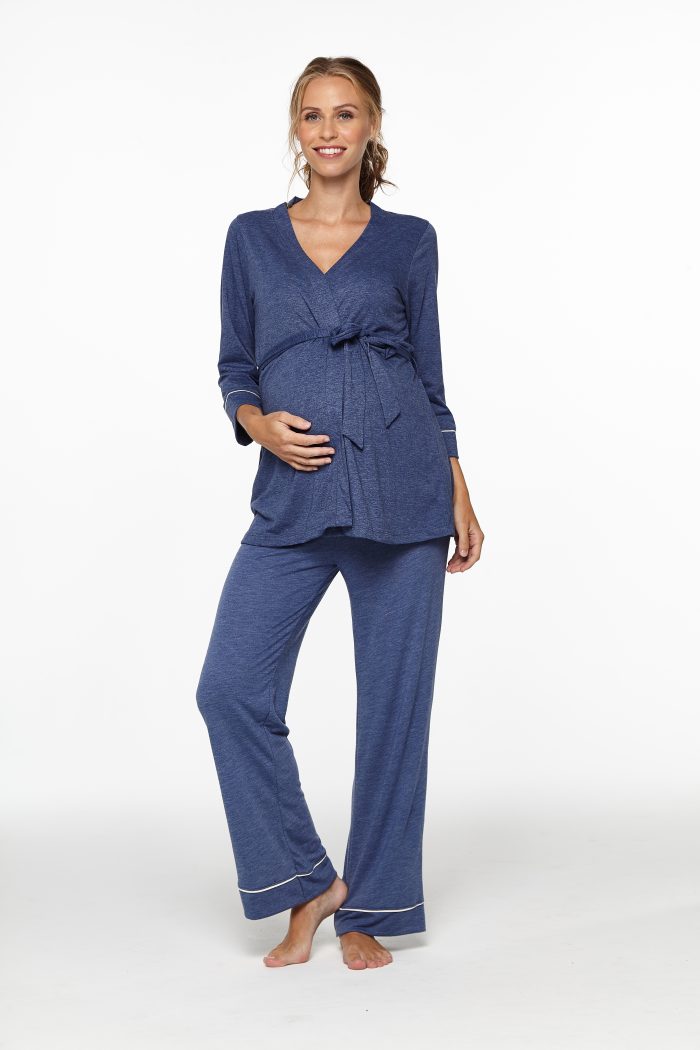 The Robe overlaps in the front for coverage during and after pregnancy. If you're looking for maternity pajamas that will transition into post-partum fashion, the robe is an essential staple, as you can comfortably wear it around the house, has easy access for breastfeeding, and will help keep you comfortable when those post-partum hormones cause lots of temperature changes.  The Belabumbum Lounge Chic pants feature a flat, non-roll elastic in the waist band, which is ideal for c-section mamas; they are full length pants with a lovely piping detail.
It is essential to have a pair of maternity pajamas that make you feel like you! Since you will be spending a lot of time at home when the baby is born, it is important for your maternity pajamas to be chic, soft, and super stretchy for your sensitive post-partum body. Belabumbum is ethically-sourced so you can feel good about your purchase too. The Lounge Chic collection is available in two colors, Chambray and Black, and includes a Maternity + Nursing Nightie + Robe Set. Use code GuguGuru for 15% off and free shipping!
Check out some of our other favorite must have maternity pajama essentials from Belabumbum: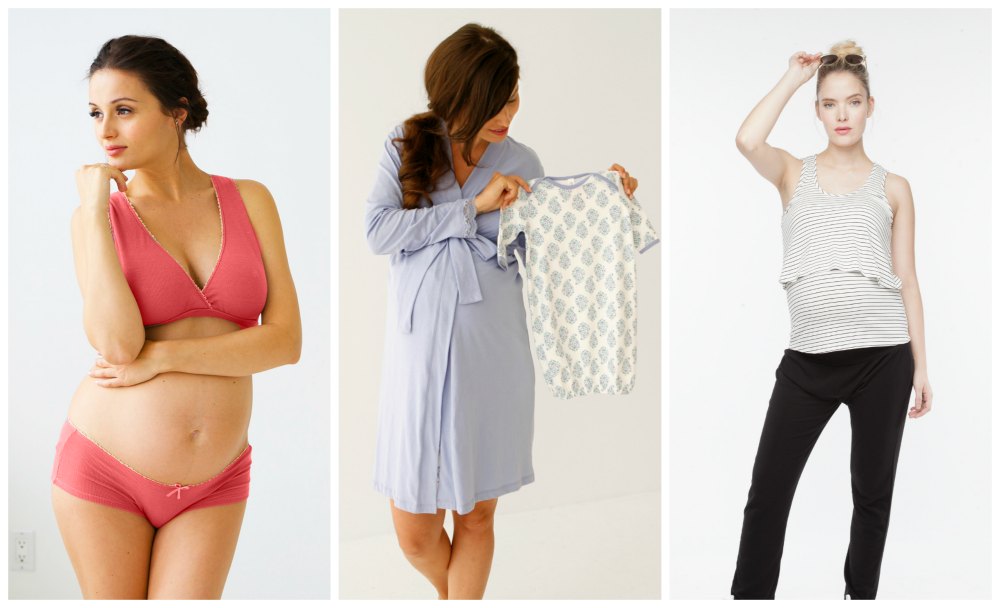 Maternity + Nursing Bras (pictured: Bamboo Sleep Bra + Panty); Mom + Baby Sets (pictured: Violette); New Mama Essentials (Layered Cami + Lounge Pant)
You can find Belabumbum on their website, Facebook, Instagram, and Twitter.