If you follow Gugu Guru, then you know that we are huge fans of the Baby K'tan carrier for keeping your baby close in the fourth trimester and beyond. But did you know that they also have beautiful and functional diaper bags?  Today we highlight the brand's Weekender bag, which is perfect for a day about town with baby, a weekend away or even as a hospital bag. 
At Gugu Guru, we believe that sometimes as a new mom you have to push yourself out of your comfort zone and…wait for it…just leave the house. Yes, leave the house. Walk out the door and face the world. If your baby hasn't arrived yet, you might be laughing at that piece of advice but trust us, leaving the house with a newborn can be intimidating but it really is a must-do. Getting fresh air, interacting with other adults and even just a simple change of scenery can do wonders for a new mama. Baby K'tan's new Weekender Bag is ideal for mama's short or long journeys. Regardless of when you use it, The Weekender Bag is roomy enough to hold all your baby & mama essentials, plus some wellness must-haves too.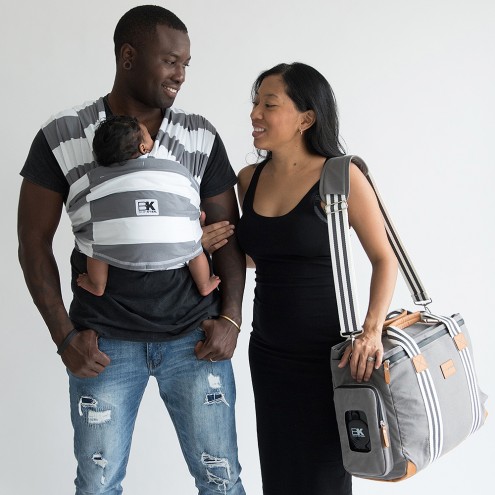 The Weekender Bag from Baby K'tan comes with a cross-body strap and is available in Charcoal, Olive and Navy with beautiful leather trim (and did we mention that it can match your carrier?) Plus it has a total of nine compartments for all your essentials, including a built-in antibacterial wet bag, an extra large insulated pocket to keep food cold and a padded laptop pocket for devices up to 14″. For baby it is outfitted with a matching changing pad with antibacterial lining, a wipes case for easy access wipes pocket and an antimicrobial pacifier pouch.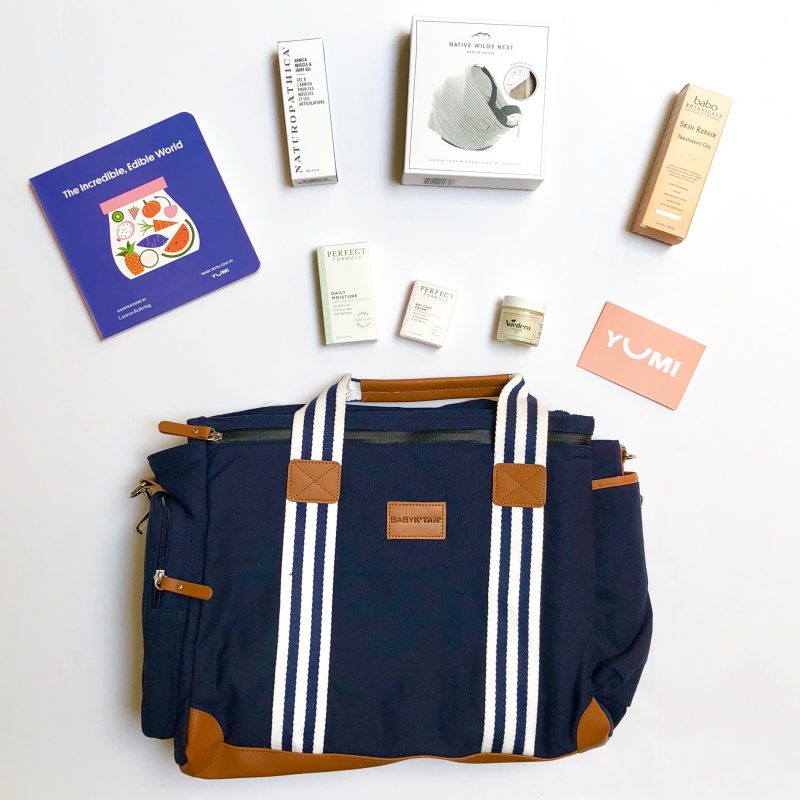 However, a well-stocked diaper bag shouldn't contain just diapers and wipes, it should contain items that support mama's wellness and tools to give her an added confidence boost whether out for the day or on a weekend away. Here are some of the items we think you should consider throwing in your Weekender…
Out for the Day (items mama should always consider having on-hand when using The Weekender as a day-to-day diaper bag…)
Native Wilds makes tools for the journey of motherhood. Empowering women is the mission of the brand. The company's hallmark product, the NEST is designed to make a mom's day a little easier.  It's a nursing cover, car seat cover and essentials-on-the-go holder with its pocket, plus it's naturally sun protective, hypoallergenic, and temperature regulating.
YUMI baby food's nutritionists design a new menu for your babe based on his or her age and nutritional needs. So you can feel good and confident about what you're feeding your baby.
A Weekend Away (items mama may not need to carry around with her every day, but are great to have on-hand when using The Weekender as a travel bag…)
THE BALM from Nucifera is a multi-tasking product formulated to dissolve makeup, moisturize skin, condition hair and so much more. Apply abundantly all over your body to experience the natural benefits of this all-in-one creation.
For pregnant mamas, this innovative gel from Naturopathica combines Arnica with cooling Menthol to help the body relax and restore.
Don't know if you'll ever make it back to the nail salon? No problem. Perfect Formula Gel Coat Color gives your nails a polished, manicured look in seconds – with the added bonus of strengthening your nails (if your prenatal vitamins didn't do the trick already). The brand's Daily Moisture provides intensive hydration and is infused with rich Jojoba Oil and keratin to help all nail types achieve longer, stronger, healthier nails.
The new Skin Repair Nutri-Firm Stretch Mark Oil from Babo Botanicals is an Omega, vitamin A, E, C and anti-oxidant rich complex that helps improve appearance and smoothe texture of stretch marks.
Thank you to our partners at Baby K'tan for making this sponsored post possible.